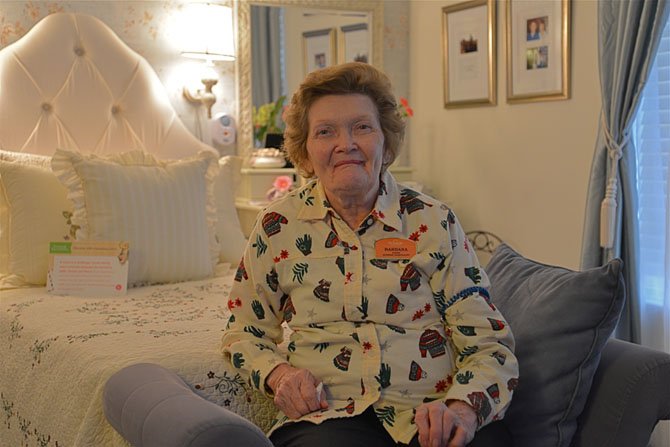 Sunrise Senior Living's Director of Sales Valerie Parker, and Sales Assistant Shelley Jennings are always pleased to show off
the facility at Fair Oaks on Joseph Siewick Drive in Fairfax. It doesn't require a special occasion, like last week's nationwide
Open House campaign, when model rooms were on display and tours were offered of the housing complex and the services, activities and amenities available to the residents. "This is really a wonderful place," said Jennings. "I enjoy showing it to people, and I really enjoy introducing folks to our amazing residents." While Parker and Jennings may be the best at highlighting what's on offer at their Sunrise location, and explaining just how things work, both are quick to let visitors know who the true experts are, and who really is best at giving potential residents and their families the real scoop on the Sunrise experience. "That would be our residents," said Parker. "Especially our 'Ambassadors.'"
THE "AMBASSADORS" are part of a program established by Parker to help new residents adjust to their new home by
having a matched resident-mentor. "It's a win-win," she added. "Our current residents love helping the newbies and those joining us have someone to help them navigate and get settled, and adjust to living in a more communal setting." The Ambassadors are also happy to show off their homes and talk about life at Sunrise at Fair Oaks on Joseph Siewick Drive in Fairfax—which by all accounts, is pretty busy for most of the residents. It was difficult to find someone "at home" during the Open House Tour. The hair salon was filled to capacity. The physical therapy room was in use. Just off the lobby, a craft session was keeping a number of residents engaged. There were several people just coming in from a walk around the grounds. A reading room was well occupied, and there was a full house enjoying a sing-along session with a visiting performer. The posted schedule of events and activities available, including day trips and outings, was almost overwhelming.
Eventually an Ambassador was tracked down and resident Barbara Saenz graciously allowed a visit to her professionally decorated studio, with smiles and some tales of daily life at Sunrise. Calvin Ettel also welcomed visitors to take a look into his world, in a suite that bears the mementos of a lifetime of service in the Air Force in honor of his past, but containing all the modern conveniences like the Keurig machine for that morning cup of coffee or late afternoon tea. The rooms and suites are as individualized as their occupants. While the majority of the apartments are designed for single occupants, there are accommodations for companion living, where two residents can share a suite, and there are even couples who enjoy the Sunrise lifestyle together.
THE OPEN HOUSE included information about the levels of services available, from Independent Living options, Assisted Living care, and more intensive Skilled Nursing and Rehabilitative services. There is a separate, specially designed "Reminiscence Neighborhood" to meet the special needs of those with memory loss issues. They even have a short-term stay option, when caregivers need a brief respite, or will be away.
There's plenty of information about the Sunrise Senior Living experience available on line at SunriseSeniorLiving.com, or just make an appointment and talk with the seniors who live the experience every day.