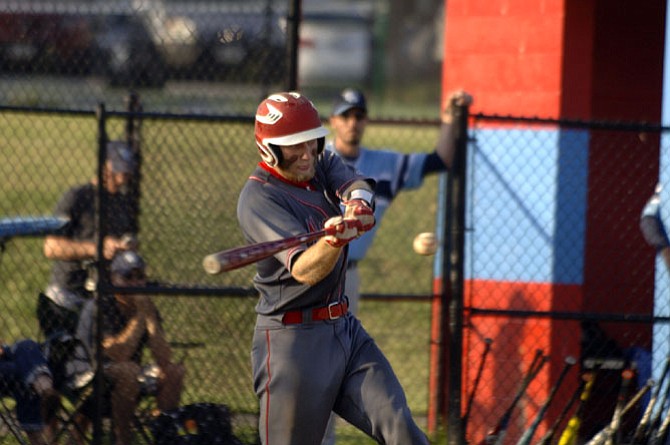 The Marshall baseball team traveled to face Patrick Henry on June 5, qualified for the state tournament with a 3-2 victory in the 5A North region semifinals, and returned home from Ashland around 11 p.m.
The following day, the Statesmen hosted Stone Bridge for the region championship. After digging out a 5-0 hole and briefly taking the lead, Marshall finished runner-up on its home field, losing 10-7 on June 6.
After Stone Bridge dog-piled in celebration and trophies were awarded, Marshall players and coaches met for a postgame talk in right field.
What did head coach Aaron Tarr say to the Statesmen?
"You don't always have to tell them something, depending on how they react," Tarr said. "If they're upset, or if they're sad about how things go, then you've got to say, 'Hey, we're in states, let's pick this back up.' But they're more angry than sad, and angry guys are going to come back to work hard on Monday.
"That's indicative of having 11 seniors [who] want to get back after it."
THE MARSHALL BASEBALL team fell short of a region championship, but its season will continue after the Statesmen qualified for the state tournament for the first time in more than 20 years.
"We're pretty mad that we lost ­­­ especially to Stone Bridge, because we don't like losing to them," Marshall senior Will Brooke said. "[We're] excited for states and hopefully we get a chance to play them again [because] that's what we all want to do."
Before a potential rematch with Stone Bridge, Marshall will face 5A South champion Hickory in the state semifinals at 3 p.m. on Friday, June 12 at Lake Braddock Secondary School.
"It's incredible," Marshall senior catcher Mitch Blackstone said. "My freshman year, I had no thoughts about will this team ever get to states, and certainly not my sophomore year."
In 2012, Blackstone's freshman year, Marshall finished 12-8 and lost in the opening round of the AAA Northern Region tournament. The following year, the Statesmen started 0-7 but caught fire late in the year and reached the region semifinals before losing to Lake Braddock. Last year, after moving to 5A as part of the VHSL's six-class re-alignment, Marshall won the Conference 13 championship and again reached the region semifinals before losing to Stone Bridge and falling one victory shy of the state tournament for a second straight year.
This season, Marshall repeated as conference champion and secured a state berth with Friday's win over Patrick Henry. On Saturday, despite a pair of pitching changes in the first two innings and an early 5-0 deficit, the Statesmen continued to battle and gave themselves a shot at a region title.
An RBI double by second baseman Justin Han and a run-scoring single by Blackstone cut the Marshall deficit to 5-2 in the third inning. In the fifth inning, the Statesmen scored four runs, including a game-tying two-run single by first baseman Shane Russell. Two batters later, Marshall took a 6-5 lead thanks to a Stone Bridge throwing error.
MARSHALL'S LEAD was short-lived, however, as Stone Bridge scored three runs with two outs in the top of the sixth and led for the remainder of the game.
Tarr was pleased with the way his team competed.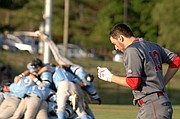 "To get back at 11 o'clock last night, and then work as hard as we did and compete as hard as we did against a very good team [is a good sign]," Tarr said. "There was a moment in that game where that could have gone either way and we could have just kind of let it go and we didn't. That was an amazing thing. Frankly, you have to be able to compete and be that mentally tough to get even further than we already are. To win games at states, you're going to have to be that [mentally tough] ... and that I was incredibly proud of."
Han finished 2-for-3 at the plate. Blackstone went 2-for-4, and Russell finished 2-for-4 with three RBIs.
Marshall enters the state tournament with a 20-6 record, having won 12 of its last 13 games. Tarr said Brooke (Coastal Carolina) will start on the mound against Hickory on Friday.
"You see Marshall about 10 years in the past and everyone wanted to play them on their senior night because they weren't that good," said Blackstone, who will play at Cornell University. "Now it's like, 'Damn, we've got Marshall on Friday and it's going to be a big game.' That's just music to my ears because I remember watching my brother (Kent Blackstone, a 2012 Marshall graduate and junior on the George Mason University baseball team) play and the other dugout was just chirping when it was up 10-0 and I was like, 'You know, that's just not the way to do it. When we get here, we're going to change things up, we're going to do it better and we're going to win ...'"