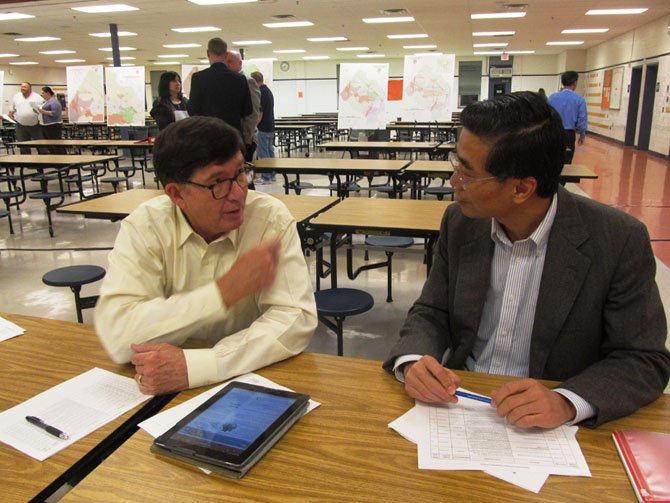 Not since 1987 — when today's 40-something motorists were newly-minted drivers — has Fairfax County seen any new revenue stream for its traffic-choked roadways or relief for the region's chronic gridlock.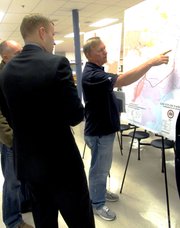 But on the last day of the Virginia General Assembly session last year, state lawmakers narrowly passed a landmark $3.5 billion transportation bill.
Hailed as the most ambitious, sweeping transportation funding initiative in a generation, House Bill 2313 is projected to generate about $880 million a year to reverse the decades-long erosion of road revenue.
And while Northern Virginia motorists will pay for much of it in the form of additional taxes, the area also stands to gain nearly $2 billion in the next six years for transportation projects.
"At this time last year, we were in dire straits. We faced an epic transportation crisis," said Fairfax County Supervisor Jeff McKay (D-Lee). "Because of the transportation bill, we're at important point in our history, where we have money and we want the input of our citizens."
McKay, who chairs the Northern Virginia Transportation Commission, was speaking to a group of residents at Hayfield High School Wednesday night, Oct. 30. It was the first of four public forums — "Countywide Dialogue on Transportation Projects" — designed to educate and solicit input from residents on their priorities for county transportation projects.
TOM BIESIADNY, director of the county's Department of Transportation (FCDOT), led the presentation: "We believe in the next six years there will be about $1.2 billion for county transportation projects," Biesiadny said. "We want to make use of those revenues, and ultimately make a recommendation back to the Board of Supervisors on Dec. 10 about your priorities for the next six years."
Biesiadny told residents the Board of Supervisors tasked his department with evaluating unfunded projects based on several criteria, including public input. Other criteria include congestion reduction, travel-time savings, school and park access and air quality.
Biesiadny said HB2313 provided new funding for both regional and local transportation projects, such as roadway, transit, bike and pedestrian projects. "These are 'new capacity' projects," Biesiadny said, ""You won't see paving, fixing potholes or mowing the grass with this money." He noted that money already committed to projects in the board's four-year plans (FY 2013-FY2016) have been excluded from the discussion.
Biesiadny said FCDOT was starting its public outreach campaign this week, emphasizing that the public will have the opportunity to provide feedback in various ways — in person, online, via online chats, social voting or email through Nov. 18. All of the public meetings include an overview presentation, a question-and-answer session, educational materials and a series of coded maps to view the list of potential projects.
"Some of your ideas actually made it into the final General Assembly bill. The purpose of tonight is to look at the 214 unfunded projects, and get your input," he said.
Supervisor Gerry Hyland (D-Mount. Vernon) joined McKay and Biesiadny at the meeting. "Mount Vernon's priorities are, in this order, Route 1, Route 1 and Route 1," Hyland said, joking that the meeting was so important that he was missing Game Six of the World Series between his beloved Boston Red Sox and the St. Louis Cardinals. "This is my first time as a supervisor I've been able to come to a meeting and say 'we can do something for you on transportation. Thanks General Assembly. And go Boston Red Sox!"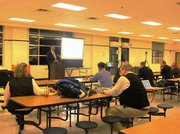 Perhaps because of the Word Series, there were only about 20 residents at the meeting and six who gave brief comments, but they came from all parts of Fairfax County to talk transportation.
Jason Wu drove from his home in Great Falls to encourage the county to build a sidewalk on the one-mile section that leads into the town of Great Falls.
"I'm an ordinary citizen," Wu said. "We have a petition with more than 100 signatures to get a sidewalk on that Westmoreland Street. It's very dangerous to ride a bike there, and we have been spending a lot of time organizing to get this project on the list."
Greg Budnick, a local engineer from Springfield, said he was there to caution supervisors "not to overreach financially" when evaluating projects. "Being a bicyclist, I can enjoy bike lanes and bike trails … But I'm not sure anyone wants 10 feet of trees taken out of their development for more bike lanes."
Jim Preston and David Mikkelson of Alexandria, who represented their HOA, said improvements along Richmond Highway, were critical to the easing congestion throughout the county.
Robert Michie, a representative of the Lee District Transit and Sidewalk Committee, lobbied for Project #182, which includes street pedestrian and bicycle access improvements along Van Dorn Street. The project, estimated at $500,000 has been "on the books for years," Michie said. "We're pushing very strongly to get this particular one down because it provided metro access to Van Dorn Street. We consider Route 1 a lab. If we can fix Route 1, we can fix anything."
EDITH KELLEHER OF VIENNA said she was there as the executive director of the Southeast Fairfax Development Corporation. "We endorse Project #60," Kelleher said. The project includes the widening Richmond Highway from four to six lanes from Mount Vernon Memorial Highway (Route 235) to Napper Road. The cost has yet to be determined.
Many of the unfunded projects on the county's list were road widening projects that included pedestrian and bicycle facilities.
Alan Young, a Burke resident and member of Fairfax Advocates for Better Biking (FABB), said the group was "furiously" reviewing the county's bicycle master plan to see if there are components for bike and pedestrian access.
"It would be helpful when you look at projects to see that there are components for bike and pedestrian access," he said. "One of our main goals is to make Tysons and other transit-oriented, mixed-use developments more bicycle-friendly."
Upcoming Meetings
Tuesday, Nov. 12 at 7 p.m.
Fairfax County Government Center
Conference rooms 2/3
12000 Government Center Parkway, Fairfax
Transit accessible via: Fairfax Connector routes 605, 621, 623
Wednesday, Nov. 13 at 7 p.m.
Forest Edge Elementary School
1501 Becontree Lane, Reston
Transit accessible via: Fairfax Connector routes 552, RIBS 1, RIBS 3
"We really appreciate Fairfax County for undertaking a major transformation of Tysons to create a livable, walkable community. Four new Silver Line Metro stations due to open in Tysons in 2014 are part of the foundation of that transformation. We want to see that throughout the county," Young said after the meeting.
McKay said the supervisors were in the process of developing a master list of projects, and needed the public's input.
"We want to be conscious of being fair throughout the county, because that's the only way this thing will work. There are a lot of moving parts to this. So, your input is critical to this process."
FOR MORE INFORMATION about the Countywide Dialogue on Transportation meetings, or to take the online survey, got to www.fairfaxcounty.gov/fcdot/cdot/.
Residents can also visit the web site to sign up for email updates or find out if new meetings have been announced.