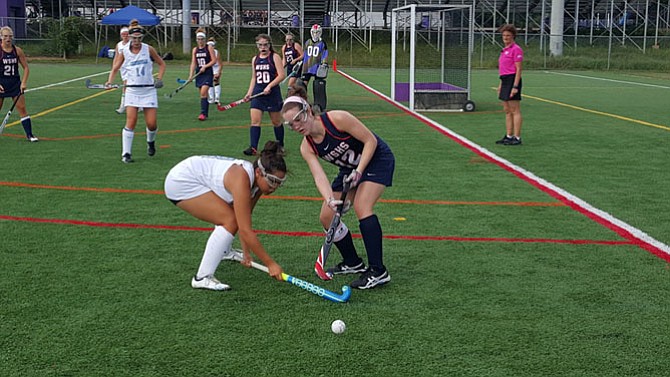 After a rough start to the second day of the Blast ALS field hockey tournament at Lake Braddock Secondary School, West Springfield increased its defensive effort and showed what can happen when the Spartans are on the same page.
West Springfield closed its appearance at the two-day tournament with a 2-1 victory over Robinson on Aug. 27. The Rams scored their lone goal during a penalty corner with time expired in the second half.
"We were playing defense as a whole team rather than just our defenders," West Springfield head coach Tina Nham said. "That was our major problem in the beginning: our forwards need to come back a little bit more, so they put in the extra effort."
EARLIER IN THE DAY, West Springfield lost to Centreville 2-0, but the Spartans responded by handing Robinson its first loss of the season.
"Our first game today wasn't that great," junior midfielder Marie Laverdiere said. "We were all really tired and we were playing slowly. We all stepped it up. We really wanted to beat Robinson."
West Springfield finished the tournament with a 2-1-1 record, including a 3-3 tie against Woodson and a 2-0 win over Mount Vernon on Aug. 26.
West Springfield enters the season without the services of defender/midfielder Brittan Muir, a 2015 graduate who earned VHSL second-team all-state honors as a senior and now plays for Christopher Newport University. Nham, however, said the Spartans will benefit from not being able to rely on Muir.
"She brought a lot of confidence to the team," Nham said. "I actually think this year we'll actually be better because we're playing more as a team rather than relying on Brittan. There are a few girls that have taken this offseason very seriously and [played for] club teams and worked out."
Two of the team's leaders are Laverdiere and junior forward Katie Kachejian.
"Marie is pretty much our quarterback on the field," Nham said. "... She just has all the skills. She could definitely play in college. She fills that role that Brittan kind of [had]. ... Katie has that speed and she's improved her stick skills and is able to take on a goalie [one on one]. She out-sprints everyone, usually, on the field."
Kachejian praised Laverdiere's abilities.
"Marie is now playing where Brittan used to play and she's really stepped it up," Kachejian said. "She's learned a lot from Brittan, she plays just like Brittan and she really helps connect the field."
"I don't really think of it as replacing Brittan because Brittan is amazing," Laverdiere said. "I think of it as going out there and doing my best with the skills I've learned."
Kachejian scored three goals during the tournament. Senior midfielder Laura Schwabenbauer, senior forward Carolyn Rouse, sophomore midfielder Molly Kilcarr and senior forward Devon Nelson each scored one.
Sophomore goalkeeper Grace Radulovic totaled 34 saves in four games. She stopped 18 shots against Robinson, including a stroke.
WEST SPRINGFIELD defeated Oakton 1-0 on Aug. 31, improving its record to 3-1-1. The Spartans will travel to face Chantilly at 7:30 p.m. on Tuesday, Sept. 8.