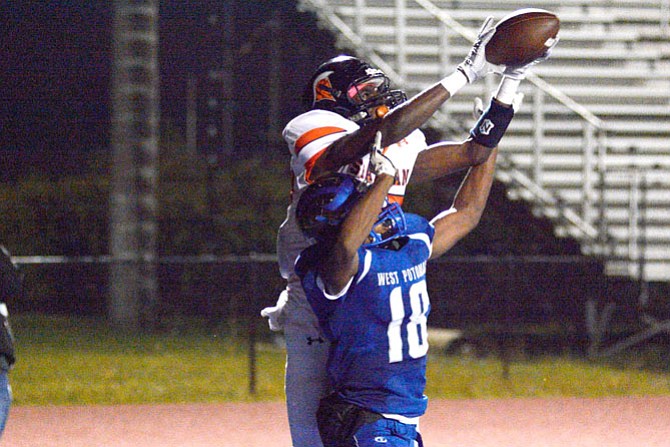 Peter Muskett had to be helped off the field after aggravating an injury to his right ankle during the second half of Friday's game at West Potomac.
After sitting out a few plays, the West Springfield quarterback returned to action, only to end up limping off the field near the end of the third quarter.
"He's a warrior," Spartans head coach Jason Eldredge said, "and I had to drag him off the field to shut him down."
Muskett's effectiveness as a runner has been limited since he suffered an ankle injury on Sept. 11 against Mount Vernon, West Springfield's second game of the season. On Oct. 9, Muskett's right arm and a stingy performance from the West Springfield defense were enough to earn the Spartans a pivotal Conference 7 victory.
Muskett threw three touchdown passes, senior defensive back Jeremiah Pickell snagged a trio of interceptions and West Springfield avoided a three-game losing streak with a 28-9 victory over West Potomac.
MUSKETT COMPLETED 17 of 25 passes for 220 yards and threw all three of his touchdown passes in the second quarter. He connected with senior Darean Robertson for an 8-yard score with 8:26 remaining in the first half, giving the Spartans a 10-0 lead. With 4:23 on the clock, Muskett found Robertson for a 27-yard touchdown.
Robertson caught four passes for 48 yards.
"I love Darean like a brother," Muskett said. "It's not only on the football field, [it's] at school every day, we sit together at lunch, we're in the same classes. He's one of my best friends and I'd do anything for him, so just the fact that I get to come out here and throw touchdown passes to one of my best friends, it's awesome."
With 6 seconds left in the half, Muskett threw a 10-yard fade to Daniel Adu, and the 6-foot-2 junior made a leaping catch over a West Potomac defender in the back, right corner of the end zone, giving West Springfield a 22-0 halftime lead.
"We saw that Daniel caught the jump ball earlier down the sideline [and] we knew he could do it again," Muskett said. "We've been working on that all week in practice, actually, and honestly, he just made one of the best plays I've ever seen by a football player."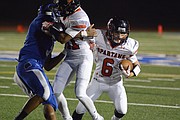 The win improved West Springfield's record to 4-2, including 2-1 in the conference, and stopped a two-game slide. The Spartans started the season 3-0, before suffering a 42-40 loss to still-unbeaten South County.
The following week, West Springfield was blown out by Stone Bridge, 41-10.
Friday's win keeps the Spartans in the Conference 7 championship hunt.
West Potomac dropped to 4-2, including 1-2 in the conference. The Wolverines' only blemish prior to Friday was a 24-21 loss to still-unbeaten Lake Braddock.
"[This win] means everything to us," Muskett said. "After South County, I think we were too confident --- not confident, but cocky and complacent --- so Stone Bridge really shocked us. ... Coming in here to win this and then going into TC [Williams] and [Lake] Braddock, I think our momentum's definitely going to change a little bit."
Adu had five receptions for 65 yards. Najee Green had four catches for 80 yards. EJ Strother scored on a 1-yard run with 8:31 left in the third quarter, extending the Spartans' advantage to 28-0.
While the offense put up points, the West Springfield defense held a potent West Potomac offense to its lowest output of the season. The Wolverines entered the game averaging 40 points per contest, but managed just a safety and a 4-yard third-quarter touchdown pass from backup quarterback Tanner Jones to CJ Burch.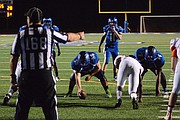 Jones completed 15 of 22 passes for 144 yards and a touchdown, but was intercepted three times. Starting quarterback Mark Ellis, who "got a little dinged up" according to head coach Jeremiah Ross, completed 5 of 12 passes for 42 yards and was intercepted once.
Ellis entered Friday's action having passed for 1,383 yards and 14 touchdowns with just two interceptions in five games.
WEST SPRINGFIELD limited West Potomac to 50 rushing yards on 19 carries, for an average of 2.6 yards per attempt.
"We schemed them all week long," Eldredge said. "Here was my idea: I knew they were going to see [the] South County and Stone Bridge [results], and I knew at that point, they were going to think they could run the ball on us. They came out running the ball and [when] they couldn't do that ... then we bracketed their receivers when they had to go to pass. We just made them a one­dimensional offense at that point."
West Potomac's Burch had seven receptions for 68 yards and a touchdown. Cory Jones caught five passes for 67 yards. Sophomore running back Daiimon Cleveland led the Wolverines with 37 rushing yards on seven carries.
Pickell had a big night for the West Springfield defense. The 5-foot-6, 140-pound senior recorded nine tackles (two solo) and intercepted three passes.
"I think we played great," he said. "We played exactly how we prepared to play."
One week after many games were moved up a day due to potential inclement weather, Friday's kickoff was delayed more than two hours due to weather.
"I'm not into making excuses," Ross said when asked if the delay affected the Wolverines. "... Was it ideal? Probably not. We've had the same situation early in the year with Langley and we did fine. We had to move up the game last week because of weather and we did fine."
West Springfield will host T.C. Williams (2-4) for homecoming at 7 p.m. on Friday, Oct. 16.
After Friday's game, Wolverines receiver Burch left West Potomac High School in an ambulance with a possible concussion. On Tuesday, the senior said in a Twitter direct message that he will be cleared to play this week against Annandale.
The Wolverines will host the Atoms (4-2, 2-1) at 7 p.m. on Friday, Oct. 16.