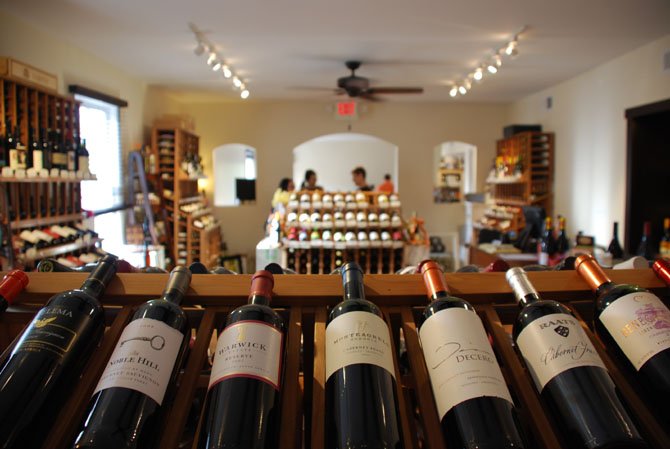 Opening
"I think people should be a little more conscious of things made in America."

—Lucinda Lawson
If the only thing better than one bottle of wine is two bottles, Clifton resident and owner of Clifton Wine Shop & Tasting Room Lucinda Lawson has not only taken the message to heart, she's expanded on it. On Friday, Oct. 4, she and a multitude of customers and friends celebrated the grand opening of the shop's new location that boasts more than twice the interior space of the previous shop.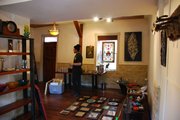 Staying in the same building at 7145 Main St. in Clifton, Lawson upgraded from a cozy 400-square-foot space in the middle of the first floor to roughly 1,000-square-feet of bright and airy room on the second floor.
The opening lasted from 5 to 10 p.m. and drew a considerable crowd. "It was in the hundreds, easy," said Lawson. Once visitors made it through the line to enter the shop, she rewarded their patience with complimentary tastings of several special wines from Caymus Vineyards in Napa, as well as bottles from South Africa.
TO BALANCE THE FLOWING SPIRITS, Shirley's Catering Services served up hearty snacks for the celebrants, including lamb chops and bacon-wrapped dates. This type of larger, more entertaining event is exactly what Lawson had in mind when she purchased the Clifton Wine shop in July 2012.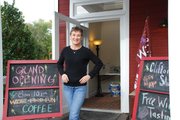 "It was my vision to expand," said Lawson, who began working at the shop in 2011 as a sales associate. She had previously taught Human Resource Management and Organizational Behavior as a professor at Lehigh University in Bethlehem, Pa. After making a habit of visiting Clifton starting in 1988, Lawson finally made the move permanent in 2010.
"When I walked in that door, I didn't know anything about wine," she said. But with a passion for learning and sharing, Lawson experienced success selling and developed an affinity for the wine business. "It was just a new discipline for me. Something that is limitless—there's always more to learn."
Lawson seized an opportunity to buy the shop within a year of work. One year later, she pursued another opportunity to rent and combine two spaces on the second floor of 7145 Main St.
Though the new space would allow her to quadruple her wine offerings—she now stocks roughly 400 different labels, as opposed to 100 previously—keeping the old space allowed Lawson to fulfill another dream of supporting American artists and craftsmen.
"America is getting back to work," Lawson said. "I think people should be a little more conscious of things made in America."
To that end, she has brought in longtime family friend and artist Wyatt Clark to manage the shop they're calling America Reworked. Clark previously worked in a store called Made in the Jackson Ward neighborhood of Richmond, and relocated from Brooklyn, N.Y. to Woodbridge for this position.
America Reworked, which officially opens Sunday, Oct. 13 for Clifton Day (9 a.m.-5 p.m.), will exist as a showcase and marketplace for strictly American-made furniture, art and home goods. Lawson and Clark are working with artists from the Art Guild of Clifton ("The first call I made was to the local potter Claire Stern," said Lawson), and also search for large, character-filled items up and down the East Coast. Many of the current floor pieces represent the trend of using reclaimed or "rescued" materials, such as a credenza by artist Bill Kreider made from two I-beam segments and repurposed antique wood.
"I'm creative, but I'm not an artist," said Lawson, who feels an obligation to not only remind Americans about art being made in their backyard, but promote those making sacrifices to create the art in the first place. "Starving artists are real," she said. "People who forego all the other things you could do for money, for their passion—I just want to support them."
WITH THE INCREASED SPACE, not only can Lawson offer many more labels from the Pacific Northwest, California, South Africa, Italy, France and Spain—as well as a stock of cellared wines—but she's expanded her vision of supporting local artists to include chefs and brew masters. The shop now features a patisserie with gourmet French press coffee, cakes from The Itty-Bitty Cake Company based in Fairfax and handmade macarons from local chef Andrea Carmona. And the meager list of four to five beer offerings has ballooned to 80 to 90 craft beer labels from Virginia and around the country, including rare finds such as Evil Twin Brewing from Brooklyn.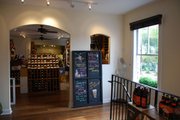 "Anything that's local, small production, unique or hard to find," said Lawson. Making full use of the additional square-footage to aid appreciation of her select stock, Lawson hosts weekly beer tastings, daily wine tastings, wine education meetings and plans to organize a craft beer club. "First Fridays" involve a special pour of wine—sometimes a rare or expensive bottle. "Our wines range from $10 to $700 per bottle," said Lawson. "Ninety percent of what's on the floor has been at the bar at one time. The wine business is based on trust—people most likely haven't tried a lot of what's in here."
Lawson expects that mindset will help her shop remain a Clifton institution. "I hope to be here till some of my wine in the cellar is ready to drink. There's a Robert Parker 100-point Bordeaux that will cellar for 50 years. That's a long time."