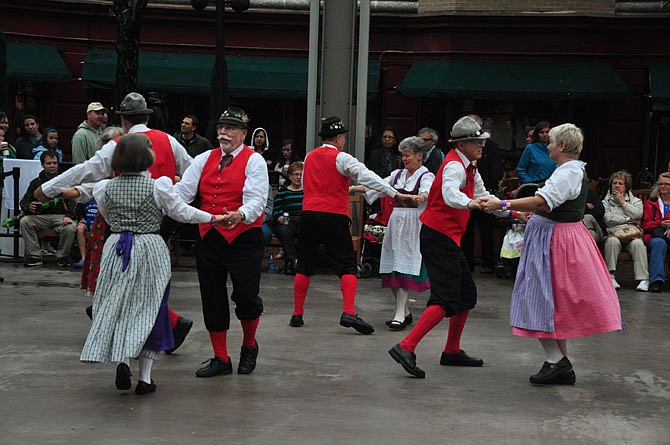 Reston — Thomas Redding had one thing on his mind during last week's succession of rainy days, and it could only be found Saturday morning at Reston Town Center.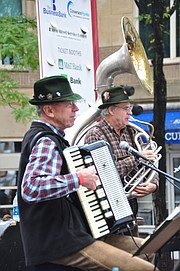 "I wanted a Devil's Backbone Vienna Lager, and I wanted to enjoy it near the fountain," said the Reston native. "I've been working outdoors and getting soaked to the bone all week, and that's what kept me going. Well, that and a bratwurst, which I got right after."
Redding got what he was looking for at the annual Oktoberfest Reston, which was held last weekend. Hosted by the Greater Reston Chamber of Commerce, it was the go-to event for German music, beer, wine and food from a variety of local vendors.
"As soon as I started walking down Market Street from the pavilion, I saw a big line in front of the Clyde's booth, and for the life of me I couldn't understand what people would be waiting around for," said Alex Stoeffel of Oak Hill. "Then I saw the two grills just filled with bratwurst and knockwurst, and I made sure to get myself a spot in the very same line."
In addition to the classic German fare offered at Clyde's, visitors could choose from sushi at Obi Sushi, crab cakes from Hooked, gnocchi from Paolo's and more.
Elsewhere, along Library Street, firefighters and law enforcement personnel participated in the annual Guns N' Hoses Chili Cookoff. A wide variety of chilis were offered to passers-by who were looking to sample different takes on the classic dish.
"I think I had two favorites, the Blazing 404 Chili [from the Herndon Fire Station], and the T-Bone's White Bean Chicken Chili," said Barney Speck of Herndon. "I usually like the hottest the best, but the chicken chili was a different twist, and definitely deserves a vote."
The pavilion stage featured German music, Alpine dancers and an alphorn player, whose long instrument was taller than she was, throughout most of the day Saturday.
"I thought they did a great job of keeping the crowd involved in the pavilion, particularly since a lot of us were trying to stay dry, but we still had some fun," said Sheena Gilroy of Reston.
Though the rain cleared up a little bit throughout the course of Saturday, many attendees dressed for the occasion, at least when it came to headwear.
"If my Alpine hat can't take a little rain, then it's probably not much of an Alpine hat," said Jon DeWindsor of Herndon, who along with two friends, came in full lederhosen, suspenders and knee socks. "The rest of the outfit doesn't help with the weather, but I think we're looking good enough that no one will mind."