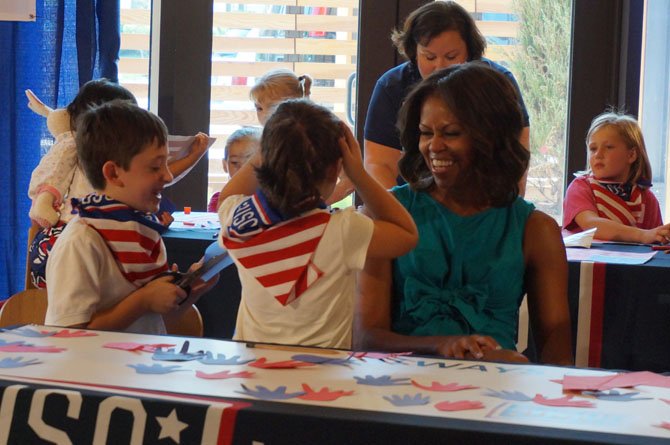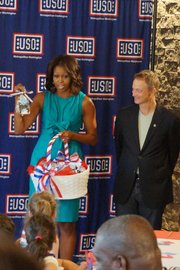 Fort Belvoir — First Lady Michelle Obama marked the 12th anniversary of the terrorist attacks on the World Trade Center and Pentagon with a visit to the new USO Warrior and Family Center at Fort Belvoir.
Following morning ceremonies at the White House that included a moment of silence at 8:45 a.m., Obama arrived at the base just after 1:30 p.m. to visit with military families and participate in a patriotic craft project with children.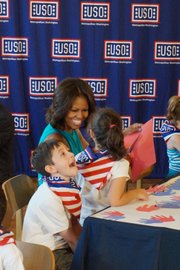 "Do you know you are heroes?" she asked the children of military families. "I am here to shine a light on all the great work the USO does for military families."
In honor of Patriot Day, a National Day of Service and Remembrance, the USO of Metropolitan Washington hosted the First Lady at the new facility as part of a worldwide salute to the nation's troops and their families.
Also in attendance were USO President and CEO Sloan Gibson, Elaine Rogers, CEO and President of USO Metropolitan Washington, Col. Gregory Gadson, Commander of the U.S. Army Fort Belvoir Garrison and actor and veterans advocate Gary Sinese.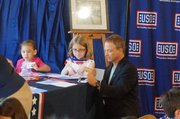 Later in the day, Sinise and the Lt. Dan Band were scheduled to perform a concert to a crowd of 5,000 at Pullen Field on the base.
Opened on Feb. 5, 2013, the 20,000-square-foot facility is the largest center in USO history. Staffed by 350 volunteers from the USO of Metropolitan Washington, the USO Warrior and Family Center supports wounded, ill and injured troops, their families and caregivers as well as local active duty troops.
Built at a cost of $12 million, the center is part of the $100 million USO fundraising campaign Operation Enduring Care.
Visit www.USOMetro.org.