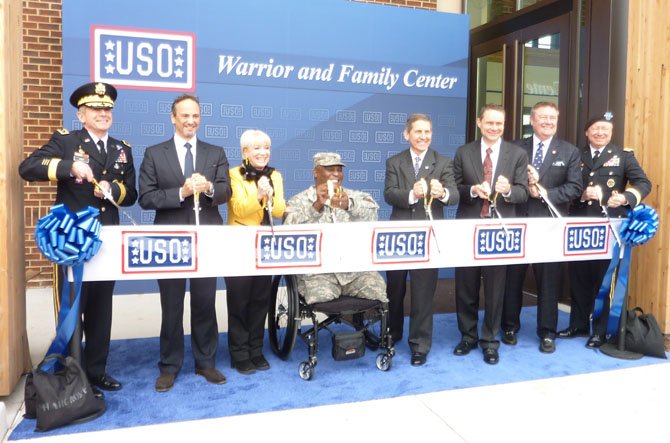 Photo Gallery
USO Facility at Fort Belvoir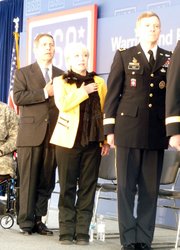 Click Photo for Flash
Fort Belvoir — Less than two years ago, it was just an overgrown lot in the shadows of Fort Belvoir Community Hospital. But on Feb. 5, the world's largest USO facility welcomed the community with a grand opening celebration of the new USO Warrior and Family Center.
"There were a lot of personal emotions watching this building go up," said Fort Belvoir Garrison Commander Col. Gregory Gadson, a 1989 graduate of West Point who made history last summer as the first double amputee to take the reins of a major Army installation. "Now the building is about to come alive with so much hope and promise for the service members and families who walk through the door."
Open to all active duty military personnel, the new 20,000 square-foot facility was built to provide specialized care for returning service men and women as they cope with and recover from injuries sustained in battle. It will be run by staff and volunteers of the USO of Metropolitan Washington, who have been working with wounded warriors for more than a decade.
"I've seen many things in my 37 years with the USO," said Elaine Rogers, president and CEO of the USO of Metropolitan Washington. "But I've never seen anything like today. This is a life-changing day for the USO."
The $12 million center was funded entirely through more than 250,000 individual and corporate donations, including $5 million from the Northrop Grumman Foundation and $2 million from the Kuwait America Foundation.
"We are very honored to be part of this exciting accomplishment," said Northrop Grumman president and CEO Wes Bush of the largest single financial commitment in USO history. "This building will serve as a beacon for those who have given so much. To those who the center will serve, there are not enough words in our vocabulary to say 'thank you.'"
The center's design, developed by Huffman Development and Scott Long Construction and designed by Studios Architecture, was based on research gathered from hundreds of interviews with wounded warriors, their families, military medical professionals and experts in the care of wounded, ill and injured troops.
The Fort Belvoir facility is part of the USO program Operation Enduring Care, an ongoing $100 million capital fundraising campaign: $25 million has been allocated to build the Fort Belvoir and Bethesda, Md., Wounded Warrior and Family Centers; $50 million will support programs at the centers and worldwide and $25 million will endow the two centers.
"There were a lot of naysayers," said retired Admiral Frank Thorp, now the senior vice president of marketing and communications for the Arlington-based USO headquarters. "But we have seen what happens when families come into a USO center. The brick and mortar here is awesome but the brick and mortar building only sets the tone for what the USO volunteers will do."
Also participating in the ceremony was Kuwaiti Ambassador to the United States His Excellency Salem Abdullah Al-Jaber Al-Sabah.
"A lot of you may be wondering why I am here," said Al-Sabah as he addressed the crowd of dignitaries, wounded warriors and USO supporters. "But if not for the United States Armed Forces, I would not be standing here today as a representative of a free nation. Contributing to this building was an opportunity for my country to give back 20 years after our liberation."
Other major donors to the project included Lowe's, JC Penney, Jeep, The Coca-Cola Foundation, BAE Systems, the Anschutz Foundation, the Timken Group, News Corporation and actor Charlie Sheen.
Open to all active duty military, not just wounded warriors, the center officially opens its doors Friday and will provide a homelike environment for service members and their families to relax or receive training, education and job placement services needed to move forward in life.
"The USO is committed to providing for our service members," Gadson said. "My family and so many other families are in a better place because of the efforts of the USO."