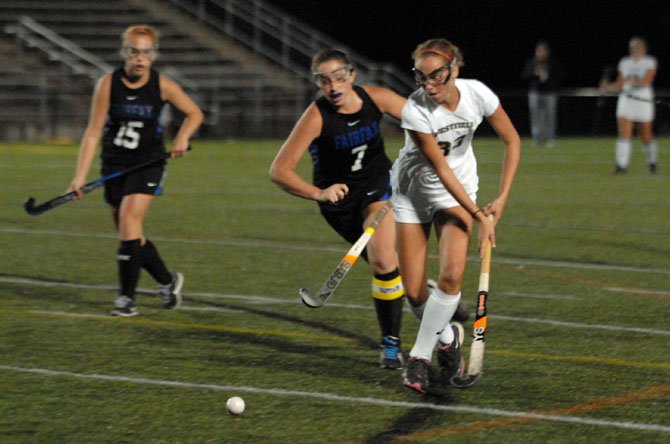 The Westfield field hockey team, which has reached the state tournament each of the last two years, opened the 2013 season with a rare loss to an area opponent, falling to South County 2-1 on Aug. 28.
On Tuesday, Westfield had another opportunity to face a quality local opponent when the Bulldogs hosted four-time defending Liberty District champion Fairfax. This time, Westfield took care of business.
Justine Johnson and Katie Winesett each scored a goal for the Bulldogs and Emily McNamara tallied two assists as Westfield defeated Fairfax 2-0 on Sept. 17 at Westfield High School. Johnson scored with 4:07 remaining in the first half and Winesett gave the Bulldogs an insurance goal with 21:37 left in the contest.
"It wasn't the prettiest game, but you know what? They persevered, they stayed in it the whole time [and] they really wanted it," Westfield head coach Starr Karl said. "… It's always a great game [against Fairfax]. [Their] coach, I coached in high school and she's out to get me every year."
"It wasn't the prettiest game, but you know what? They persevered, they stayed in it the whole time [and] they really wanted it."

--- Westfield field hockey coach Starr Karl
Karl coached Rebels head coach Amber Beaudoin when Beaudoin was a player at Fairfax.
"Of course you want to beat your coach," Beaudoin said, "but more importantly, you want to be the best team on the field and that's what we were not today."
Westfield's McNamara helped assure Karl wouldn't lose to her formal pupil, contributing an assist on each Bulldog goal.
"She's a great distributor," Karl said. "She's very smart, great feeder, great team player tonight. She did an awesome job."
McNamara, a junior, was among the area leaders in assists last season.
"I play basketball, also, and that helps with my vision," she said. "I have such good vision that it makes it a lot easier to make the pass --- make the right pass."
Westfield improved to 6-2, including a 3-1 victory over West Springfield on Sept. 3 in a rematch of last season's region semifinal. The Bulldogs have three seniors on the roster who are in their fourth varsity season --- Ashley Little, Katelyn Rennyson, Rachel Ulsh --- and the team has high expectations.
Fairfax fell to 5-3. The Rebels' victories include wins against West Springfield and McLean. Emily Freeman and Meg Robertson are the team's top scoring threats.
"Our growth at Sept. 17 is not what I'm concerned (about)," Beaudoin said. "Our growth Oct. 17, that's where I'm concerned."
Westfield will travel to face Chantilly at 7:30 p.m. on Thursday, Sept. 19. Fairfax will travel to face Georgetown Visitation at 4 p.m. on Friday, Sept. 20.