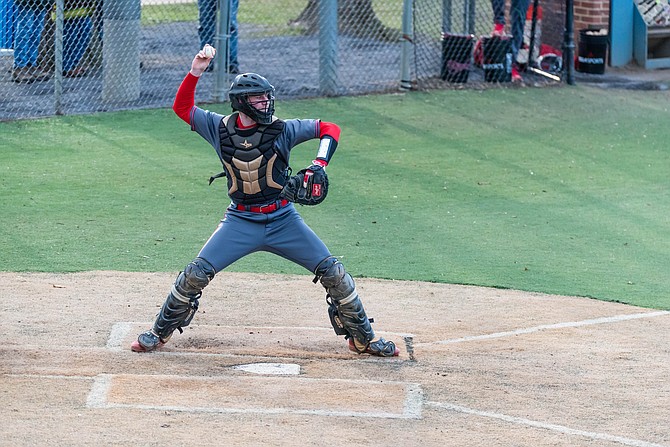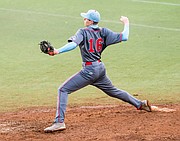 The Marshall baseball team had just suffered its second narrow defeat in a week against a top­flight opponent when head coach Aaron Tarr met with a reporter behind the third­base dugout at Waters Field in Vienna.
The Statesmen battled Paul VI with temperatures in the 30s on Saturday night. Marshall had the potential go-­ahead run thrown out at home plate in the top of the seventh inning before surrendering the game-­winning run in the bottom half via bases­-loaded walk.
The Statesmen missed an opportunity to upset a private school program that routinely competes for championships. Tarr, however, wasn't bitter. On the contrary, the third-year Marshall head coach voiced pleasure in the realization that the defending Conference 13 champion Statesmen have the pitching necessary to make another deep postseason run.
Paul VI defeated Marshall 1-­0 on March 28, dropping the Statesmen's record to 0­-2. While Marshall struggled to generate offense, the performance of starting pitcher Steven Johel was a bright spot for the Statesmen.
Johel tossed five shutout innings, allowing just two hits. The junior right­hander walked one, struck out one and hit two batters.
JOHEL'S PERFORMANCE came four days after Marshall senior Will Brooke, who will play for Coastal Carolina University, pitched in the opener against perennial power Madison, keeping the Statesmen competitive before losing, 4-­2.
"I take away [from Saturday's game] that Steven Johel, our pitcher, did a flippin' awesome job," Tarr said. "The reality is that in order for us to advance as far as we want, you've got to have two or three guys that you can trust. The way that Will showed that he could throw on Tuesday against Madison, and then Steven showed that he could throw today ­­­ against those two opponents in particular ­­­ gives us a lot of confidence in our pitching staff going forward."
What makes Brooke and Johel quality pitchers?
"Will's strength is he throws hard," said Tarr, adding that Brooke throws in the mid­-to-upper 80s with a good curveball and change­up. "... He has stuff that can dominate people. Steven's a little bit different than that, where he's more of a high pitch-­execution guy. It's not that he doesn't throw hard ­­­ he can get into the 84, 85 range, just not as hard as Will ­­­ but he throws stuff with heavy sink and run. Guys pound the ball into the ground; they don't get the barrel [on the ball] very much."
Handling the Marshall pitching staff is senior catcher Mitch Blackstone, a four­-year varsity starter and 2014 all­-state selection.
"Most [teams] only really have their one ace who goes out there and you know he can get a win," Blackstone said. "I'm happy to say that we have two. Steven has definitely come a long way. He looked really solid today, absolutely great start. Will, he's always good and when he's on, he's virtually untouchable."
Along with being a leader behind the plate, Blackstone, who will play baseball at Cornell University, is one of the top sluggers in the area.
"It's very hard because you can kind of look at his career and say, let's get another .500 [average] and another five [or] six home runs, or more than that," Tarr said. "He's capable of lord knows how much ­­­ [in batting practice], he looks ridiculous. I try to temper the expectations on that because it can be dangerous for him to play that numbers game. Our expectations are for him to lead the way he always has been and to scare other people, which he does, and try not to put actual numbers on stuff."
Marshall sophomore shortstop Robert Guenther had a double against PVI, and seniors Shane Russell and Mark Leduc, and sophomore Casey Lauer each had a single.
The Statesmen are looking to improve on playoff runs from each of the last two seasons. In 2013, Marshall started 0-­7 and entered the postseason with a 6-­13 record but managed to reach the AAA Northern Region semifinals, falling one victory shy of a state berth.
In 2014, Marshall won the Conference 13 championship and reached the 5A North region semifinals, again falling one win short of states.
Tarr said the Statesmen want to take the next step.
"We just want that last little bit," he said about qualifying for states. "We would take that over winning another conference championship."
AFTER SPRING BREAK, Marshall will host Langley at 6:30 p.m. on Tuesday, April 7.
"The fact that we're competing against teams like PVI and Madison, the fact that we're holding them close, playing them well, battling back ... it shows me that this program has come a long way from three years ago when I was a freshman and we played Madison, went over to their place, and the game was over after the second inning," Blackstone said. "I'm really excited about this team."