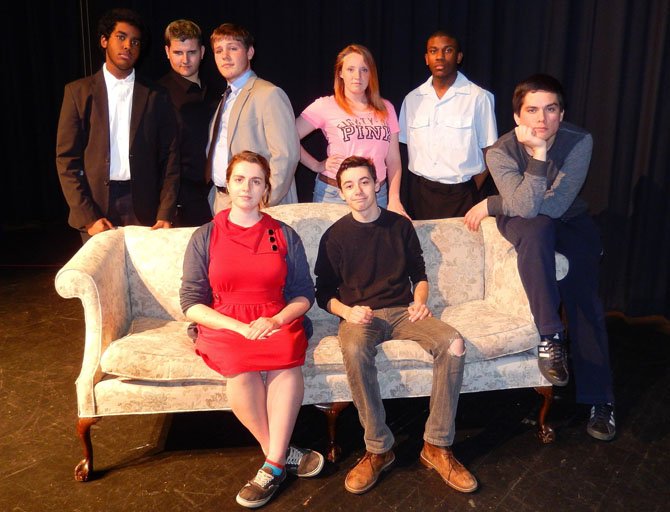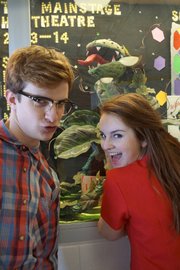 Centreville — In the realm of high-school theater, the annual Cappie awards are akin to professional theater's Tony awards. And during last week's unveiling of the 2014 Cappie nominations, Westfield High's production of "Little Shop of Horrors" received a whopping 14 nods, including Best Musical.
Chantilly High got six nominations, including Best Play, and Centreville High's nod was for Comic Actor in a Play. The winners will be announced June 8 at the 15th annual Cappies Gala at The Kennedy Center in Washington, D.C.
Regarding Connor Gillooly's nomination for Comic Actor in a Play in Centreville's "Funny Money," Theater Director Mike Hudson said, "I'm very proud of his nomination. He has tremendous comic timing and a natural wit that helped him through all this. He works extremely well with everyone, takes direction well and uses it to refine the character in his performance."
Furthermore, said Hudson, "The cast and crew did a remarkable job, as evidenced by the critiques written by the Cappies critics. I'm very proud of them all; their efforts really paid off with a magnificent show."
Chantilly Director Ed Monk was also pleased with the recognition garnered by his school's comic play, "The Front Page," and was happy that all his students' hard work was so well-received.
"I am very proud of all of the kids and the job they did," said Monk. "The Best Play nomination is one that I am especially proud of because that encompasses all aspects of the play, and all the kids contributed — make-up, costumes, set, sound, design, props and acting. Because of the high level of competition, I consider just getting nominated a win."
Meanwhile, at Westfield, Director Shannon Lynch said, "We were ecstatic and surprised because we got so many nominations. We were just focused on making a really amazing show and not thinking about the Cappies. But at the end, it's a nice perk because of all the hard work that went into it."
"The kids were happy and excited, and now it's all about getting ready for the Cappies Gala," she continued. "Actually, getting the Best Musical nomination, in and of itself, is affirmation enough that the kids did a wonderful job. If they come home from the Cappies Gala with some awards, it's icing on the cake — and they've already got the cake."
The Cappie nominations for Centreville, Chantilly and Westfield high schools are as follows:
Centreville – "Funny Money"
Comic Actor in a Play: Connor Gillooly.
Chantilly – "The Front Page"
Props: Chantilly props team.
Special Effects/Technology: Chantilly tech team.
Comic Actor in a Play: Gonzalo Izquierdo.
Lead Actress in a Play: Brooke Johnson
Lead Actor in a Play: Diego Encarnacion.
Best Play: "The Front Page."
* Westfield – "Little Shop of Horrors"
Lighting: Kristen Chiama, Allison Tickner.
Sets: Brandon Sanchez.
Costumes: Zoe Hawryluk, Morgan Perigard.
Make-up: Destinee Bricko, Zoe Hawryluk,Morgan Perigard.
Props: Stephen Cox, Sarah Dickenson, David Koenigsberg, Emily Tobin.
Orchestra: Pit orchestra.
Choreography: Selena Clyde-Galindo, Meredith Mehegan, Ola Pozor.
Featured Actor: Julian Sanchez.
Comic Actor in a Musical: Zack Walsh.
Supporting Actor in a Musical: Brandon Sanchez.
Lead Actress in a Musical: Samantha Dempsey.
Lead Actor in a Musical: TJ Vinsavich.
Song: "Dentist."
Best Musical: "Little Shop of Horrors."