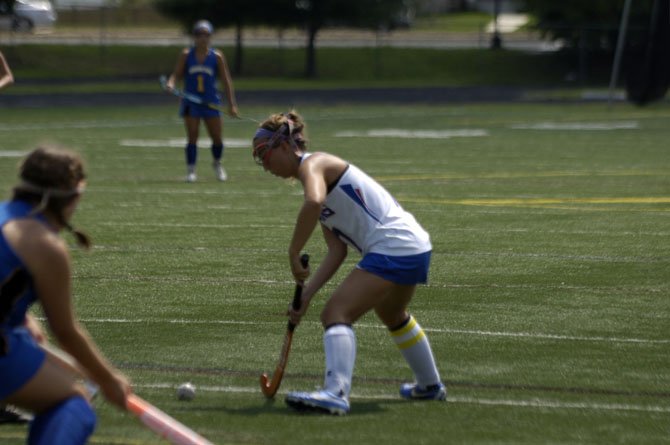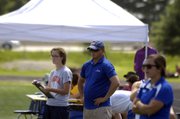 Following the T.C. Williams field hockey team's fourth and final game of the Under the Lights tournament at Lee High School on Tuesday, Aug. 26, head coach William Heresniak praised the two-day event and what it offers from a team-building standpoint.
"This whole tournament is fun," Heresniak said Tuesday. "You've got two days, you get four games, but [during] the in-between time, the down time, the kids can jell, the kids can form a whole family. … For us every year, it's awesome to come here because we can establish that early."
While the Titans bonded off the field, they also found the time to take care of business on it.
T.C. Williams went undefeated during tournament action and won the Pool C championship. The Titans finished 3-0-1 and did not allow a goal in four games. T.C. played its first three games (all victories) without seven players, including five starters, who were attending a leadership conference, according to Heresniak.
On Monday, T.C. Williams defeated Annandale, 3-0, and Hayfield, 5-0. The following day, the Titans beat Osbourn Park, 2-0, and played to a scoreless tie with Oakton.
"The wins, it just gets the snowball rolling," said Heresniak, explaining the effect tournament success has on the rest of the season.
Senior midfielder Avery Olson led T.C. Williams with three goals during the tournament. Sophomore forward Paige Dow and junior forward Claire Bilodeau each had two goals. Junior forward Mimi Hyre, freshman midfielder Sophie Johnson and senior midfielder Riley LaValle each had one goal.
"The wins, it just gets the snowball rolling."

--- T.C. Williams field hockey coach William Heresniak
Moncure, Johnson, and junior midfielder Alex Milliken each had three assists. Junior forward Celia Holubar had one.
On defense, Heresniak praised junior defender Philomena Fitzgerald and sophomore goalkeeper Sarah Leckman.
"I can attribute the defense to Philomena Fitzgerald, who is one of our defensive mids," Heresniak said. "She was just solid the whole time. We only played three in the back and she was right in the middle. She took care of stuff that came through, she possessed the ball on steals coming through, distributed up front, she was the reason [behind our strong defensive effort].
"… Each team that we played put a couple shots on us, but my goalkeeper, Sarah Leckman, she was solid in goal. I couldn't ask for better [performance from] both for [them]."
The Titans' three senior captains are Moncure, forward Meredith Caine and midfielder Megan Laychak.
Battlefield won Pool A with a 3-0-1 record. Robinson went 4-0 and captured the Pool B championship.
T.C. Williams will host Falls Church at 7:30 p.m. on Friday, Aug. 29.