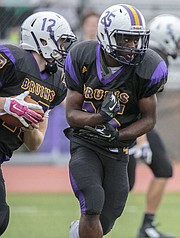 The Westfield football team traveled to Burke on Nov. 28 and defeated Lake Braddock 31-7 in the 6A North region semifinals. The Bulldogs secured a spot in the region championship game and will face South County at 2 p.m. on Saturday, Nov. 5 in Lorton.
It was the third straight season Westfield beat Lake Braddock in the region semifinals.
Westfield and Lake Braddock each entered Saturday's semifinal with 11-1 records, Each team's loss came to South County, which defeated Robinson in the other semifinal matchup to advance. Prior to the kickoff, Westfield honored graduate Conor Bouveron, who tragically died earlier in the week. Bouveron was the 2014 No. 1 in kicker in the state and a Washington Post All-Met selection in football. Bouveron also played lacrosse and soccer and held The Boy Scouts of America highest rank of Eagle Scout.
Westfield started Rehman Johnson at quarterback and shifted Tyler Scanlon, who was named Conference 5 Offensive Player of the Year while playing quarterback during the regular season, to receiver. The move paid off early as Johnson connected with Scanlon for a 20-yard touchdown with 8:24 remaining in the first quarter. Brian Delaney's PAT gave Westfield an early 7-0 lead.
Lake Braddock, after starting at its 28-yard line, wasted no time countering. With 6:24 to go in the first quarter, Bruins running back Lamont Atkins ran in from 2 yards out, and after a Nicholas Bruhn PAT the score was deadlocked at 7.
On the next possession and four unsuccessful offensive plays, the Bulldogs were forced to punt. Lake Braddock, starting from its 27-yard line would move the ball down the field. On third down Kyle Edwards dropped back to pass and Westfield's Kevin Petrillo intercepted Edwards' pass and Westfield would take over with 1:38 to go in the first.
In the second quarter, Scanlon was inserted briefly at quarterback, where he and Westfield marched down the field with a mix of passes and runs. Then, on second down, Johnson again was back at quarterback and hit Scanlon for a 19-yard score with 10 minutes to go in the quarter. Delaney's extra pointy made it 14-7 Westfield. With 5:59 to go in the quarter, Delaney kicked a 41-yard field goal to put Westfield up 17-7 at halftime.
In the third quarter, Westfield's Terrell Monticue rushed in for a 1-yard score with 7:21 on the clock and Westfield was now up 24-7.Later in the fourth, Westfield's Johnson connected once again with Scanlon for the pair's third touchdown reception of the game, Westfield was now up 31-7.
Westfield intercepted four passes on the afternoon, including two by linebacker Kevin Petrillo. Linebacker Billy Pickett and safety Joe Caron each had one.
"Our game plan was to provide pressure and force [Lake Braddock quarterback Kyle Edwards] to throw the ball before he was ready," Westfield assistant coach Rob Everett wrote in an email. "In addition, we disguised our coverages and where we were coming from to not allow them to get into a rhythm. We are excited about another chance at South County and are fortunate to be healthy and still playing."
Lake Braddock ends its season with an 11-2 record. Westfield will play at South County (13-0) in the 6A North final. The winner of that game will play either Oscar Smith (12-0) or Thomas Dale (9-4) in the VHSL state championship game, which will be played at Scott Stadium, home of the University of Virginia in Charlottesville on Dec. 12.
More like this story