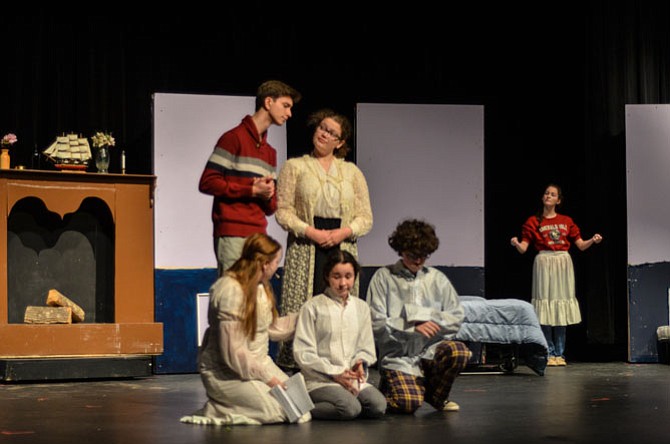 What do fairy dust, a vengeful pirate, and a flying boy have in common? The answer would be Herndon High School's production of "Peter Pan," or the "Boy Who Wouldn't Grow Up." The show, debuting in London in 1904, was J.M. Barrie's most famous work, along with his 1911 novel version of the same story. The play ran on Broadway in 1905, and has had several revivals since, along with many film adaptations. The well-known story tells of an impish little boy named Peter Pan, who refuses to grow up. He decides that he and his band of Lost Boys need a mother, so he takes Wendy Darling and her two brothers, Michael and John, on a magical flight to his home, the magical Neverland. There, they have many adventures with characters such as the fairy Tinker Bell, the pirate Captain Hook, and other family favorites.
Several actors were especially successful in bringing the famous characters to life on the stage. Sarah Overton, as Wendy Darling, gave a believable performance of a young girl attempting to be a mother, portraying the sweet, excitable character quite well. Moritz Barth was effective as the cartoonish villain Captain Hook, earning many laughs from the audience. Also, Annie Taylor, as the storyteller, was enjoyable to watch and interacted well with the other characters on the stage.
Melanie Simpson was another bright spot as Tinker Bell; she brought a unique sassy side to the fairy and had good chemistry with Peter Pan and Wendy. Raleigh Hampson, who played John, showed the juxtaposition of the obnoxious, but endearing, brother well. The pirate ensemble also had much enthusiasm for their roles and brought energy to the stage in all of their scenes.
The technical aspects of the show were very well done for the most part. The lighting was visually appealing, especially the twinkling starlight during the children's flight to Neverland and the soft blues during the lagoon scenes. The set added to the magical atmosphere with the sharp contrast between the dignified London nursery and the Lost Boys' earthy hideout and whimsical oceans of Neverland. Lastly, the element of flight was an essential but impressive addition to the show. The characters' flying scenes were skillfully done with few mistakes. The tech crew did a wonderful job creating the show's magic from backstage.
The student co-directors Madison Hummel and Bonnie Sasseen did a commendable job with the show. Their blocking choices were believable overall, and their many hours of hard work on the show were evident. They, along with the rest of Herndon High School's talented cast and crew, brought the magic of "Peter Pan" to life for children and adults alike.