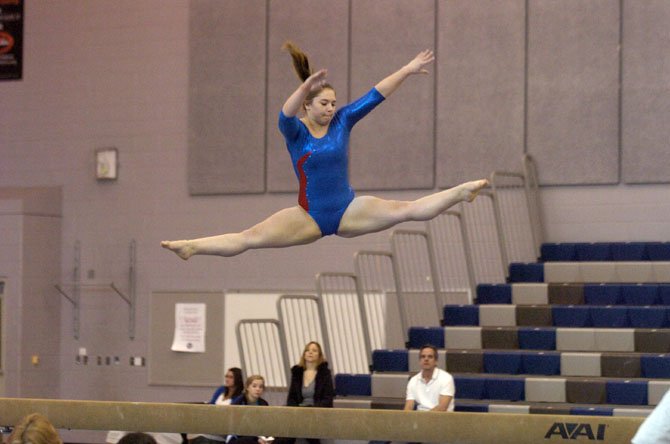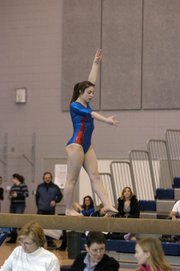 The T.C. Williams gymnastics team competed with four members, the minimum needed to produce a team score in most meets, for the first time in many years on Jan. 25 during the Barbara Reinwald W-L Gymnastics Invitational at Washington-Lee High School in Arlington.
Each of the four Titan gymnasts — Holland Cathey, Grace Girard, Jordan Lambert, Cailyn Lager — finished in the top 10 of the all-around competition and T.C. Williams placed third as a team.
"It's the first time we've had all four healthy or in town," head coach Pete Novgrod said. "We've had three usually, and it's been a different one that we had each time not there."
Cathey finished fourth in the all-around with a score of 35.075, including a first-place finish on floor (9.35), and third-place finishes on vault (9.3) and beam (9). She struggled on bars, finishing 15th (7.425). Novgrod said Cathey usually scores in the 37 range.
Girard finished seventh in the all-around with a score of 33. 875. She finished eighth on vault (9.15), 10th on bars (8.125) and beam (8.45), and 11th on beam (8.15).
Mambert was ninth in the all-around (33.225). She finished eighth on floor (8.6), 11th on bars (7.875), and 13th on vault (8.8) and beam (7.95).
Lager finished 10th in the all-around (32.6). She finished ninth on bars (8.2), 14th on beam (7.65), and 18th on vault (8.7) and floor (8.05).
"Very good," Novgrod said about the Titans' performance. "We had some rough parts …"
Each of the four Titans competes in club gymnastics with the Arlington Aerials.
Last season, T.C. Williams gymnastics consisted of three members: Cathey, Girard and Mambert. Two years ago, Girard was the only gymnast on the team. Prior to Girard, Shannon Murphy, a 2009 graduate, was the first T.C. Williams gymnast in many years, according to Novgrod.
Fairfax's Rachel Barborek won the all-around with score of 35.975, followed by West Potomac's Monica Thompson (35.425).
Washington-Lee won the team competition with a score of 104.975. Yorktown finished second (104.95).
T.C. Williams will compete in the Conference 7 tournament at 6 p.m. on Friday, Jan. 31 at Lake Braddock.