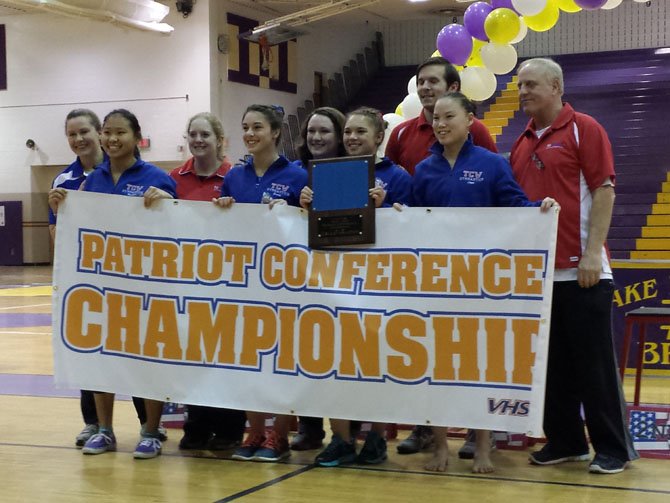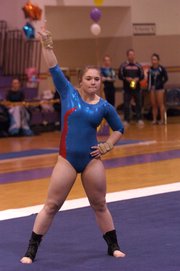 With the T.C. Williams gymnastics team in the midst of a dominant performance during the Conference 7 meet, athletic director Steve Colantuoni said the school doesn't have a championship-recognition banner for the gymnastics program hanging in the gym. After all, T.C. Williams hadn't fielded a complete gymnastics team since the early 1980s.
After the Titans' performance on Jan. 31, Colantuoni will need to consider an addition to the gym wall.
Fielding its first complete team in three decades, T.C. Williams captured the Conference 7 championship at Lake Braddock Secondary School. The Titans produced a score of 143.45, comfortably ahead of second-place Woodson's score of 132.9. The Titans finished with the top score in three of four events and finished second to Woodson on floor.
"[It] feels great. Really nice," T.C. Williams head coach Pete Novgrod said. "Like I said, the girls are great. They work hard. They put a lot into their gymnastics and it showed."
As a freshman, Grace Girard was the only gymnast competing for T.C. Williams during the 2011-12 season. The following season, Holland Cathey and Jordan Mambert joined Girard, but the Titans were still one gymnast shy of the required four needed to record a team score. This year, freshman Cailyn Lager joined the trio to form T.C. Williams' first full gymnastics team since the early 1980s.
And the Titans aren't just any team. Each of the four gymnasts competes at the club level for the Arlington Aerials. And each put on a quality performance at the conference meet, earning the Titans a berth in the 6A North regional meet on Feb. 12.
"I haven't had anything so exciting happen to me in a while. Just to start as one and then bring it to a team that's winning districts, that's an amazing feeling."

— T.C. Williams junior Grace Girard
Cathey, now a senior, won the all-around competition with a score of 37.55. She placed first on floor (9.725) and vault (9.65), and second on beam (9.15) and bars (9.025).
"I'm happy with my performance today," Cathey said. "I could have [done] better on beam, but that's OK. I'll make it at regionals."
Girard, now a junior, finished fourth in the all-around with a score of 35.875. She placed first on beam (9.3), tied for second on vault (9.3), finished sixth on bars (8.375) and eighth on floor (8.9).
"I just remember being a freshman and having to compete with other teams," Girard said. "Now I have my own girls to compete with and it's a great feeling."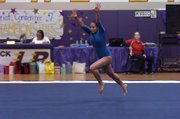 Mambert, a junior, finished sixth in the all-around with a score of 35.2. She placed fourth on bars (8.8), tied for fifth on floor (9), finished sixth on vault (8.95) and seventh on beam (8.45).
"I want to do better at the regionals and I want to win regionals [as a team]," Mambert said. "This is really awesome."
Lager, a freshman at Minnie Howard, finished seventh in the all-around with a total of 34.825. She tied for second on vault (9.3), placed third on beam (9), tied for seventh on bars (8.075) and finished 16th on floor (8.45).
"I think it's really cool," Lager said, "because I'll be able to do this for the next three years."
While the Titans assembled a full team this season, it took them awhile to compete in the same meet. Injuries and other factors left TC competing with three earlier in the campaign, but the Titans finally competed together during the W-L Invitational on Jan. 25. T.C. Williams placed third during the event (W-L Invite counts top three scores, rather than top four) and has been improving since.
The Titans will compete at regionals on Feb. 12 at Lake Braddock Secondary School.
"I haven't had anything so exciting happen to me in a while," Girard said. "Just to start as one and then bring it to a team that's winning districts, that's an amazing feeling."