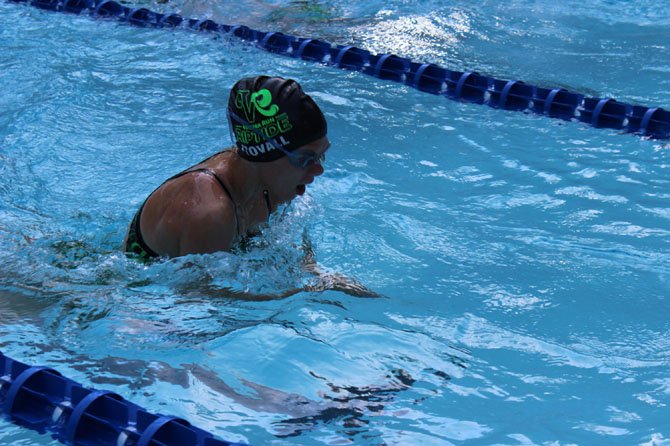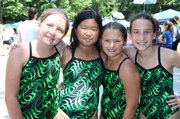 The Virginia Run Riptide traveled to Hollin Meadows in the far southeastern corner of Fairfax County and tamed the Barracuda's, winning the meet 239-181. Energized by their Pasta Potluck Pep Rally Friday evening, the Riptide embraced their Tribal Warrior meet theme and battled to an exciting victory.
Double first places were achieved by 8&Under Riptide swimmers William Whitton in free and back and Charles Beamon in breast and fly. Davis Collinsworth took second in free and fly, Natalie Orwat won two second places in back and fly and Griffin Osterhout took second in breast. Jack Kelly claimed a second in back and a third in fly and Logan Dahm took a third in both breast and fly. And to finish off their performance, the boys 8&Under relay of Whitton, Collinsworth, Kelly and Beamon won their race in convincing fashion.
For the 9-10's Maddie Whitton captured two first in girls free and fly, Michael Hart swam to a first in breaststroke and Caitlin Kelliher took a first in girl's back. Jason Cheifetz won a second place in free and a third in fly, and Andrew Boyle achieved a second in fly and a third in back. Gabriella Borsato was second in breast and third in fly while Caitlin Kelliher took a third in free. The girls relay of Caitlin Kelliher, Gabriella Borsato, Maddie Whitton, and Emily Jon won their race and remain undefeated for the season.
Outstanding swims were made by the 11-12s with Anthony Arcomona winning free and back, William Beamon winning fly, and Chelsea Nguyen winning girl's back. William Beamon also took a second place in breast , while those all-important third place points were earned by Noah Schettini in free, Anthony Thonat in back, Mathew Guidash in fly, Chelsea Nguyen in breast and Catie Gunn in fly.
The Riptide 13-14 year olds asserted their dominance winning 8 out of 8 races. Geoffrey Eisenhart won first in backstroke and butterfly, with Jordon Banzon winning freestyle and Thomas Beamon winning breastroke. Didi Pace won girls free and breast while Sarah Boyle won back and fly. The depth of the group was demonstrated with multiple second place finishes: Charlie Gunn in free, Joel Cheifetz in breast, Lauren Stovall in back and Chanel Cogan in fly. The third place finishers were Charlie Gunn in back, Scott Pisarcik in breast, Bobby Monroe in fly and Chanel Cogan in free. The 13-14 Boys Medley Relay of Geoffrey Eisenhart, Thomas Beamon, Bobby Monroe, and Jordan Banzon won their race by over six seconds and the Girls Relay of Lauren Stovall, Didi Pace, Sarah Boyle and Chanel Cogan won by more than three seconds.
Against a strong Barracuda group the 15-18 year olds swam with energy and enthusiasm. Joey Castro took first place in breaststroke posting a new personal best. The ladies won four of four races: Mia Newkirk took first in breast and fly, Serna Emanuel first in freestyle, and Alexa McAnally first in backstroke. Second place finishes were achieved by Joey Castro in back, Alison Meredith in back, and Skyla Davidson in free. Six swimmers won third: Patrick Kearney in free and fly, Brian Pisarcik in breast, Alexa McAnally in free, Skyla Davidson in breast and Serena Emanuel in fly. The ladies relay of Alison Meredith, Skyla Davidson, Mia Newkirk, and Serena Emanuel cruised to a win with a 10 second gap.
Even though the Riptide had already secured the meet victory, the mixed age relays created winning waves in the Barracuda pool. The boys team of Anthony Arcomona, Jason Cheifetz, Geoffrey Eisenhart, and Joey Castro powered to a victory and the girls team of Chelsea Nguyen, Maddie Whitton, Didi Pace and Mia Newkirk finished off the meet with a decisive win.
On Monday evening the Virginia Run Riptide hosts the Sully Station SSTs for a regional meet. A busy holiday week awaits the Riptide with the Pasty Green Midsummer Relays on Wednesday, an away meet at Mosby Woods on Saturday, and a team trip to the Washington Nationals Game on Sunday.