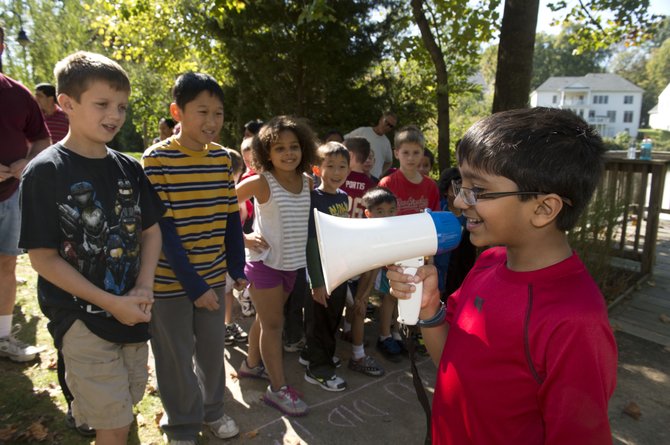 Perhaps no individual embodies the old adage "big things come in small packages" more closely than Rohil Bhinge.
At this point in Rohil's 10-year-old life, he has already accumulated a series of high achievements. He has entered the Advanced Academic Program at Mosby Woods Elementary, become a member of American Mensa Gifted Youth and competed at the state level of the National Geographic Bee. Most recently, as of Tuesday, Rohil has been recognized as Lord Fairfax, an award presented to one individual from each district who has demonstrated superior volunteer service, heroism or other special accomplishments.
"He's certainly one to watch; he's going to be doing some incredible work as he grows up. I would not be surprised if he ran for public office in the future."

— Roberta Longworth, Fairfax County Park Foundation Executive Director
Over the past two years, Rohil and his family have organized two local Fun Runs, with a third planned for this Saturday. Thus far, he has raised approximately $3,200 for the Fairfax County Park Foundation. This money will be allocated toward the Chessie's BIG Backyard project, a community playground allowing for children and adults with disabilities to play together.
"I just like to help people who don't have enough opportunities, so Chessie's BIG Backyard will allow for this," Rohil said. "The playground is designed for disabled people, and allows people to play with both non-disabled and disabled people together."
Rohil said his greatest challenge about organizing Fun Runs is worrying about the attendance of runners at his events.
"Most people sign up one or two days before a Fun Run, and for the Fun Run I'm having Saturday, only two families have signed up, although other people are all going to come too," Rohil said. "That's one of the challenges I face, worrying that not enough people are going to come, and that we won't raise enough money for the park."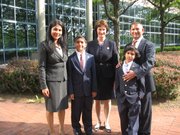 ROHIL'S FATHER, Deepak Bhinge of Fairfax, said Rohil was inspired to start organizing Fun Runs when he discovered at a ribbon-cutting event for Phase One of Chessie's BIG Backyard that Phase Two would only begin development when it received adequate funding.
"When he found out more money was needed for Phase Two, he asked 'How can I contribute?'" Deepak said. "He's always got this helping nature, and even in school, he's mentoring little children in reading and running. That's his main thing."
Sharon Bulova, Fairfax County Board of Supervisors Chairman, who nominated Rohil as a Lord Fairfax candidate, said she attended his Fun Runs and appreciated his service efforts.
"I think the organizational skills for a young man of his age are just exceptional," Bulova said. "Not many kids are thinking about others in the way Rohil does, so that kind of compassion is just pretty exceptional."
Roberta Longworth, Fairfax County Park Foundation Executive Director, said Rohil's service greatly benefits the Park System by increasing its ability to provide citizens with quality facilities.
"Thanks to the work of Rohil and people like him, we're able to build accessible playgrounds and really improve offerings through the Fairfax County Park System for all the residents and visitors," Longworth said.
ROHIL'S MOTHER, Meena Bhinge of Fairfax, said she believes Rohil's most admirable quality as shown in his work is his desire to serve his community.
"He always wants to do something in any way; any cause where he can help people, he wants to do it," Meena said. "He's very honest, he always wants to try new things, and he's very creative, so he thinks of lots of ideas. The Fun Runs have been a mix of ideas from him, my husband, my youngest son and I. We were hoping, by doing the Fun Runs, more children would get inspired to do them and to raise money for the Fairfax County Parks, which we use all the time. It's our way of giving back to the community."
Rohil's brother, Samik Bhinge, 9, of Mosby Woods Elementary, said he is extremely proud of his brother's achievements, and does his part to help him when he can.
"I help him by telling all of my friends to come to the Fun Runs and by inspiring people to start running," Samik said. "Rohil's award means to me that both of us have done a good job in helping to raise money. It absolutely feels good to see him honored."
Rohil said he hopes people remember him as a role model for providing service to the community.
"I'd like to be remembered as an example so that other people can do the same thing as me," Rohil said. "That way, Chessie's BIG Backyard will be finished more quickly."
Longworth said she absolutely expects to see more greatness from Rohil as he grows older.
"He's certainly one to watch; he's going to be doing some incredible work as he grows up," Longworth said. "I would not be surprised if he ran for public office in the future."