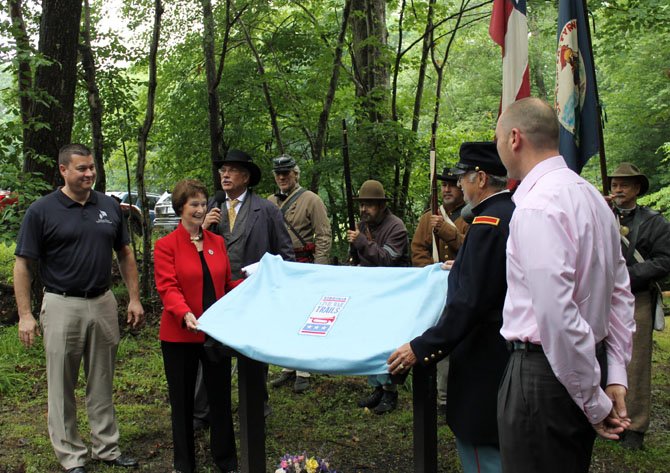 During the Civil War, Wolf Run Shoals in Clifton served as a major entry point for the Union Army marching north. A marker written by historians James Lewis and Brian McEnany, honoring the site's rich historical legacy, was unveiled during a ceremony at the site in Clifton on June 21.
"At most places you have to try real hard to imagine what the past was like, but not here. You can absolutely imagine what it was like during the Civil War era," said Sharon Bulova, chairman of the Fairfax County Board of Supervisors, at the ceremony.
Wolf Run Shoals was a strategic crossing point during the Civil War, said marker co-author Brian McEnany.
"It was an almost de facto dividing line between north and south, and the Occoquan River was the southern boundary. Wolf Run Shoals was one of several fjords along the Occoquan River," McEnany said.
Wolf Run Shoals is one of the stops included on a tour of Civil War Sites in Northern Virginia.
"Three years ago, I wasn't even aware this place existed," said Lewis. "This truly is Fairfax County's best-kept historical secret."
Fifteen historical makers similar to the one at Wolf Run Shoals have been installed over the past two years, said Patrick Lennon, the marketing manager of Visit Fairfax, and there are now 32 located in nearly every community throughout Fairfax County.
The marker is part of the Civil War Trails Program, which includes 1,430 sites over five states, Lennon said.
"Today, in one of the most beautiful areas of the county, the legacy and importance of Wolf Run Shoals assumes its rightful place among all the other Civil War stories the Civil War program highlights, and that makes today a beautiful day," he said.
Historical markers at Wolf Run Shoals and other locations not only serve to preserve history, but also have an economic impact on the surrounding area. Visitors are likely to visit shops and restaurants nearby, Lennon said.
"When these visitors come, it's big business for us. Over 2 billion dollars a year are spent by visitors coming into the county," Lennon said.
Wolf Run Shoals is located in Fountainhead Regional Park, with several hikers passing through on the 17-mile Bull Run-Occoquan Trail. Soon, a mobile application will be released that alerts users to the historical sites that are located around them as they hike.
"You'll know exactly what happened and where," said Chris Pauley, director of operations at Northern Virginia Regional Park Authority. "We want to get that out to everybody and show them truly what is out here."
Fairfax County is home to several historical sites, from Mount Vernon to Drainesville, Bulova said.
"History matters," Bulova said. "We must continue to preserve the history of Fairfax County to remember who we are and where we came from."
Wolf Run Shoals was described by several of the speakers as a best-kept historical secret. Visitors are encouraged to visit the site and read the new historical marker.
"It's great to be able to read about history on textbooks or online, but I am most appreciative of history when I am able to actually visit the places themselves," Bulova said. "History really comes alive when it is presented in a tangible, experiential way."