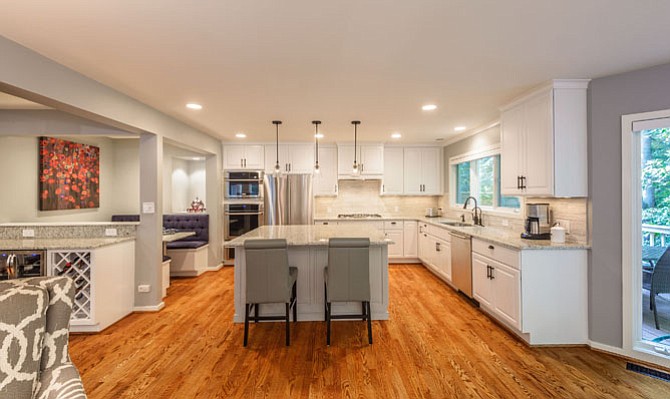 The transition was surprisingly easy. In the previous act, John and Mary Millette were living with two growing sons in a 5,000-plus-square-foot house in Charleston. In the next scene, retirement looms and the couple have relocated to a pleasant "contemporary" on a golf course in Reston.
At 2,700 square feet, the new house is tighter than its predecessor, but both sons are now off on their own. Quite suddenly, John and Mary Millette are empty-nesters, downsizing, writing a new chapter.
The new house accurately proffers much of what the Millettes sought as they shifted to a simpler, less work-focused life.
There are two floors and a lower level. Four bedrooms. A sizable family room with a fireplace and side deck. There is a spacious front-facing living room with a sloping cathedral ceiling. A formal dining room behind French doors with sidelights.
Alas, the dining room is too cramped for a table that seats eight; moreover, many of the kitchen outlier spaces are small, bordering on dysfunctional. The pantry is tiny. There is a recessed cubby with a desk that doesn't figure in the Millettes' plans at all. The 20-year-old food prep island that takes up more than half the kitchen floor space is more of a bulwark against thru-traffic than a useful cook's asset.
AFTER OCCUPYING THE HOUSE or some months, the couple's first thought is to re-deploy the living room as a more spacious dining room. Then delete some interior walls, introducing an "open" plan.
That, of course, means removing a middle-of-the house load-bearing wall that sequesters the family room from the old dining room. No simple engineering feat in a two-story house.
So the Millettes are pleased to learn via old friends about Foster Remodeling Solutions, a 33-year-old full service design/build contractor which has executed many interior reconfiguration plans that entail structural challenges — often with award-winning results.
In short order, the couple call in Foster's Chris Arnold, remodeler and space planner, to talk through ideas.
"We're seeing growing interest in this kind of transitional-style interior solution," Arnold said. "An open plan creates a much more generous sense of space, but it also requires innovative ideas — especially if you want to improve living space functionality and increase storage capacity … while actually removing walls that were previously used to conceal things."
With the dining room now successfully relocated, the emerging plan calls for conjoining kitchen, family room, and the former dining room into a large, L-shaped living area.
This will entail removing a structural wall between the family room and the former dining room, and introducing a horizontal support beam affixed on a reinforced vertical shaft extending up from the basement. The support will hold the second floor firmly in place, yet allow for more interactive relationships between existing first floor rooms.
"Sightlines and natural light availability open up dramatically with these changes," Arnold said. "Yet interior lines, colors and textures nicely differentiate the living room, family room, kitchen and other use-zones. It's an interior design scheme that scales back any tendencies of a large open space to seem too cavernous."
To accommodate the Millettes' call for in-kitchen dining, Arnold eliminated the pantry and recessed desk, creating room for a custom-designed banquette that incorporates roll-out drawers designed for storing large serving platters and other less frequently used collectibles.
With the pantry wall gone, the couple can now see all the way to the wall mounted TV in the new living room where a favorite golf game might be underway.
"It's a very usable everyday plan that gives us lots of lifestyle options," Mary Millette said.
For better traffic patterns, Arnold designed a serving station and beverage center in the hall just beyond the banquette. The step-saving surface is conveniently situated midway between kitchen and dining room, but it's also an easy reach to the living room, or stairs leading to the downstairs recreational area.
Equipped with a wine refrigerator and wine racks, the large granite surface is an asset when entertaining. Recently, Mary said, the couple accommodated 40 guests. Though no square footage has been added in the makeover, Mary Millette said the space feels "substantially larger."

"One of the tricks of our trade," Arnold said, "is knowing how to reduce visual clutter while adding storage capacity."
BY RE-ROUTING the ceiling-flush HVAC, for instance, Arnold and team created more ceiling space, introducing cabinets that are 30 percent taller than their predecessors.


Likewise, at nearly 25 square feet, the custom-designed food preparation island provides orderly, at-hand storage for every cooking implement in the house — as well as access to a pull-out trash receptacle.
That said, the decorative highlights — comprised largely of neutral tones and textured surfaces — make bulky objects seem smaller. Wood floors, re-sanded and re-stained to a golden tone, also unify the space.
Mary Millette credits Foster's organized process with the ease and creative satisfaction through which she was able to make important finishwork decisions.
"I could find everything I needed at the company's showroom," Millette said. "On one occasion, I asked for more options on granite, and Chris Arnold drove me to their supplier's main facility outside of Baltimore where I could expand the search."
Having worked as a project coordinator in her professional life, Millette said she was impressed with the remodeler's well-managed delivery system.
"They presented us with a schedule at the top of each week," she said, "and there was never any question about which phase of the remodel was underway at any time. This was enormously helpful, and allowed us to concentrate on other matters and make effective decisions throughout. We felt both supported and in charge. A good feeling to be sure."