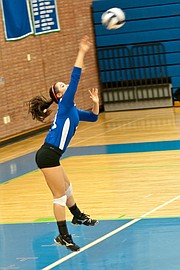 Sara Chang helped put Churchill volleyball on the map.
In 2013, the Bulldogs won their first division championship in 27 years and reached the 4A West region final. This year, Churchill repeated as division champs and again reached the region final due in part to the performance of Chang, a four-year varsity athlete who will play at Oberlin College.
Chang, a senior setter and opposite hitter, will primarily play setter in college. She recently participated in a Q&A via email, sharing some insight about her Thanksgiving plans.
*Q: What are your plans for Thanksgiving?
Chang: For Thanksgiving, we are going with my grandparents and uncles and aunts down to Rehoboth Beach, Del. My grandparents have a house down there.
*Q: Do you or your family have any annual Thanksgiving traditions?
Chang: A walk on the beach after the meal and going down to the beach every year are our traditions.
*Q: Does your family incorporate sports into Thanksgiving? If so, how?
Chang: Nope, no sports for us. I go to the gym with my grandpa in the mornings but besides that, we don't do much.
*Q: What is your favorite thing to eat on Thanksgiving?
Chang: That's a tough one. I'd have to say the pie just because I have the worst sweet tooth.
*Q: The Churchill volleyball team reached the region final for the second straight year. What are your thoughts on the season?
Chang: My thoughts are that we did amazingly this year. I really couldn't have asked for a better team. I wish I hadn't gotten injured five times and that we had won in regional finals, but regardless of all our downfalls we still had so much heart and talent. I think we really had the talent to beat a team like Northwest or Sherwood, but we just couldn't bring ourselves quite to their level that day, which sometimes has to happen to keep us in check. In the end, I think we all gained a lot from this season, and hopefully will be able to implement the things we learned in the seasons to come.
*Q: What is your favorite memory of playing volleyball at Churchill?
Chang: This one is tough, too. My favorite memory would have to be my junior year when we beat Damascus. We were the underdogs going in and we managed to pull through and really give Churchill volleyball a name.
*Q: Do you play any other sports at Churchill?
Chang: I play co-ed [volleyball] in the spring and am hoping to again this year if time allows.
*Q: You're playing college volleyball at Oberlin. What made Oberlin College the right choice for you?
Chang: I chose Oberlin because it really brings together everything that I was looking for in a school to play for. They have division 3 athletics and a great science program (I wish to study pre-med) and a diverse and creative student body. Everyone there is very driven but not competitive with one another and I find that very important.
*Q: What position will you play in college?
Chang: I will ultimately be setting in college but I might hit some here and there.
*Q: What are you most looking forward to about college?
Chang: I'm really looking forward to expanding, if that makes sense. Potomac is a wonderful place to grow up and live but after 18 years I think I'm ready to really live (and not just visit) somewhere else. I'm also excited to meet so many different people all the while getting a really great education and playing the sport I love.
*Q: Who is your favorite music artist? Why?
Chang: Oh geez. The tough questions. I don't think I have a favorite but I love Bastille, Mumford and Sons, Arctic Monkeys, Sam Smith, Regina Spektor, Lana Del Rey, Lorde, Ingrid Michaelson, The Lumineers, Vance Joy and I should stop listing because it'll just go on forever. I don't know what they all have in common. I generally like chill or relaxing music, it helps me clear my mind.
*Q: What is your favorite movie? Why?
Chang: "Moonrise Kingdom" always sticks out in my mind. It just makes me happy to think about and the whole movie was incredibly well done. "Dead Poets Society" and "Beasts of the Southern Wild" also pop into my mind.
*Q: What location is the farthest you have traveled from the Washington, D.C. area?
Chang: I've actually traveled to Baotou, China, for a volleyball tournament in the summer of 2013.