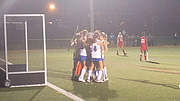 The No. 1 seed T.C. Williams field hockey team had won its last 11 games and led 1-0 at halftime of its Conference 7 tournament quarterfinal matchup with No. 8 Annandale, but the Titans weren't convinced the outcome was decided.
"During halftime, I said a goal is not a lead," T.C. Williams senior Philomena Fitzgerald said. "They could score one and then be tied and there's a possibility of us going into overtime, and our record [in previous years] with overtime is not good."
The Titans didn't take any chances, adding a pair of second half goals on their way to a 3-0 victory over the Atoms on Tuesday night at T.C. Williams High School's Minnie Howard Campus. The Titans earned a trip to the conference semifinals, where they will host No. 5 West Potomac at 7 p.m.on Thursday, Oct. 22.
One reason the Titans remained focused on finishing the underdog Atoms was the bitter experience of failing to qualify for the regional tournament last season. T.C. Williams started 8-0-1 in 2014, finished the regular season with a 12-3-1 record and earned a top-four seed in the conference tournament. The Titans, however, were upset at home by Woodson in the opening round, ending their season.
"I think it helps that last season we were super confident coming in and we lost [in the] first round," said Fitzgerald, who is committed to play at College of the Holy Cross. "I'm guessing we have a lot returning players this year and we have that mindset that we can't be overconfident and we have to take it one game at a time."
Fitzgerald helped T.C. Williams strike first Tuesday night, assisting a first-half goal by Josie Brocato, giving the Titans a 1-0 lead. In the second half, Fitzgerald extended TC's lead to 2-0 when she scored with 25:09 remaining. Brocato scored her second goal of the night with an assist from Sophie Johnson with 17:05 left, boosting the Titans' advantage to 3-0.
"We were determined to put in another [goal]," Brocato said, "and we weren't' satisfied with just one."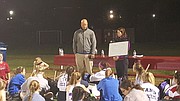 T.C. Williams wasn't playing to keep its season alive (the Titans had already secured a berth in the regional tournament by earning the No. 1 seed in the conference) but the Titans took care of business against Annandale, anyway.
"I think the desire to win," Fitzgerald said, "is more prevalent on this team."
Tuesday's victory was another step in a stellar season for the Titans, who improved to 16-1 and extended their win streak to 12 games. T.C. Williams, which went undefeated during conference play in the regular season, has outscored opponents 54-4.
"[I have] extremely high expectations," T.C. Williams head coach William Heresniak said. "We don't want to plateau out. We keep intensifying practices, we keep intensifying drills. ... We want everybody to keep notching up, keep striving ..."
Next up for T.C. Williams is Thursday's semifinal matchup with rival West Potomac.
"We definitely want to win the conference this year," Fitzgerald said. "We showed in the regular season that we are able to, but I think right now we're just taking it one game at a time."