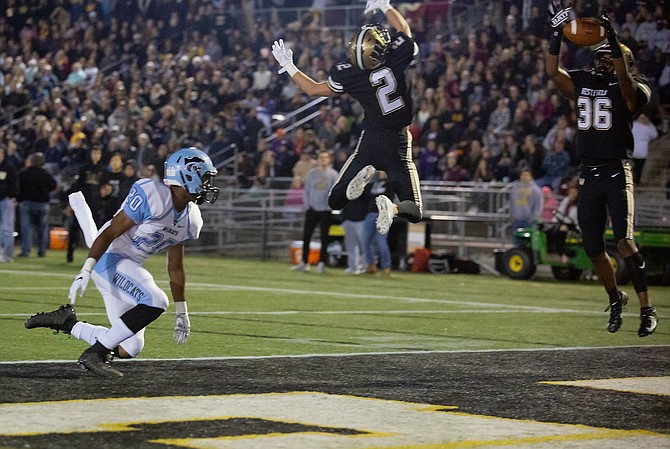 With less than five minutes remaining in the first half and Westfield leading by two touchdowns, Centreville quarterback Presley Egbers dropped back on third and goal from the 17 and fired the football toward the end zone.
The perfectly placed pass split a pair of defenders and hit the intended receiver in the hands near the goal line. However, the ball bounced off the receiver's hands and into the arms of Westfield defensive back Tahj Summey, who secured the interception in the end zone and squashed the Wildcats' scoring opportunity.
It was an experience that would become all too familiar for visiting Centreville.
The three-time defending state champion Westfield Bulldogs extended their winning streak to 32 games with a 21-0 victory over Centreville on Oct. 19 in a battle of undefeated rivals at Westfield High School.
Despite being held to 113 yards of total offense, the Wildcats (7-1) managed to reach the red zone three times Friday night.
Each time, Centreville came up empty.
"That's our staple," Westfield defensive back Taylor Morin said. "That's Westfield football. You're going to get down (the field), but you're not going to punch it in."
Not long after Summey's interception ended Centreville's first trip to the red zone, the Wildcats returned with a first and goal at the Westfield 10 in the final minute of the first half. After a 7-yard pass and a spike to stop the clock set up third and goal at the 3-yard line, the Westfield (8-0) defense stepped up once again. Egbers threw incomplete on third down and running back Jordan Wright was stuffed for a 1-yard gain on fourth down, all but ensuring the Bulldogs would enter halftime with a 14-0 lead.
"I think that definitely took some wind out of their sails going into halftime," Westfield head coach Kyle Simmons said. "That certainly worked in our favor."
On the third play of the second half, Centreville defensive lineman Gavin Thomas, listed at 5 feet 10, 300 pounds, intercepted a pass and returned it to the Westfield 9-yard line. But after two penalties, a 4-yard run, a 3-yards pass and an incomplete pass, the Wildcats missed a 31-yard field goal attempt.
Centreville didn't threaten for the remainder of the contest, while Westfield added a touchdown when receiver Bizzet Woodley hauled in a Noah Kim pass over the top of a defender for an 11-yard score with 3:38 remaining in the fourth quarter.
"I don't think anybody on our staff would have said we could get a shutout against this offense, so obviously we're very proud of them," Simmons said. "… [I]n some situations where it looked like they were certainly, at least, going to put something on the board, to get stops, turnovers and caused penalties, that is pretty awesome for our defense. They are growing in the right direction at the right time."
The Westfield defense has posted a shutout in three of its last four games, and the Bulldogs are holding opponents to just over 10 points per contest this season.
"A lot of it is game-planning," Westfield senior linebacker/defensive lineman Joe Clancy said about the Bulldogs shutting down the Wildcats. "We kind of know … what is going to go on, percentage-wise, down and distance. Other than that, it is just will. We have the will to compete. A lot of people were ruling us out in this game, saying we were going to lose, but we knew coming in we had [been tested]. We played Madison, we played Lake Braddock, we played Patriot. They hadn't really played anybody, in our mind, that seemed like a true test compared to our defense."
Westfield took a 7-0 lead when running back Isaiah Daniel scored on a 21-yard run with 2:28 remaining in the opening quarter.
The Bulldogs increased their advantage during their next possession, when Clancy capped a nine-play, 57-yard drive with a 1-yard touchdown run with 9:15 left in the second quarter.
Junior quarterback Kim completed 14 of 22 pass attempts for 210 yards and a touchdown. He was intercepted once.
Woodley caught five passes for 75 yards and a score. Morin had five receptions for 73 yards.
Westfield hasn't lost since Oct. 7, 2016, when the Bulldogs fell to Briar Woods, 35-34, according to results on maxpreps.com. Westfield then closed the 2016 season with nine straight wins and its second consecutive state championship.
Twenty-three more victories and another state title later, the Bulldogs don't appear to be slowing down.
How do the players stay motivated?
"First of all, my (coaching) staff is so strong that the kids have a lot of respect for them and listen to what they have to say," Simmons said. "We say our record speaks for itself. If you're questioning what we're trying to get you to do, then you probably need to go somewhere else.
"It's a daily conversation. The way we carry ourselves, we set the example that we're here to work and to get better. No matter if we blow a team out or have a close win, we're still going to go to the film and try to get better from it. I think they see how hard we work and how important we make the little things and they follow suit on that."
Westfield will host West Potomac at 7:30 p.m. on Friday, Oct. 26. Centreville will host Chantilly at 7 p.m.