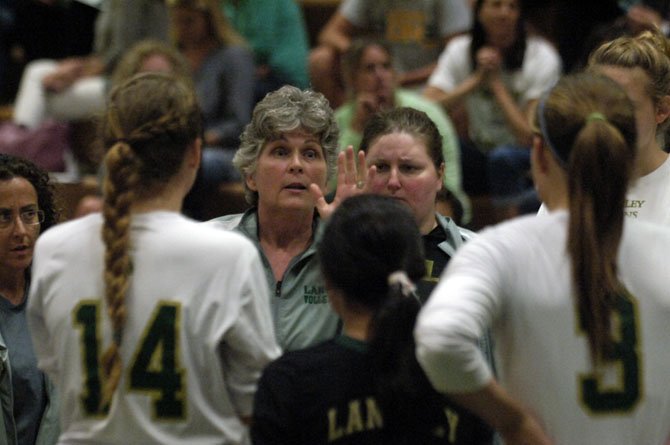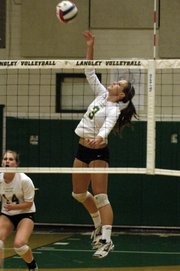 Susan Shifflett, who founded the Langley volleyball program in 1998, says she reached her ultimate goal when the Saxons won their first state championship in 2013.
While the Langley head coach reached the pinnacle of VHSL volleyball last season, the confidence her players gained from the accomplishment likely carried over to Monday, helping Shifflett reach a career milestone.
Shifflett earned her 300th victory as Langley head coach on Sept. 8, when the Saxons won a home match against South Lakes, 3-1 (26-24, 25-23, 17-25, 25-17). Langley overcame multiple early deficits to take control of the match. South Lakes reached set point in the opener, but Langley responded with five straight points, including a trio of kills by Rachel Andrejev, to pull out a 26-24 win. The Seahawks scored the first six points of the second set and led 18-17, but the Saxons found a way to win.
"I think that's one thing that winning a championship does," Shifflett said. "I think they know they can win, so they don't quit. They don't stop and I'm so proud of them for doing that."
Shifflett's path to 300 victories included trips to the state tournament in 2007, 2009 and 2012, as well.
"It wasn't ever a goal for me," Shifflett said of reaching 300 wins. "Just winning is a goal. We just want to win. Last year was the ultimate for me: winning states."
Then the Langley head coach went into a little more depth and her voice started to crack with emotion.
"It's cool, it's neat and it makes you think back," she said. "I can get emotional about all the kids that got [me] here, and the coaches. I wouldn't be here without the kids and the coaches."
On Monday, Andrejev was one of the "kids" primarily responsible for getting Shifflett win No. 300. The senior outside hitter totaled 17 kills against South Lakes, including the match-winner. With all-state outside hitter Jessica Donaldson suffering a season-ending knee injury against Atlee on Aug. 30, Andrejev is the team's go-to offensive player.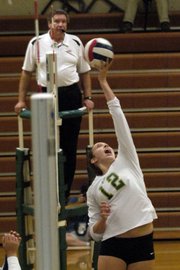 How does Shifflett describe Andrejev?
"Money," the coach said. "Especially with Jess down, she's got to carry the load. She's really stepped up."
Andrejev said she was pleased to help her coach reach a career milestone.
"It feels great, especially after playing with her for four years, to give her that accomplishment," Andrejev said. "I know that she works so hard for us and comes in every day and is always there for us. It's just great to give her that win. She's more of, like, a mom to us. She keeps us really close, makes sure we're doing the right things, just a great coach all-around."
Donaldson, who cheered for her teammates from the bench with a large brace on her left leg, shares similar feelings about Shifflett.
"She's an awesome coach," Donaldson said. "She's like a mom to us. She loves us like her own kids and she wants us to do well. It's really good being a player under her because she really cares about you and it's not just an aspect of volleyball."
Cheri Hostetler, who is in her eighth season as South Lakes head coach, also shares admiration for Shifflett.
"She's always the coach you want to beat," Hostetler said. "She's a great coach. I really look up to her a lot."
Langley improved its 2014 record to 7-1 with Monday's victory. Katie Sissler finished with six kills against South Lakes, and Raya Mufti, Carly Herbert and Elena Shklyar each had five.
The Saxons will travel to face Thomas Jefferson at 7 p.m. on Wednesday, Sept. 10.