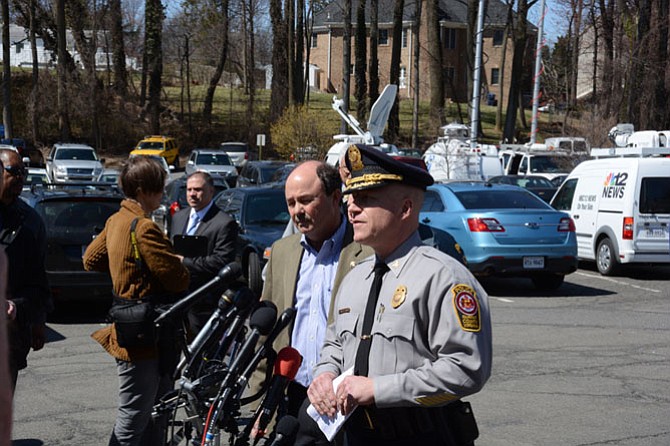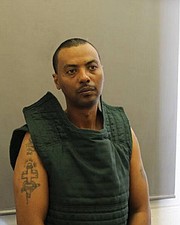 Around 3 a.m. on Tuesday, March 31, Wossen Assaye overpowered the female member of his two-guard private security detail while the male was out of his hospital room. Assaye was reportedly in shackles on a hospital gurney before the struggle.
When the male guard returned, he fired a single shot at Assaye from the hallway towards the room. No one was injured and the prisoner fled to the stairwell and out of the hospital, reportedly barefoot and wearing only a hospital gown.
Fairfax County Police were on the scene shortly thereafter, and by 5 a.m. began reporting on the incident using Twitter. The first @fairfaxpolice tweet with Assaye's name and photo drew 715 retweets and 73 favorites, as of writing this story. Having taken one of the guard's guns, police tweeted that he was at large and should be considered "armed and dangerous."

AS THE SUN BEGAN to rise, tweets from the police department kept coming, delivering new information. They announced road closures while police searched the Falls Church hospital campus, confirmed that the police chase which ended on I-95 at Route 286 and Fullerton Road was not related to the manhunt, and directed members of the media to press conferences for further updates.
Fairfax County Police Chief Edwin Roessler announced at the noon update that Assaye had been arrested in Southeast Washington, D.C. by Metropolitan Police, who received information from the public following the hunt on social media.
"We want to thank each and every community member for helping apprehend a violent felon," Roessler said. He added that he estimated several hundred officers and multiple agencies were involved in the ground and air search.
Roessler was joined by U.S. Marshal Bobby Mathieson and Greg Cox, FBI Acting Assistant Director In Charge, who filled in details about the morning's events and Assaye's criminal history.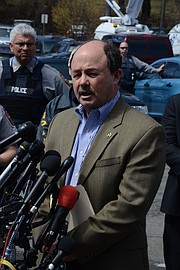 On March 20, Assaye had been booked into an Alexandria detention center facing federal charges for multiple armed bank robberies. Shortly after his intake, he tried to kill himself. "He tied a bed sheet around his neck and dove off a tier," said Mathieson.
Assaye was first treated for his injuries in jail, then transferred to Inova for further medical attention. He was placed under surveillance by Alexandria police for the first 24 hours. After the first day, police were replaced by a two-guard detail from the private contractor Allied Protective Services.
Mathieson said using a private contractor in that way was a standard practice, but that an investigation was underway as to whether the guards violated any detention policies.
After fleeing the hospital, they said, Assaye entered an adjacent apartment complex and gained access to the trunk of resident's car. The resident got in the car, unaware, and began driving. Assaye kicked through the back seat and proceeded to steal the car from its owner, Roessler said.
Around 7 a.m. police tweeted they were looking for the prisoner driving a stolen 2002 silver Toyota Camry with damage to the front end. Assaye later switched to a 2008 dark gray Hyundai Elantra. When police recovered the Camry around 10:30 a.m. in the Annandale area, they found what they said appeared to be the stolen security guard gun.
FOR A DEVELOPING STORY that also posed a public security threat, Fairfax County Police spokesperson Shelley Broderick faced the challenge of informing both the public and the media as quickly and as comprehensively as possible.
She got the idea to live-tweet updates as they happened, rather than wait for a press conference, from the handling of the Howard County mall shooting in January 2014.
"They were able to push information out," Broderick said. "The majority of people are on Twitter, and are able to take what we're pushing, from a valid source."
She said she was able to "reach a vast expanse" of media outlets and the public with updates most relevant to public safety, and make sure the information was timely.
Joshua Stueve, a spokesperson for the U.S. Attorney's Office, said Assaye was scheduled to appear at the Alexandria Courthouse, after being recaptured, around 3 p.m. on Tuesday.
The Fairfax County Police department tweets using the handle @fairfaxpolice. Investigations into the morning's events are ongoing and further details continue to be released.