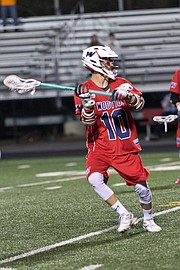 "I've got to be honest: In the beginning, I thought it would be a little bit rough for him. But he's just a magical kid. He's got good things coming for him. I love him to death and it's just awesome to see him come out and play like this. He's adjusted very well. He's a very strong player on this team as a freshman, already."
— Wootton senior Myles Romm about freshman brother Mason
After the Whitman boys' lacrosse team scored back-to-back goals to pull within one in the third quarter, Wootton's senior leader and his freshman brother gave the Patriots some breathing room and helped assure they would enter spring break undefeated.
Senior midfielder Myles Romm and freshman midfielder Mason Romm each scored a goal in the final two minutes of the third quarter, extending Wootton's lead to three while helping the Patriots beat Whitman 8-4 on April 2 at Wootton High School.
The victory improved Wootton's record to 4-0, including an 8-7 win over perennial power Glenelg on March 27.
"They were crucial," Myles Romm said of Wootton's two goals late in the third quarter. "… We knew we were going to go up. We had the confidence for it. Two great goals gave us some breathing room. We relaxed a little bit. We were very intense in the beginning, we were making some big mistakes, but we kind of calmed down after the two goals and everything kind of went from there."
Mason Romm produced a hat trick against the Vikings, the best goal-scoring performance of his young varsity career.
The freshman's first goal gave Wootton a 2-1 advantage with 10:36 left in the second quarter. Goal No. 2 extended the Patriots' advantage to 4-1 with 4:59 left in the third, and his third goal gave Wootton a three-goal cushion later in the quarter.
"He's a very good player," Wootton head coach Colin Thomson said. "He's growing up every game for us. He's on the line he is because of the way he plays."
Mason Romm said Myles, a team captain, has helped make life easier for a ninth-grader on the varsity.
"It's an awesome experience," Mason said about playing with Myles. "… It's the best thing that's ever happened to me lacrosse-wise. … He's helped me a lot. He teaches me new things every day. He tells me how to act on the field and act in the locker room. He's my role model."
Myles said he had early doubts about whether Mason would excel as a freshman, but Mason has proved to be an impact player early in the season.
"I've got to be honest: In the beginning, I thought it would be a little bit rough for him," Myles said. "But he's just a magical kid. He's got good things coming for him. I love him to death and it's just awesome to see him come out and play like this. He's adjusted very well. He's a very strong player on this team as a freshman, already."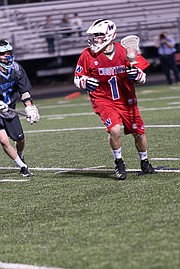 The Romm brothers figure to play significant roles for a Wootton team with lofty expectations for the 2015 season.
"They complement each other really well," Thomson said.
Myles Romm is the lone returning offensive starter from a 2014 team that defeated rival and two-time defending champion Churchill for the 4A/3A West region title. The Patriots entered the state tournament undefeated before losing, 10-7, to eventual champion South River in the semifinals.
"It's the same expectation this program's always had — we're going to go to states and we're going to win," Myles Romm said. "We're going to try our best. We have the highest expectations. We want to win states every year and we're not going to settle for anything less."
No Montgomery County school has ever won a state championship in lacrosse.
Wootton senior midfielder Sam Ellis, junior attackman Justin O'Daniel, junior attackman Brett Rudden and freshman attackman Joe Montesano each scored a goal against Whitman.
Senior defenseman Cole Abid and senior goalie Patrick Cornelius are also team captains for the Patriots.
Wootton returns to action at Sherwood at 7 p.m. on April 14.