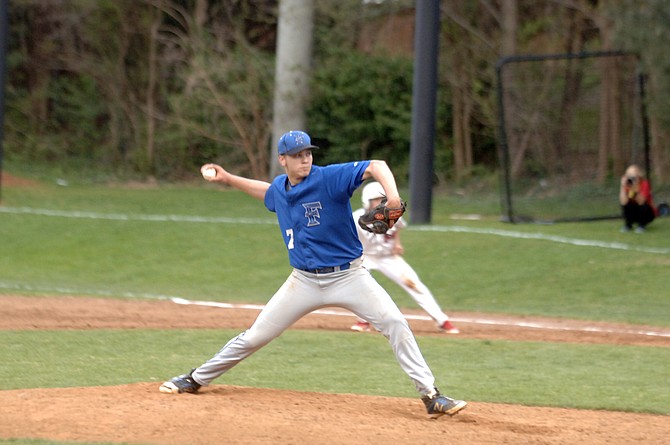 Fairfax pitcher Christian Leckert stepped off the mound, took a deep breath and regrouped.
The senior right-hander had a 1-0 lead against McLean in the bottom of the fourth inning, but outfielder Matt Collins had nearly put the Highlanders in front with a two-run homer. Collins' blast down the left-field line landed in the parking lot at McLean High School, but had curved foul.
"… [I] thought about location [and] how I can get him out," Leckert said. "So I just kept pitching [with a] short memory."
Leckert responded by striking out Collins and getting Billy Gerhardt to fly out, ending the threat.
As it turned out, Collins' long foul ball was the closest McLean would get to scoring against the Fairfax hurler.
Leckert, who will play for James Madison University, tossed a three-hit shutout and led the Fairfax baseball team to a 1-0 victory over McLean on April 17.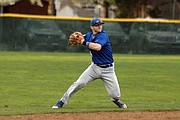 Leckert walked two and struck out six. The Highlanders did not have runner reach third base.
"[Leckert] is a heck of a pitcher, obviously," Fairfax head coach Rick Freeman said. "Everybody knows that. When he throws his curveball for strikes consistently, that's the kind of game he gets. He's able to pitch backward to a lot of hitters and get them off balance early in the count and then his fastball looks a lot better than it is. He's a heck of a pitcher.
"When he throws his curveball for a strike, he's really lights out."
Freeman praised Leckert's ability to bounce back after Collins' long foul ball.
"That's who he's become," the head coach said. "He's a senior now and he pitches with a lot of confidence and a lot of leadership. I don't think he was rattled by it. I think he looked at it and said I can still get this guy, I've just got to make a good pitch."
A two-out single by McLean's CJ Downey and a wild pitch by Leckert gave the Highlanders a runner in scoring position in the bottom of the seventh inning, but Leckert got Frank Minamino to ground out to end the game.
"He's an absolute workhorse," Fairfax shortstop Jason Waldman said about Leckert. "He's been doing this since sophomore year for us. He pretty much goes the distance every single time. It's fun to play behind him. He just gets groundballs, weak fly balls all the time. It's fun to watch."
McLean head coach John Dowling praised Leckert's effort, but said the Highlanders' inability to adjust contributed to their lack of production.
"All the credit in the world to Leckert," Dowling said. "He threw strikes and we did not come into the game with a strong approach and we did not adjust to what he was doing. If I'm him, I'm going to do the same thing: a lot of breaking balls that were effective."
What would Dowling have liked McLean batters to do differently?
"Adjust to a lot of breaking balls," Dowling said. "We were taking fastball swings in fastball counts and he was not throwing fastballs. And for seven innings, we continued to do the same thing. That is not acceptable."
While Leckert shut down the McLean lineup, the Highlanders found success by using four different pitchers against the Rebels.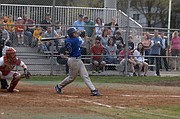 Jon Clines, Charles Groppe, Downey and Gerhardt limited Fairfax to four hits, including none in the final three innings, but the Rebels managed to score the one run they needed.
Waldman, who will play for William & Mary, led off the top of the fourth with a double and advanced to third on a wild pitch. Senior third baseman Victor Danieletto then singled, driving in the winning run.
Waldman finished 2-for-3 with a pair of doubles. Sophomore Tommy Bradley had a single for the Rebels.
The win improved Fairfax's record to 8-4. The Rebels started the season with six consecutive victories, but lost four of their next five.
The Rebels will travel to face Yorktown at 6 p.m. on Thursday, April 23.
"This group is probably one of the more talented groups that have come through Fairfax in a while," Waldman said. "I think if we can play like we did tonight every single night, [there is] no reason why we shouldn't be taking a regional championship home."