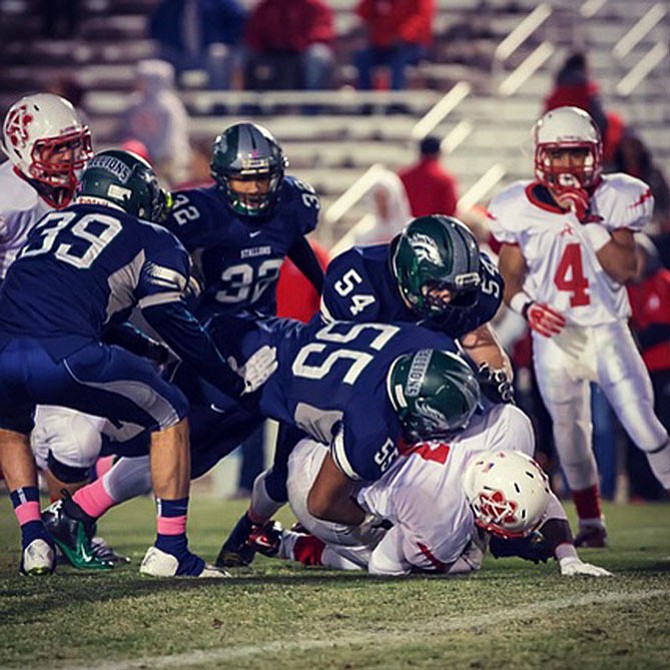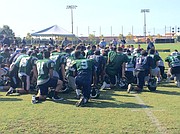 Nothing ever moves slowly in South County football.
The Stallions, who went 10-2 last season and made it to the region quarterfinals, hope to have another successful season this year by playing fast on both offense and defense.
"We don't do anything slow. Our practices are ridiculously fast," head coach Gerry Pannoni said. "We don't condition ever. At the end of practice, we don't run sprints and we don't have to because practices are so fast. Our goal is to have the kids think the game is slow motion, so if the practice is chaos, by the time we get against other teams it will all feel slowed down."
One of four starters returning on offense, rising senior DeAndre Clayton will fill the quarterback position, backed up by rising junior Michael Salisbury.
"Clayton led us to 50 points a game and 5,000 yards of total offense [last season]. He's a great trigger man," Pannoni said. "But behind him, Salisbury played a lot at the end of the year, and now they're pretty much interchangeable. They're both going to be really great players."
Also returning to the offense are senior fullback DeMarcus Ramsey and senior halfback Xavier Jones, some of the Stallions' many military transfer students.
"We get a lot of military move ins, so we might only get some of our players for two years, so we have to make the most of their time here and be flexible," Pannoni said.
Hoping to run at least 90 offensive plays a game, the Stallions will rely a lot on Ramsey and Jones.
"[Ramsey] runs well," Pannoni said. "Jones is about the fastest kid we've had in the program since I've been here."
The young offensive line will be led by three-year starter Mike Hayes.
South County also has seven starters returning on defense, including second-team all-state linebacker Kevin Allen, defensive lineman Saif Khan, and safety Kyle Foley.
"Defensively, we're going to come after you, we're going to blitz, and we're just going to let our guys make plays," Pannoni said.
Opponents can once again expect to see an aggressive team.
"Our special teams take a lot of risks, and everybody knows that. We gamble on defense too," Allen said. "We go for it and we either win it or blow it."
The Stallions will begin their season at home against Briar Woods on Sep. 4, their first game on their new turf field. They will then face regional runner-up Westfield and reigning Conference 6 champion Hayfield.
"We're going to approach every game the same. New team, new year," Allen said. "The tough teams are just like any other game. As far as I know, they're 17, 18 years old just like us, and we're going to do everything we can to win."