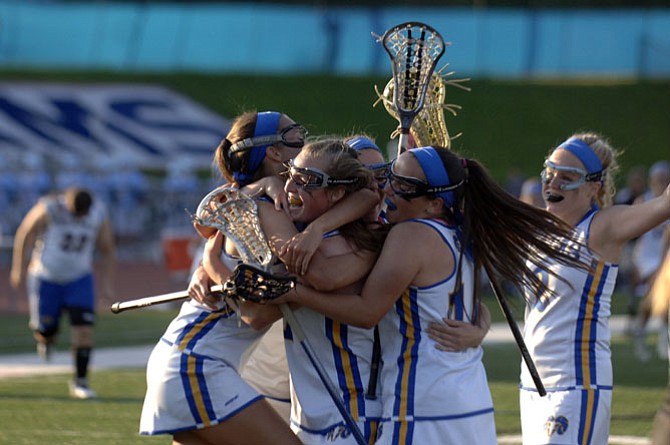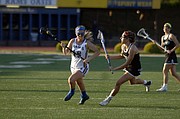 Katie Checkosky glanced up at the Coffey Stadium scoreboard as she cradled the ball in her stick pocket, watching the final seconds tick off the clock while she ran around the field. After the horn sounded, the Robinson attacker tossed the ball in the air and hugged teammate Elli Kluegel before the rest of the Rams arrived to celebrate.
The Robinson girls' lacrosse team, which won the 2015 state championship and hasn't lost to a public school opponent since 2014, faced a rare test on May 19. Taking on a Langley team that went undefeated during the regular season, the Rams trailed 7-5 at halftime and found themselves down by a goal with less than 20 minutes remaining in the contest.
In a postseason matchup that arrived sooner than expected, Robinson scored six of the final nine goals and kept its season alive.
The Rams defeated the Saxons 13-11 in the 6A North region quarterfinals at Robinson Secondary School. Robinson remained unbeaten, earned a state tournament berth and advanced to the region semifinals, where the Rams will host Patriot at 5:30 p.m. tonight.
Langley's season came to a close. The Saxons finished the year with a 17-2 record.
"This is a huge boost­up win," Kluegel said. "This pumps us up so much. It's made us really hungry, knowing that this is potentially the hardest or one of ... the hardest teams we're going to face this year. To beat them and to come out with a great victory like we did, that's just driving us forward."
LANGLEY scored the first two goals of the game and led 5-2 after Elise Kim put one in the cage with 14:18 remaining in the opening half. Rebecca Bair scored with 23 seconds left, giving the Saxons a 7-5 halftime advantage.
"It was weird for us being in that situation because we've never been down, except for against Westfield earlier this year," said Kluegel, the Conference 5 Player of the Year. "That was a little alarming, how fast they came out ..."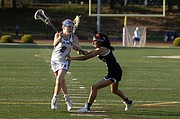 After Robinson tied the score at 7 with goals by Kluegel and Kaitlin Luccarelli early in the second half, Langley senior Halle Duenkel, the Conference 6 Offensive Player of the Year, put a free position goal in the cage for an 8-7 Saxons lead with 19:22 remaining.
A goal by Robinson's Kate Mulvenon tied the score at 8 with 18:05 on the clock and, less than a minute later, Luccarelli put the Rams ahead to stay with her third goal of the contest.
Luccarelli, a senior midfielder, finished with five goals.
"We got together at half and we had a talk," Luccarelli said, "and we realized that this is our home stadium, this is our game and we need to keep continuing on, that we're not going to lose tonight, that we're better than this ­­­ we're undefeated and we're a better team all around and that this is our game."
Robinson head coach Liz Case said the Rams became more aggressive as the game progressed.
"[Our halftime talk] was basically, like, we need to stop being scared and go out there and play tough and get those groundballs," Case said. "I think a lot of the time we were waiting for [Langley] to pick it up and [then we would be] ready to play defense. No, we've got to go get the groundball first."
Case had senior defender Emily Skrzypczak start taking draws for Robinson after Langley, thanks in part to junior midfielder Emma Crooks, had success with draws early in the game. The move paid off.
"If it wasn't working one way, we've got to switch it up quickly because it was all about the draw, and we weren't winning the draw," Case said. "Once we switched it up, we started winning the draw. ... [Skrzypczak is] our powerhouse coming up off of defense."
Robinson senior midfielder Taylor Caskey finished with three goals and two assists. Kluegel tallied three goals and Checkosky totaled one goal and two assists.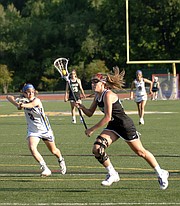 Langley's Duenkel finished with three goals and three assists, Crooks had three goals and two assists and Bair scored two goals.
ROBINSON-LANGLEY was once viewed as a potential state championship matchup. But after the Saxons lost in their conference championship game, Langley entered the region tournament as the No. 2 seed from Conference 6, meaning a likely second-round meeting with the Conference 5 champion Rams.
Despite winning 17 of its first 18 games, Langley had to face an undefeated opponent early in the region tournament and came up short.
"I'm beyond proud of our team," said Duenkel, who will play for James Madison University. "... Even though this year we couldn't quite make it, next year I have full faith that this program has been turned around by [head coach] Maggie [Kovacs] and [assistants] Bucky [Morris] and Annie [Swanson]. It's just a very different team than it was at the beginning of the season."
While Langley will lose Duenkel to graduation, Kovacs said a talented Great Falls feeder system makes for a bright future.
"I coached last spring the seventh­-/eighth-grade 'A' team for Great Falls [and I'm] counting down the days until those eighth-graders get here," Kovacs said. "... This is a little heartbreaking for me because these seniors were the first kids I ever coached lacrosse to [from] a team standpoint ... but Langley has a really bright future ahead of it."