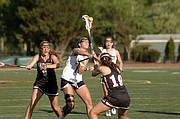 The fact Robinson will face Langley in the postseason isn't a surprise. Multiple Rams envisioned competing against the Saxons on a grand stage, possibly with a state championship on the line.
The timing of Thursday's matchup, however, has Robinson junior Elli Kluegel feeling stressed.
The Robinson girls' lacrosse team is undefeated, improving to 16-0 with a 21-6 victory over West Potomac on Tuesday in the opening round of the 6A North region tournament. Four days earlier, the Rams repeated as Conference 5 champion with a 19-5 win over Centreville. The program hasn't lost to a public school opponent since 2014 and the Rams have their sights set on repeating as state champions.
Robinson must win one more region tournament game to lock up a spot at states. Standing in the way, however, is a Langley team the Rams didn't expect to be facing in the region quarterfinals.
Langley went undefeated during the regular season and advanced to the Conference 6 championship game, but the Saxons had their 16-game win streak snapped by Madison, which captured its sixth consecutive conference/district championship with an 11-9 victory over Langley on May 13. The result was the Saxons entering the region tournament as the No. 2 seed from Conference 6, setting up a likely second-round matchup with Robinson.
Langley defeated Osbourn Park 19-6 in the opening round of regionals on Tuesday and the Saxons will travel to take on the Rams at 5:30 p.m. on Thursday.
Robinson-Langley, once considered a potential state championship matchup, will take place three weeks earlier than expected, with the loser's season coming to an end.
How did Kluegel, the Conference 5 Player of the Year, react when she found out Robinson would face Langley in the region quarterfinals?
"I kind of freaked out," she said. "I was really stressed. The whole preseason ... we were always thinking, 'Langley-Robinson, state championship game.' That was a goal. And now to see ... we could knock each other out in the next round, that was really surprising. It's kind of scary, at least for me. I can't speak for my teammates. I'm a little worried. That's a game that stresses me out. Usually, I'm pretty confident going in, but they're definitely a very strong and together team ­­­ very dynamic.
"They can surely give us a run for our money."
Robinson senior goalie Danielle Valenti, on the other hand, said the Rams are looking forward to the challenge.
"That's pretty crazy," Valenti, a second-team all-conference selection, said about facing Langley on Thursday. "We didn't know if they were going to win [against Madison] or not because, obviously, Madison's good. ... I think we're excited for Thursday. I think we're ready. We love playing good teams, so we want that competition."
Senior attacker and JMU signee Halle Duenkel is one of Langley's top threats. Duenkel, the Conference 6 Offensive Player of the Year, had three goals and three assists against Osbourn Park on Tuesday, giving her 56 goals and 53 assists for the season.
"My team and I are extremely excited to play Robinson and they are great competition for us," Duenkel wrote in an email. "To beat Robinson, we cannot worry about them and what they are going to do, but rather just focus on our play and the things we can control. We will be playing and living by the motto on the back of our jerseys as 'One Team.'"
Langley senior attacker Morgan Kuligowski, junior midfielder Emma Crooks, senior defender Mackenzie Regen, junior defender Marina Smith and junior goalie Megan O'Hara were first-team all-conference performers this season.
Crooks, who transferred to Langley from Connelly School of the Holy Child and is committed to William & Mary, scored four goals during the conference championship loss to Madison.
"Robinson is a great team, and they have a lot of talent," Crooks wrote in an email. "But our team is not focused on their title, or any history we have with them, and we are going into this next game with a fresh mindset. We know it's going to be a tough game, but we know what our team is capable of and my teammates and I are extremely excited. Coming out of our loss on Friday, our team had such tenacity and grit going into this week. We've taken that into practices and our most recent game against Osbourn Park. We plan to take this focused mindset into our game on Thursday against Robinson."
Robinson beat Langley 11-5 during a preseason scrimmage on March 11, but Rams head coach Liz Case said things have changed since then.
"I don't really consider that anything because they had a new coach (Maggie Kovacs) and it was early in the season," said Case, the Co-Conference 5 Coach of the Year. "I know they've gotten a lot better since then, so I don't even look at that as anything. I look at what they've done so far: they were undefeated until they lost to Madison. But everybody has a fluke game, so they could come out and be really strong and we have to be ready."
Robinson was dominant in its final tune-up for Thursday's matchup, beating West Potomac 21-6 on Tuesday. The Rams led 15-3 at halftime.
Kluegel, a junior midfielder who is committed to Loyola University Maryland, led Robinson with six goals and three assists. Kaitlin Luccarelli, a second-team all-conference attacker who will play at Longwood University, had five goals and one assist. Senior midfielder Taylor Caskey, a first-team all-conference selection, finished with four goals and two assists. Junior attacker Katie Checkosky, a JMU commit and first-team all-conference selection, had three goals and one assist.
Junior midfielder Kate Mulvenon had two goals for Robinson, and freshman attacker Grace Tompkins had one.
Senior defenders Emily Skrzypczak (Ohio State) and MegMarie Stanchi were also first-team all-conference selections.