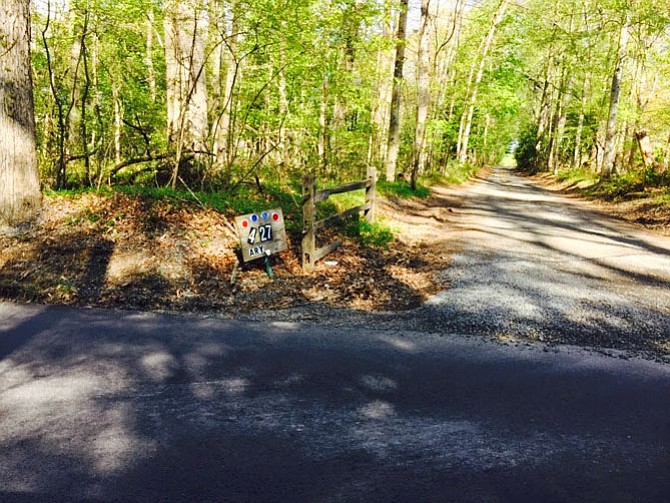 Brooks Farm, near Springvale Road/Parkerhouse Drive
RZ 2014-DR-022
Basheer/Edgemoore-Brooks continues to fine tune its proposal to rezone a 51.9 acre property from the R-A zoning district to R-E Cluster (Residential Estate), at a density of about one dwelling unit for two acres. The applicant now proposes to build 20 single family detached homes. Great Falls Citizens Association has held numerous meetings on the proposal, touching on environmental questions including septic, well, stormwater and tree canopy. In May, GFCA voted for a resolution to oppose the redevelopment plan.
"The GFCA believes the property should be developed as a five-acre subdivision, perhaps in the Residential-Conservation "RC" Zoning Category," according to the resolution.
Planning and Zoning is currently scheduled to issue its staff report in the beginning of November and the Planning Commission has scheduled a hearing on Nov. 19, 2015.
See http://ldsnet.fairfaxcounty.gov/ldsnet/ZAPSMain.aspx?cde=RZ&seq=4194460.
Langley High School Renovation
6520 Georgetown Pike, McLean, Va.
Langley High School continues to give updates on renovation progress on its website at fcps.edu/LangleyHS. "If you have driven by Langley High School since school let out, you will notice a lot of work has been done, according to an update from June 24. "When school resumes in September, we will have the same parking lot footprint and the Kiss and Ride and bus loop will remain the same. As always, we appreciate your flexibility and patience as we progress through this renovation project."
Three more years of construction at Langley High School will completely modernize the McLean/Great Falls school that was originally built in the 1960s. Fairfax County voters approved the $68 million project in a 2013 bond referendum.
Trinity Land, SE 2014-DR-052
Woody's Golf
11801 Leesburg Pike, Herndon, VA 20170
Woody's Golf range is scheduled to be closed by November. The Board of Supervisors approved Trinity Land's application for a special exception to build 30 single family units using a cluster development configuration on the 28.9 acre property. The Planning Commission approved the application in March. See http://ldsnet.fairfaxcounty.gov/ldsnet/ZAPSMain.aspx?cde=SE&seq=4192058.
925 Springvale Road, Great Falls, 22066
The Fairfax County Board of Supervisors approved an ordinance that permits a Residential Curator Program. The program calls for unused, publicly-owned historic properties to be leased to individuals or groups for little or no rent, which provides the opportunity to preserve historic properties at a minimum cost to taxpayers and can put the property to practical use as residential, office or commercial space. Curators would be required to rehabilitate and maintain the properties at their own expense.
Great Falls Citizens Association urged that the Turner Farmhouse be selected as the County's pilot project to demonstrate how the Residential Curator Program works, and called for a public hearing so other community groups and residents could comment on the plan.

The Resident Curator Project Team will meet for its inaugural meeting on Monday, Aug. 24, 2015 in the Government Center located at 12000 Government Center Parkway to work on the charter, work plan, existing enabling legislation, the county ordinance as it applies to this program, as well as a status report on staff efforts to date.
Turner Farm was saved from development by a public private partnership started in 1994 to "Save the Farm."
John Turner (1808-1892) bought the original farm in 1869 and his grandson Mark Turner (1889-1959) purchased the 163 acres from his grandfather. Mark Turner was the first Master of the Great Falls Grange, member of the Virginia Milk Commission and Fairfax County School Board Member and Board of Supervisor.
The Observatory Park on the land off Springvale Drive is open which provides four permanently mounted telescopes. The Analemna Society partnered with the Park Authority to develop recreational and educational astronomy programs at Turner Farm, including Friday night star-gazing with summer viewing hours are sunset to 10:30 p.m.
Equestrian facilities are also available at Turner Park for general riding. Use of the facilities is free and reservations are not required, but riders do need to bring their own horses.
Georgetown Pike and Innsbruck Avenue, Great Falls
Marmota Farm, at the northeast corner of Georgetown Pike and Innsbruck Avenue, used to be a dairy farm. A community group calling itself 'Save Marmota Farm' held its first meeting in July. See GFCA.org.
From Reston Avenue to Jarrett Valley Drive
VDOT is scheduled to hold meetings this fall with the GFCA and HOAs regarding the ongoing project to widen Route 7 from Reston to Tysons Corner. The project will widen Route 7 from four to six lanes from the intersection with Georgetown Pike to the Dulles Access Road, continuing the widening that is ongoing northwest of Georgetown Pike now. Since February 2012, a working group has met ten times and discussed topics including environmental impacts, land development along the corridor, bicycle and pedestrian needs, innovative intersection designs, high occupancy vehicle (HOV) lane feasibility, mass transit and bus service, and preliminary stormwater management needs. Acquisition of rights-of-way is scheduled for 2017, and construction is scheduled to begin in 2021. See http://www.virginiadot.org/projects/northernvirginia/route_7_widening_-_reston_ave_to_dtr.asp
10500 Leesburg Pike
The Gulick Group submitted a pending application to rezone 10500 Leesburg Pike (portion of the Hills Nursery) to 10 lots on 11 acres that have been zoned R-A since 1991. The property is located in an area east of Springvale Road and at the terminus of Challedon Road. The property is surrounded by the Lexington Estates and contains a significant environmentally sensitive area.
The Great Falls Citizens Association's Long Range Planning Committee is scheduled to meet Aug. 27 at 7:30 p.m. at the Great Falls Library to discuss: sewerage/wastewater improvement options for central Great Falls business area, with or without sewer; community center replacement in about 10 years or an expansion of the existing Grange complex; resident curatorship potential in Great Falls area, including Turner Farm House, Dranesville, Tavern, etc.; solicitation of new businesses for Great Falls that currently do not exist nor duplicate existing ones; safer vehicle entry to Library/Buck's Lane/Grange complex and/or crosswalk, bridge, tunnel or traffic light between the Grange complex and B.F. Saul shopping center on other side of Georgetown Pike; and, potential other long range project for Great Falls between 2026 and 2040. See gfca.org.