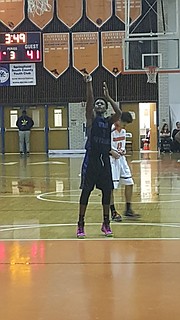 West Potomac boys' basketball coach David Houston III called a timeout midway through the first quarter of Tuesday's season opener at Hayfield after the Hawks had scored 15 straight points and taken an 11-point lead.
"Take deep breaths," Houston said he told the Wolverines. "We're getting good shots; we're just bricking every shot."
Whether it was deep breaths, improved shooting or strong defense, it didn't take long for the Wolverines to turn things around.
West Potomac outscored Hayfield 31-10 for the remainder of the first half, including 19-4 in the second quarter, and the Wolverines defeated the Hawks 69-49 at Hayfield Secondary School.
Shortly after the timeout, West Potomac junior guard Brandan Lisenby knocked down a 3-pointer. A 3-pointer by junior guard Khalil Williams Diggins cut the West Potomac deficit to 17-10. In the final minute of the opening quarter, senior forward Jamie Sara threw down a two-handed dunk, capping a 9­2 West Potomac run.
"[Williams Diggins] threw it off the glass, I was ready to get it and put it in," Sara said. "We've been working on that, too."
Hayfield led 21-16 at the end of the first quarter, but West Potomac was well on its way to a convincing come-from-behind victory.
The Wolverines limited the Hawks to four points and just one field goal during the second quarter and outscored Hayfield 34-24 in the second half.
The Hawks settled for perimeter shots most of the evening, which stopped consistently dropping after Hayfield made a trio of 3-pointers during their 15-point first-quarter run.
"We changed our [defensive] game plan up a little bit just based on a few things that we saw, adjusted a little bit out there," Houston said. "We were trying to speed them up a little bit and we realized that slowing them down was a little bit better of a strategy. I think we held them to four points in the second quarter, which is when we made that move."
While West Potomac played well defensively, Williams Diggins excelled at the offensive end, leading all scorers with 23 points. No. 1 knocked down a trio of 3-pointers and shot 6-for-9 from the free-throw line, including 4-for-5 in the second half.
Williams Diggins is also a receiver on the school's football team, which reached the second round of the 6A North region playoffs.
"[Williams Diggins was] our starting [point] guard last year," Houston said. "Him, Da'Jon [Bellfield], Jamie Sara were all starters last year, so I expected them to play well. They played well all summer and spring and we did well. I was just anxious because of football. I didn't know really what they were going to give [tonight], so it didn't shock me that we bricked a bunch of shots early on."
Freshman guard Daryl Mackey, Jr., playing in his first varsity game, scored 12 points and made three 3-pointers for West Potomac.
"First varsity game," Houston said, "thought he played well."
Lisenby and Bellfield, a junior forward, each scored nine points. Sara finished with eight.
Junior guard Langston Gaither led Hayfield with 16 points. Senior guard Romaine Oakley finished with 10 points and senior guard Aaron Jeter had seven.
Bellfield, listed at 6 feet 4, led West Potomac with 10 rebounds. Sara, also listed at 6-4, had seven. Lisenby (5-11) and 6-foot-4 junior forward Idaresit Ekpuk each had five.
West Potomac finished with an 8-15 record last season and failed to qualify for the regional tournament, closing the year with five straight losses.
Houston said he expects more out of this year's team.
"I expect us to be really good," Houston said. "I expect us to be one of the teams hanging around at the end — absolutely. That's what we geared up for — we geared up for this year. We had to get our heads beat in last year a few games. Same guys came back this year [with] a different mentality, a little bigger, a little stronger, a little older, more experienced. The expectation is to play well this year."
West Potomac will travel to face Friendly at 7 p.m. on Friday, Dec. 4, part of four consecutive road games to open the season. The Wolverines' first home game is Dec. 15 against West Springfield.