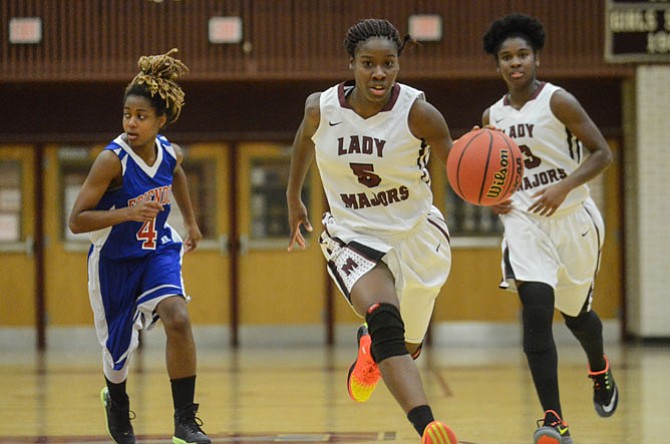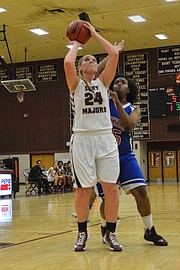 The Mount Vernon girls' basketball team enters the 2015-16 season with a first-year head coach and as a member of a new conference.
The result of India Thomas' debut, however, was a familiar one for Majors.
Mount Vernon defeated Friendly 49-24 on Tuesday night at Mount Vernon High School.
Both teams started slow offensively, with the Majors taking an 18-13 halftime lead. Mount Vernon pulled away in the second half, outscoring Friendly 16-4 in the third quarter. The Majors led by as many as 28, when a pair of free throws by Elisa Solomon gave Mount Vernon a 49-21 advantage with 35.6 seconds remaining in the fourth quarter.
"I think this was a good starting point," Thomas said. "Our first win is in the books. Now, it's just about seeing what we do good, bad and improving and working our way up to the top."
While Thomas is in her first season as Mount Vernon head coach, she isn't new to the program. Thomas, a 2004 Mount Vernon High School graduate, played basketball for the Majors and continued her career at Northeastern University. She was an assistant coach at Mount Vernon for six seasons before taking over as head coach.
"I really like Coach India, she's a great coach," sophomore center Susannah Anderson said. "She will coach people to bring them up in the game and she doesn't bring people down during the game, but she definitely gets her point across clear. She's not an easy coach, she's a tough coach, but for the best."
Thomas takes over a successful program that went to the 5A state tournament in 2014 under former head coach Courtney Coffer. The Majors won three consecutive National District championships from 2011-2013.
Mount Vernon athletics spent two seasons as a member of 5A Conference 13 after the VHSL underwent a six-class realignment. This year, enrollment numbers increased and Mount Vernon moved up to 6A and joined Conference 7. The Majors will now compete against teams such as perennial power West Springfield, T.C. Williams and Lake Braddock.
"There are a lot of great coaches [in Conference 7], a lot of great talent, and I think the main thing with this group of kids coming in [is] they have to understand that it's all about the little things now," Thomas said. "It's all about the correct passing, it's about rebounding, it's about the communication on defense and just really, really knowing their roles and playing basketball the right way."
Mount Vernon showed it has room for improvement in Tuesday's opener.
"I definitely think it was nerves — a lot of nerves," senior captain Chanise Ray said about why the Majors struggled at times Tuesday. "We have a lot of fresh players on the team, a lot of young players and some of the returners are having a hard time jelling with everybody else."
Solomon led the Majors with 10 points. Anderson scored eight points and junior guard Destiny Wilder finished with six.
Ray, Anderson and Solomon are team captains.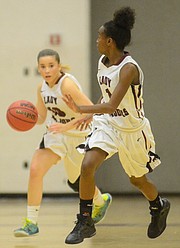 Ray will play point guard this season, something she has done in the past for the Majors.
"With Chanise over the years, she's kind of split — she's played point guard a little bit and the [shooting] guard [position]," Thomas said. "This year, she's going to spend a lot more time at the point guard."
Anderson can be a difference-maker as a 6-foot post player, but Thomas wants her to change her on-court demeanor.
"My biggest thing with Susannah, even from last year to this year, is I want to see the physicality," Thomas said. "... I want her to be more aggressive down low in the paint — a little bit mean. Susannah is a sweetheart, she's a sweet kid, but I don't want her to be so sweet on the court. I want her show a little bit more aggression, get a little meaner, a little tougher."
Thomas said players look up to Solomon.
"She's one of the quickest kids in Northern Virginia," Thomas said. "Now we want to get her knowing that and playing with confidence."
Thomas said the Majors are hoping to get 6 or 8 points per game, if not more, from sophomore Nori Solomon.
Mount Vernon will travel to face Bell Multicultural High School at 7 p.m. on Friday, Dec. 11. The Majors will open conference play on the road against Woodson on Dec. 15.