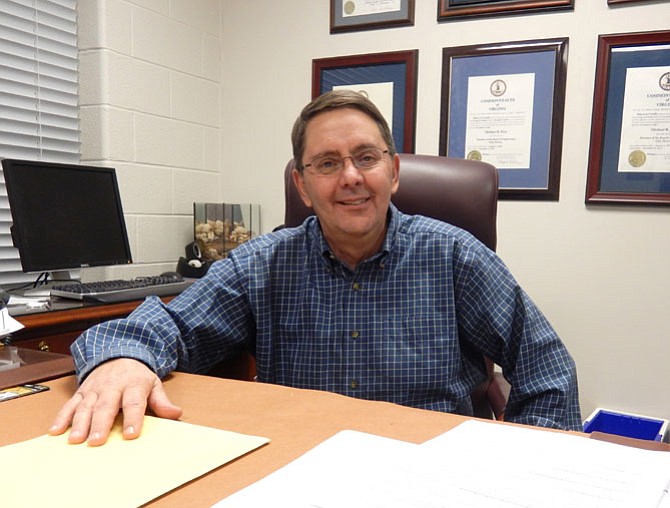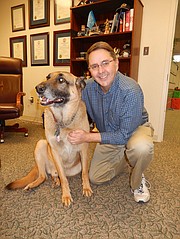 Centreville — After giving his State of Sully address Monday night, Supervisor Michael R. Frey (R-Sully) said his next words almost matter-of-factly.
"Regarding the upcoming elections in November, I will not be seeking reelection," he said. "You reach a time where change is appropriate, and that time has come for me."
Frey – who's been the Sully District's one and only supervisor ever since the Fairfax County magisterial district was created in 1992 – was speaking before the Jan. 19 quarterly meeting of the West Fairfax County Citizens Association.
WFCCA Land-Use Chairman Jim Katcham thanked him for his service, saying, "We appreciate all you've done for the district and each of the communities."
Despite his achievements over the years, Frey replied, "I didn't do any of it by myself; it was a collaborative effort."
As for his decision not to run again, he said it wasn't because he's at all worried about the outcome. In fact, said Frey, 58, "I think I would have gone unopposed."
Unlike many others on the Fairfax County Board of Supervisors, being a supervisor is his full-time job. And although his constituents haven't always agreed with him on every decision, overall, he's been popular with them.


IN THE LAST ELECTION, for example, in November 2011, area residents renewed their faith in Frey by returning him to office with 70.5 percent of the votes cast.
"I feel good; the response I got all day was great," he said afterward. "People came up to me at the polling places and told me, 'You helped with my church,' or a drainage problem or youth sports. It was very humbling and gratifying to hear." He said he didn't expect to win by quite as big a margin. "But I've worked hard and people know me," said Frey. "They know I'm accessible and try to be fair."
Now, though, the longtime resident of Centreville's London Commons community plans to step down when his current term – his sixth – is done. After all, he said, "I've worked for the county for 37 years. I started working for [former Board Chairman] Jack Herrity in June 1978 and was then [former Centreville District Supervisor] Elaine McConnell's chief of staff for seven years before becoming the Sully District supervisor."
Although, as a Republican, he's often been in the minority politically on the Board of Supervisors, Frey said, "I've tried to make sure the board's more functional than partisan. And I've been willing to make some tough calls to do that."
He's stood apart from the national, Republican Party and followed his own heart and conscience when it came to supporting the creation of a day-labor center for Centreville's Hispanic population. "I think the Republican Party has been wrong on the immigration issue and on many issues dealing with the Latino community," he said.
Generally viewed as a moderate, Frey said, "I hope whoever replaces me will be of a similar outlook, temperament and political perspective. Local government isn't about politics, but about delivering service." He said he'll probably endorse someone for his job – and he already has someone in mind – but he doesn't want to make any announcements about that at this time.
And although the Sully District has historically leaned Republican – and, at one time, even started taking a turn further right – Frey said things are different now. "Today, I think only a moderate can win," he said. "The district's changed and diversified as the population has grown."


FREY'S DECISION to step down is a fairly recent one. "I had my golf tourney fundraiser last year, in case I wanted to run again," he said. "But I took a couple days off at Christmas and really thought about it. You reach a point where you're just not as enthusiastic about going to another Tysons Corner breakfast meeting at 7:30 in the morning."
Now, he's mulling over what he wants to do when he finally has some time to call his own. He may or may not get a new job and, for now at least, he doesn't plan on moving. "I'll stay here," he said. "Centreville's home." That doesn't mean he won't travel, though. Fresh from a trip to Chantilly, France, he's next looking forward to traveling to Ireland this summer to see the southwestern part of the country. He'd also love to visit Africa.
Closer to home, Frey will continue promoting Centreville history, wants to work with animals — possibly volunteering at the county animal shelter — and might even coach youth sports, as he did years ago. "My three passions in life are sports, animals and history," he said. "I love the volunteer-recognition nights with SYA and CYA and I'll miss that stuff. So I'll just do something with them in a different role. I'll keep working with the Historic Centreville Society, and I also want to continue the relationship with Chantilly, France."
He said he'll miss the people he serves and works with, including the county employees, the students and the people he's helped. And he's especially proud that the animal shelter finally received its long-overdue renovation during his tenure. But what's given him the most satisfaction overall, said Frey, are "the people I never knew 'til I got involved in politics and got elected – and now I call them friends."
In an official statement he released Tuesday, Jan. 20, he said it's been an honor and a privilege to represent Sully for the past two decades. "During that time, we've grown and developed into one of the most amazing places to live, work and raise a family – not just in Northern Virginia – but the entire country," said Frey. "We have an active and engaged community of citizens who work cooperatively to make this an even better place."
He noted, as well, Sully's "outstanding schools, active recreation, passive open-space parkland and solid economic base providing job opportunities for our residents. And we have safe, beautiful neighborhoods. To have had some small part in this evolution is something that I am proud of."
"I'm deeply grateful to have had the opportunity to serve the citizens of Sully District and Fairfax County," continued Frey. "And I thank all those I've worked with and who've contributed their time and energy to our community. It has been a truly wonderful 24 years."