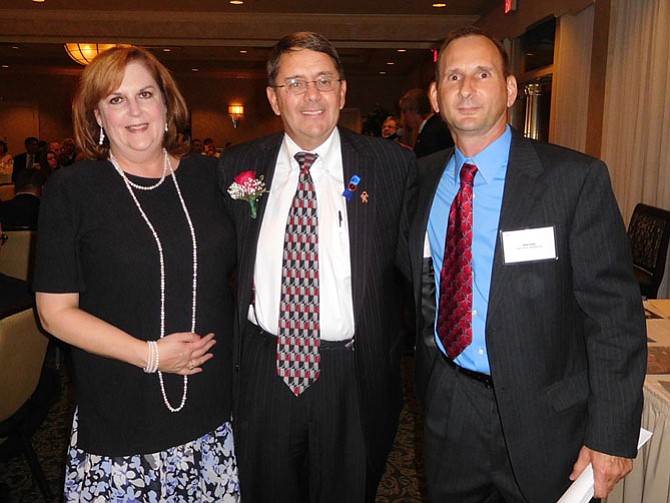 Overwhelmed after hearing the lavish praised bestowed on him by the community Friday night for his 24 years of service, Supervisor Michael R. Frey (R-Sully) stepped to the podium to respond.
"'Thank you' seems so inadequate for all the kind things you've said — and for just being here," he told the crowd. "It's truly, really humbling. I've loved doing it and I thank you for all your help."
Frey said it's been "a blast" serving with Supervisor Pat Herrity (R-Springfield) these past few years because he initially began working in Fairfax County government for Herrity's father, former Board of Supervisors Chairman Jack Herrity, while he (Frey) was still a student at American University.
"I fell in love with Fairfax and learned so much from Jack Herrity, Tom Davis and other members of the board," said Frey. "Tom actually tried to hire me, but Jack offered me more money."
So Frey moved from Washington, D.C., to Virginia and transferred from AU to GMU. He got to know Springfield District Supervisor Elaine McConnell and helped her get elected. She then offered him a job and, in November 1983, Frey moved to Centreville and bought a house in the London Commons community — where he still lives today.
"I would never have dreamed then that I'd have the career that I did," he said. "But I didn't do it alone. I had smart friends and worked with great groups and organizations and good, committed people."
"This is a wonderful place to live and, thanks to the Herndon Dulles Chamber of Commerce, we now have a business base," continued Frey. "I'm so proud to have seen the community develop. Working with the West Fairfax County Citizens Association [Land-Use Committee] and the Sully District Council [of Citizens Associations], we created a sense of place."
Regarding the Centreville Labor Resource Center, he traced its beginnings back to Centreville resident Alice Foltz before the Centreville Immigration Forum even had a name. "She was concerned that there were immigrants not relating to the community and that no one was reaching out to them," said Frey. "So she and other groups held meetings and reached out to help them."
Eventually, he said, the CIF tried to solve community and business concerns about immigrant workers standing on the street corners, hoping to get work. "Then when Al Dwoskin volunteered to donate space for it, the labor center was born — and it was the right thing to do," said Frey. "It's now become an integral part of the community and we have many, new, solid and contributing members of the community. And I can't think of a better way to leave office than to have helped make the labor center possible."
Then, addressing everyone in the room, he said, "Thank you for the role you've all played in my life and for the things you've helped me do for the community in the areas of sports, animals and history, as well. Next year, I may turn on channel 16 and look at the Fairfax County budget hearings and laugh — and then turn back to March Madness. But I'm not moving away, and I'll see you in the community."