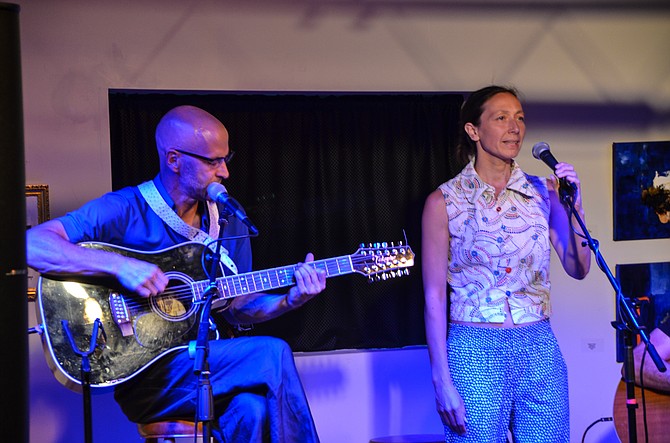 On Thursday, June 25, the International Songwriters Collective (I.S.C.) Tour made a stop at ArtSpace Herndon. Three musicians-singer songwriters are on a one-month tour: Jimmy Robinson from New Orleans, Lily Kiara from Holland, and Floatstone (born Brick de Bois) from Antwerp, Belgium. The musicians played a variety of music, mostly their own compositions, but also crowd pleasing favorites from The Beatles and Joni Mitchel.
Music played at the concert included some new songs which have not yet been recorded. Amsterdam native Lily Kiara said she enjoyed performing at ArtSpace Herndon, where she had a captive audience. Kiara first met Robinson at the Amsterdam Song Writers Guild, and they soon became friends.
Among the 50 guests at the concert were local friends and family members of the musicians. "It has been a long time since I've seen virtuosos like this live. I am smiling from ear to ear. Tonight was a night to remember," said Kitt Potter, ArtSpace Herndon executive director.
"We had a blast. It was a really great audience," said Jimmy Robinson, who has previously performed at ArtSpace Herndon, and has relatives in the D.C. area. Robinson, 61, said his early influences were bands like the Beatles and the Stones and guitarists like Jimi Hendrix. From there he took an interest into other styles such as King Crimson. Robinson studied classical guitar in college (Loyola University in New Orleans) and was then inspired by complicated acoustic soloists such as Michael Hedges. Robinson has toured with musicians from several genres: Jeff Beck, John McLaughlin; Bela Fleck and the Flecktones, Adrian Belew and John Fahey.
Floatstone bridges the singer-songwriter world with the progressive-instrumental. From his bio: "He brings several guitars, all in a different tuning along with a portfolio of funky, ballady, rootsy, original songs." Lily Kiara's songs have drawn comparison to Suzanne Vega and Joni Mitchell for poetic lyrics and pretty melodies.
Helping with the light and sound was Herndon guitarist and musician Al Robertson. "This group were consummate performers, it was an example of good programing by ArtSpace Herndon," said Robertson. Also attending the concert were Herndon councilmember Jasbinder Singh and HFCA Board members Harlon Reece and Mercia Hobson.
"I think tonight's show with the emotion, harmony and melody from different countries blended perfectly. It enforces the idea of what music is. Each of the musicians complemented each other," said ArtSpace Herndon volunteer Liz Zidel.
Located at 750 Center Street in Herndon, ArtSpace Herndon is a community art gallery created and supported by art lovers in the greater Herndon area providing opportunities for local artists to exhibit their art, teach classes and offer workshops. The gallery currently has an exhibit presenting the 5th annual Herndon Town Calendar Photography Competition.
Winners of this competition will be used for the Town's calendar. Visitors to the gallery can vote for the People's Choice Award. Winners and People's Choice will be announced during the Awards Reception on Saturday, July 25, 7-9 p.m. The exhibit closes on July 26, and is sponsored by Griffen Owens Insurance Group. For more information on ArtSpace Herndon, visit www.artspaceherndon.com.
Call for Art
Reston Bicycle Club (RBC) and ArtSpace Herndon invite all 2D artists to enter the Reston Century T-shirt Art Competition. All 2-dimensional media are acceptable including painting, drawing and photography. Artwork and photography entered in this year's competition must carry a theme that identifies it with Reston and road cycling. The deadline for submission is Monday, July 13, at 11:55 p.m.