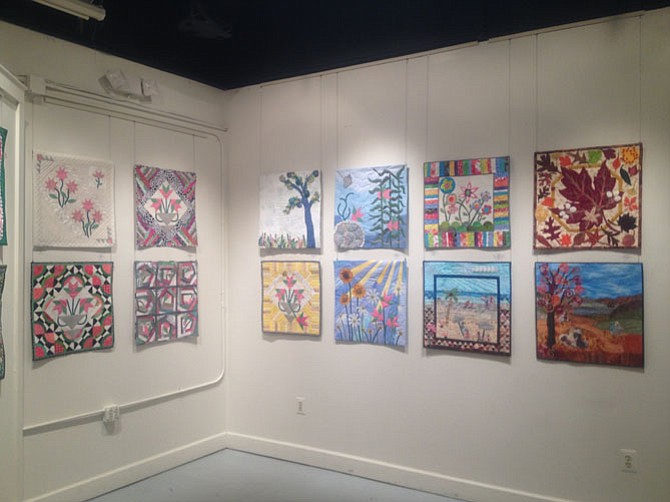 The quilts in "Threaded with Green" on display at ArtSpace Herndon show the talent, dedication, and attention to detail from nineteen invited fiber artists. Every quilt in the show has an element of green. The exhibit features the challenge "There is a Season" from 12 fiber artists creating a quilt for each season: winter, spring, summer and fall.
The participating fiber artists are: Cecile Batchelor, Dena Brannen, Carol Campanola, Annabel Ebersole, Dorry Emmer, Sarah Entsminger, Cindy Grisdela, Virginia Hodge, Cheryl Kotecki, Gayle Maisel, Suzanne Meader, Rebecca Owen, Lynn Purple, Gertrude Sherman, Anne Smyers, Shoshana Spiegel, Prudy Traut, Barbara Wise and Pat Wyatt. Dorry Emmer of the Center Street Cotton Collective is the exhibit's curator, as well as an exhibitor. The exhibit opened Jan. 12 and closes on Feb. 14. A reception was held Jan. 31. Curated tours of the show by Center Street Cotton Collective members may be arranged by special request.
Another upcoming exhibit at ArtSpace Herndon will be the 7th Annual Fine Art Photography Competition. Finalists in the Photography Competition will be on display from Feb. 16–March 13. An awards reception is planned Feb. 20, 7-9 p.m. Each year ArtSpace Herndon invites photographers from Virginia, D.C., Maryland and West Virginia to participate in the Fine Art Photography Competition. Finalists in the Competition make up the 2016 Fine Art Photography Exhibition at ArtSpace Herndon in the Nelson J. and Katherine Friant Post Gallery.
Rahshia Sawyer, a photographer based in the Washington D.C. area is the judge for the photography competition. Sawyer was the 2012 recipient of the Contemporary Talents award from France's François Schneider Foundation. Exhibited in the 2012 Inaugural Dublin Biennial, her photographs and installations have been included in group shows in Canada, England, and United States. Sawyer received her MFA from George Mason University, and her BFA at the Corcoran College of Art and Design. To appreciate these exhibits, visit ArtSpace Herndon located at 750 Center Street, Herndon. Check the website www.artspaceherndon.com, for opening hours with the forecast for winter weather.