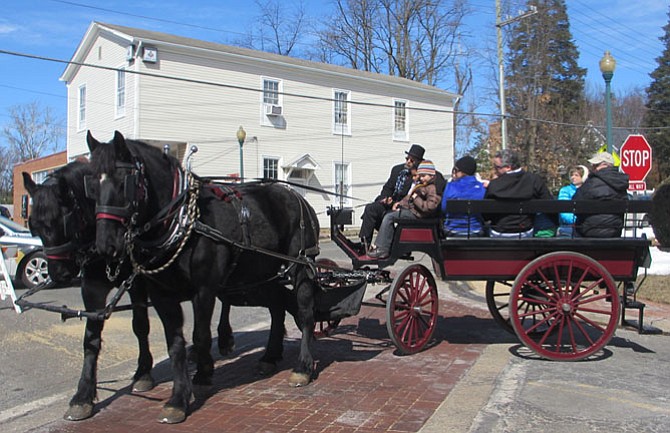 Incorporation Ordinances 1890 As Read by Town Clerk H.A. Bowman
An ordinance providing for the assessment of real and personal property;

For the protection of shade trees [along Maple Avenue];

Prohibiting of driving of animals on sidewalks;

Prohibiting the carrying of concealed weapons;

Providing for a license tax on dogs;

Providing for the giving of a bond by the sergeant and the salary of the clerk;

Providing for the manner of construction of sidewalks;

Prohibiting the use of dynamite or other explosives;

and final. Being an ordinance relating to erroneous taxes.
All members of the 1890 Vienna Town Council voted to accept the ordinances of incorporation.
The Town of Vienna, in partnership with Historic Vienna, Inc., celebrated the town's 125th incorporation anniversary, calling it a "birthday" ceremony, on closed-down Church Street and the grounds of Freeman House on Saturday, Feb. 28. A time-travel play, written by HVI's Jon Vrana, featured contemporary children learning first-hand about Vienna's founding by principles of 1890.
As chilly and snow-blanketed as it was on Saturday, hundreds of adults and children watched the short play on the Church Street stage and stayed around for farm animals, horse-drawn carriage rides, and roasting marshmallows over open fire pits. After guests sang "Happy Birthday," they retreated to a heated tent for food, cupcakes and hot beverages.
The General Assembly of the Commonwealth of Virginia commended Vienna on its 125th anniversary of incorporation with a proclamation signed by the House of Delegates and the state Senate in late January. The Fairfax County Board of Supervisors is recognizing Vienna at its first March meeting.
The time-travel play, a magical opportunity for today's youngsters to learn about Vienna's history, anchored the birthday program.
CAST MEMBERS of the period-dress play included "students" played by Macy Payton, Mirelle Payton, and Lucy Breedlove. Councilmember Carey Sienicki played the librarian; Mike Davis, landowner and mill owner John Hunter; Jon Vrana, Abram Lydecker; Town Manager Mercury Payton as a Union soldier, and Councilmemeber Howard Springsteen as a Confederate soldier. Mayor Laurie DiRocco played Major Orrin E. Hine, who urged incorporation of the village, and Vice-Mayor Edythe Kelleher brought 1890 Town Clerk H.A. Bowman to life. Councilmember Linda Colbert played James Owen Berry and her daughter, Heather, a citizen. Amar Payton, 1890 Councilmember and son of the Town Manager, rounded out the cast.
Hannah Colbert, granddaughter of Vienna's late mayor M. Jane Seeman, sang the National Anthem.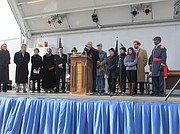 Local elected officials – U.S. Rep. Gerry Connolly (D-11), State Sen. Chap Petersen (D-34), Del. Mark Keam (D-35), Fairfax County Chairman Sharon Bulova and Fairfax County Supervisor Cathy Hudgins (D-Hunter Mill) - made brief remarks. Mayor Laurie DiRocco presented the Town Proclamation on behalf of the Vienna Town Council.
Vienna delegate to the General Assembly Mark Keam joked that many of the issues that Vienna addressed in its incorporation ordinances in 1890 – from concealed carry to taxes – are confronted today by the General Assembly. Keam raised his children in Vienna.
Congressman Connolly referred to Vienna as having a "sense of place, belonging, inclusion, and community. "Connolly's district," he said, is one that is "responsible for one another."
"Vienna epitomizes that spirit," Connolly said.
Like Connolly, Petersen, too, referred to Vienna's small-town feel and its sense of community spirit. "In order to get to where you're going, you need to know where you're from," said Petersen, alluding to the town's small-town virtues.
Board of Supervisors chair elicited laughter from the stage when she called Vienna the "most-partying place in Fairfax County." There's always an event going on in Vienna, she said. The bigness of the County stops in Vienna with its small-town atmosphere. Hudgins reiterated the theme of Vienna's community spirit. "Vienna serves as a symbol of small-town living.," she said.
Abram Lydecker explained to the students composing their Vienna history report that Vienna was one of the few precincts in Virginia to vote against secession from the Union. Many people living in Vienna, Lydecker said, had " a lot of ties" with the North, having come from states north of Virginia to settle in Vienna area. " … and we love the Union." After the Civil War, many Union soldiers settled in the Vienna area.
FREEMAN HOUSE AND STORE, the Vienna train station, caboose and Little Library were open to the public. Refreshments were served in a heated tent on the lawn of Freeman House. Caffe Amouri donated hot chocolate and coffee.
Throughout 2015, the Town of Vienna and Historic Vienna, Inc. will continue to celebrate Vienna's 125 years as an incorporated town. To learn more about Vienna's 125th birthday events and the town's history, see http://www.viennava.gov/index.aspx?NID=1178. Anniversary events are posted there.
Church Street, from Lawyers Road to Mill Street will close to vehicular traffic on the last Sunday of each month from May through October. Outdoor special events and activities are planned. A "Dinner in White" is scheduled for September.