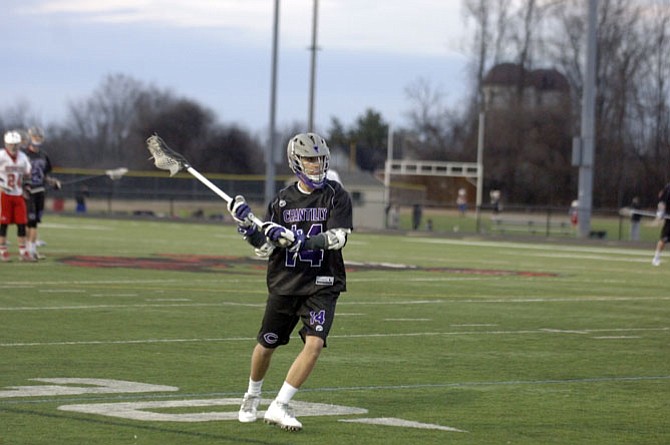 The Chantilly boys' lacrosse team suffered its first loss of the season on March 26, falling to Robinson, 7-4, in a matchup of state powerhouses.
The Chargers quickly righted the ship, however, beating Battlefield, 10-1, two days later. On March 30, Chantilly defeated rival Langley, 10-6.
While the Chargers secured a victory against the Saxons, a team Chantilly has faced in numerous big games over the years, head coach Kevin Broderick said the timing of the game carried more significance than the opponent.
"[W]e are in the midst of a four-game stretch in seven days, so playing Langley doesn't have the same significance," Broderick wrote in an email. "This will be a good test as the regional format this year is May 26, May 28, May 30 and June 2.
"We are proud of our players' effort, especially in the second half. We lacked focus early, failed to convert some opportunities and found ourselves behind at the half, 4-3, and 5-4 in the third quarter with 5:29 left. We then scored five straight goals, including the fifth as time was expired in the third quarter."
Colin Zimmerman scored three goals and had two assists for Chantilly. Ryan Rizzo finished with four goals and one assist. Davis Zaman had one goal and won 11 of 15 faceoffs.
Chantilly (4-1) will face Williamsburg LC at 6 p.m. on Wednesday, April 1 at Robinson Secondary School.
"We still have a lot of work to do," Broderick wrote, "to become the team we want to be in June."
Langley defeated Chantilly in the 2009, 2011 and 2012 state championship games, and in the 2014 region semifinals. The Chargers knocked off the Saxons in the 2013 regional semifinals on their way to winning the state title.
Chantilly Baseball Falls to Stone Bridge
After starting 4-0, the defending 6A North region champion Chantilly baseball team lost to Stone Bridge 5-3 on March 30.
The Chargers opened the season with wins over South County, Edison, Yorktown and Woodson.
Chantilly faced Lake Braddock on Tuesday, after The Connection's deadline. The Chargers will travel to face Osbourn Park at 6:30 p.m. on Monday, April 6.
Centreville Boys' Soccer Ties Defending Champ
The Centreville boys' soccer team played to a 1-all tie against defending 6A state champion T.C. Williams on March 24.
The Wildcats are off to a 0-3-1 start, with losses against Washington-Lee, Woodson and Lake Braddock.
Centreville will host Hayfield at 7 p.m. on April 13.