Victory was a rare experience in recent seasons for the Marshall boys' lacrosse program.
From 2008 through 2014, the Statesmen totaled just 13 wins, according to laxpower.com. Marshall experienced a pair of winless seasons during the seven-year stretch and labored through a 29-game losing streak.
In 2012, when current Marshall senior Owen Crizer was a ninth-grader, the Statesmen finished 1-14.
"When I was a freshman," Crizer said, "the team was kind of the joke of Marshall High School."
Times were hard for the Statesmen, but players continued to work. Three years later, after a coaching change and two more losing seasons, things started to turn around.
On Thursday night, the Statesmen completed their transition from "joke" to champion.
Marshall defeated Mount Vernon 17-10 in the Conference 13 tournament championship game at Mount Vernon High School. The Statesmen led 8-5 at halftime and pulled away in the second half, earning the first championship banner in program history.
"It's incredible," said Crizer, the 2015 Conference 13 Player of the Year. "My sophomore year, we had a new coach and so there was a whole different feel."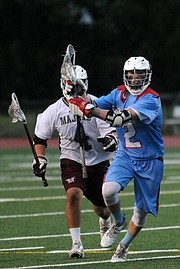 That new coach was Kevin Curtin, who took over the Marshall program in 2013. The Statesmen finished 0-14 in Curtin's first season, and improved to 4-9 the following year. Marshall ended the 2015 regular season with a 6-5 record before beating Thomas Jefferson, Stuart and Mount Vernon in the conference tournament.
How did the Statesmen turn things around?
"The boys," said Curtin, who received 2015 Conference 13 Coach of the Year honors. "It's as simple as that. It's the guys who bought into being dedicated to lacrosse, playing year-round and making a commitment to each other."
What kind of a coach is Curtin?
"He takes his job very seriously," junior midfielder Chase Barrand said. "He always pushes us to work hard and then he knows the perfect times when to relax and give us the day off. He just always pushes us to the limit and always makes us the best we want to be."
On Thursday, Marshall received clutch offensive performances from a trio of first-team all-conference selections. Barrand scored a team-high five goals and added two assists. Crizer totaled four goals and five assists, and junior attackman Andrew McDonald added four goals and three assists.
"The first few years we started off with a lot of young kids on varsity," Barrand said, "and then this was kind of our year to shine because we had the upperclassmen as leaders and the juniors were stepping up big, and this year was a really great year."
Junior midfielder Mikey Briody, senior midfielder Mick McGuire, sophomore attackman Ben Winicour and senior midfielder Sean Hoffman each scored one goal for the Statesmen.
Marshall senior defenseman Jackson Lee was also a first-team all-conference selection.
After Mount Vernon tied the score at 4 with 8:53 remaining in the second quarter, Marshall responded with an 8-1 run, taking a 12-5 lead when Crizer scored with 1:21 left in the third quarter.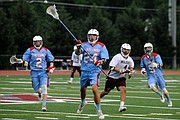 Mount Vernon attackman Justin Fees scored with 40 seconds remaining in the third quarter, cutting Marshall's lead to six while ending a 14-minute, 45-second scoring drought for the Majors.
The Statesmen led by as many as nine goals in the fourth quarter.
"It's pretty surreal," Curtin said. "[There has been] a lot of work over the last couple years that really seems to be paying off today. It's pretty fantastic."
Next up for Marshall is the 5A North region tournament. On Thursday night, however, the Statesmen celebrated their accomplishment.
"It's huge," Barrand said. "It's our first-ever conference championship, first-ever banner for lacrosse. This is really, I feel like, the starting point and the turning point for Marshall lacrosse."