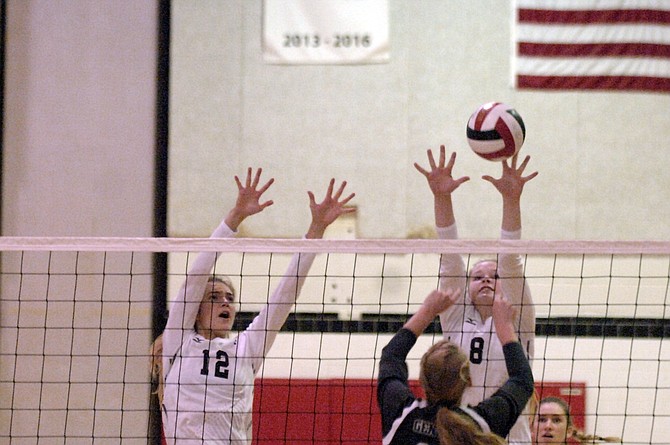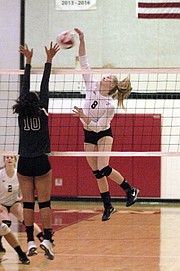 The McLean volleyball program hasn't won a district/conference title since 2001.
This year's team won 20 matches during the regular season and earned the No. 2 seed in the Conference 6 tournament, giving the Highlanders hope of ending their lengthy championship drought.
Oh, and they have Maddie McArthur, as well.
The sophomore sensation tallied 23 kills on Monday night as No. 2 McLean defeated No. 7 Washington-Lee 3-0 (25-17, 25-22, 25-20) in the Conference 6 tournament quarterfinals at McLean High School. The Highlanders advanced to the semifinals, where they will face No. 3 Madison at 7 p.m. tonight at Washington-Lee High School in Arlington. McLean also earned a berth in the 6A North region tournament for the first time in Bill Musgrove's three seasons as head coach.
McArthur took control early, totaling 12 kills in the opening set. After W-L cut the McLean lead to 20-16, the Highlanders scored five of the final six points, including a pair of kills from McArthur.
"That makes life easy," Musgrove said.
No. 8 continued to dominate. Her 20th kill of the evening finished off a pesky W-L team in the second set, 25-22.
What makes McArthur such a dangerous hitter?
"I think just the explosiveness," Musgrove said. "She hits the ball as hard as anyone I've ever coached and she's still just a sophomore. She jumps out of the gym for someone her height."
McArthur had three kills in the final set, including two after W-L had cut the McLean lead to 21-17.
"She's awesome," senior Sarah Park said. "I'm so happy. She was on the team as a freshman last year and just seeing her grow, even more through club season than this season, is amazing."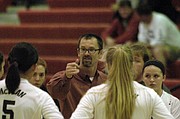 Karen Shedlock and Leona Ng each had five kills for McLean and Josephine Oakley had four kills and three aces.
McLean entered the regular-season finale against rival Langley with a chance to earn the No. 1 seed in the conference tournament, but suffered a three-set loss to the Saxons, who went undefeated during conference play.
If the Highlanders can get past Madison, the defending state runner-up, they could again face Langley in Thursday's championship match at Washington-Lee High School in Arlington.
"I think that we didn't play our best volleyball against Langley," Musgrove said. "We know that. We'd like another shot at them. We're going to be playing Madison, probably, [on Tuesday], so I'm sure they're thinking they'd like another shot at us."
What would it mean for the Highlanders to break their championship drought?
"It would mean the world," McArthur said. "I would be so happy."
She wouldn't be the only one.
"I would probably cry for weeks," Park said, "... tears of joy running down my cheeks."
More like this story