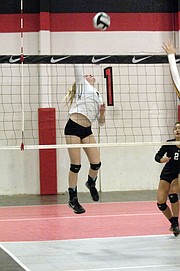 The McLean volleyball team finished runner-up at the NVVA Invitational on Aug. 29 at the Virginia Volleyball Center in Sterling.
The Highlanders defeated Islamic Saudi Academy and Fairfax in the second round of pool play to advance to the championship match, where McLean lost to Oakton 2-0 (25-20, 25-17).
"I was pleased with the team's performance," third-year McLean head coach Bill Musgrove wrote in an email. "Oakton has a strong team this year, and I was happy with the way we competed. I was also happy with the improvement we showed since our scrimmages. Our defense all day was a strength."
Sophomore outside hitter Madison McArthur led the Highlanders with nine kills against Oakton. She also had an ace.
"Maddie is our terminator," Musgrove wrote. "A lot happens to get the ball to that spot, but she is definitely our best player when it comes to finishing points. I am not sure there are many players who have spent as much time in the gym to get better, and she is only a sophomore, so if she keeps working hard, she has yet to reach her potential."
McArthur and senior setter Autumn Brenner were named to the all-tournament team.
"[Brenner] has the ability," Musgrove wrote, "to turn bad passes into hitting opportunities."
Musgrove called junior libero Natalie Luu "the heart of our defense."
McLean failed to qualify for regionals last season, falling to rival Langley in the opening round of the Conference 6 tournament.
The Highlanders defeated Annandale 3-0 on Tuesday, improving its record to 5-1. McLean will host Thomas Jefferson at 7:15 p.m. on Thursday, Sept. 3.
"We play in the toughest conference in Fairfax County," Musgrove wrote. "In this tournament, three of the top four finishers were from our conference, and Langley and Madison are top teams who were not in this tournament. Our goal is to keep getting better so that when October comes around, we compete in our conference schedule. It's a tough road, but I think this team has what it takes."
Fairfax defeated South Lakes in the third-place match.