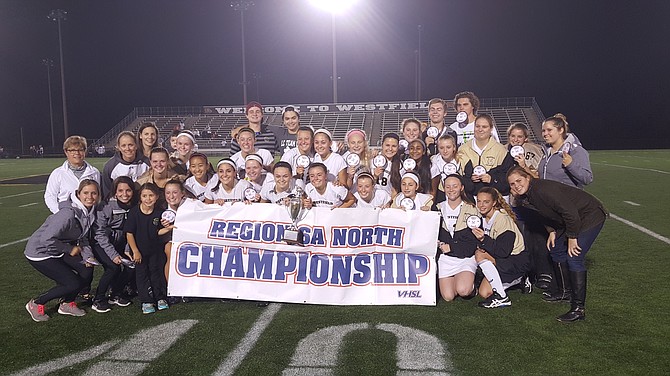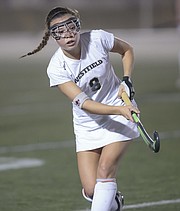 The setting for Thursday's 6A North region championship game was familiar for the Westfield field hockey team --- the game would be played on the Bulldogs' home field.
The stakes were familiar --- it was Westfield's fourth region final appearance in the last five years.
The Bulldogs' opponent, however, was a mystery.
T.C. Williams on Oct. 26 won its first conference championship since 1995 and entered Thursday's contest in search of its first region title. The Titans were 21-1 and riding a 17-game win streak, but had little in the way of past postseason credentials.
"We didn't know what to expect because we've never seen them play and we didn't really know much about them," Westfield senior goalkeeper Callie Rennyson said. "We knew we had to come in and play our game."
For 60 minutes, T.C. Williams proved a formidable foe as the teams went to overtime locked in a scoreless tie. It took less than 2 minutes of OT, however, for the Bulldogs to return to a sense of familiarity.
Sophomore midfielder Mackenzie Karl scored with 13:13 remaining in 7-on-7, sudden-victory overtime, giving Westfield its third region championship in the last four years with a 1-0 victory over T.C. Williams.
"We didn't play our best game tonight," Westfield head coach Starr Karl said. "I think T.C. Williams was very jacked up for the game. It's been many years since they've been out there and they really, really wanted it."
Westfield will face the loser of today's 6A South championship game between Cox and First Colonial in the state tournament semifinals at 10 a.m. on Friday, Nov. 13 in Virginia Beach. The Bulldogs improved to 20-2 and have won 19 games in a row.
"We've never seen TC play," Mackenzie Karl said. "They're a great team. We had no idea what to expect. We haven't ever played them and we had no idea what their mentality [was or] what their strategies were. It took us awhile to adapt to it, until like the last 10 minutes, but we did well when we did."
While Westfield struggled with an unfamiliar opponent, the Bulldogs were plenty prepared for overtime.
"We play seven-a-side every day in practice," senior defender Sarah Horgan said. "We get the ball to the right and [Karl] goes in and shoots far post. We got what we needed and the outcome that we wanted tonight."
Just like Westfield had practiced, Karl shot far post from the right side of the field, blasting the ball into the cage and earning the Bulldogs another region championship.
"Like I do every day in practice for seven-a-side, I sent it across the goal as my coach tells me, strictly, and it went in and I couldn't be more excited," Mackenzie Karl said. "… Right when I let that ball go I knew it was going in."
Karl was in the eighth grade and was a team manager when Westfield won the state championship in 2013. The Bulldogs have four seniors who were sophomore starters on that team: Rennyson, Horgan, midfielder Sara Ayoub and defender Kellie Cleveland.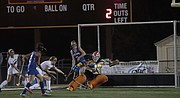 "A few of us on the team, including me, we have been there before," Horgan said. "We've started, we've won it, we've [experienced] what it felt like, we know what the standards are and what we need to do. I think we're really excited to go and I think we're ready."
How valuable is that experience?
"They know what it takes," Starr Karl said, "and they want it."
Westfield finished with seven penalty corners, compared to three for T.C. Williams, though the Titans held a 3-2 advantage at halftime. The Titans had nine shots on goal and the Bulldogs had six.
Rennyson had 10 saves for Westfield, and T.C. Williams goalkeeper Sarah Leckman had six.
T.C. Williams will face the 6A South region champion in the state semifinals at 10 a.m. on Friday, Nov. 13.
Westfield's Mackenzie Karl, Rennyson, sophomore defender Delaney Golian, and sophomore forward Nicki McNamara were named to the all-tournament team, along with T.C. Williams' Leckman, senior midfielder Philomena Fitzgerald, and sophomore defender Izzy Diz.