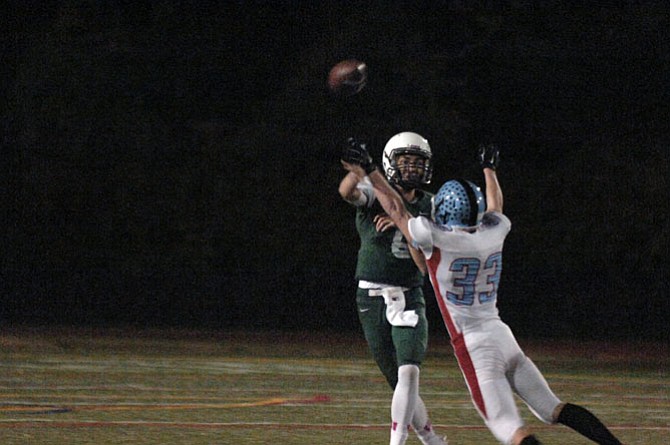 The Wakefield football program's list of recent accomplishments continues to grow.
Wakefield won the first regular-season conference championship in program history this season, securing the Conference 13 title with Friday's 50-18 victory over Lee at Wakefield High School.
The Warriors also improved their record to 8-2 and extended their win streak to eight games. The eight regular-season victories are the most for Wakefield since 1964, and the Warriors posted back-to-back winning seasons for the first time since 1982-1983, according to Wakefield historian Frank Haddock.
The Warriors produced nine first-team all-conference selections, including Offensive Player of the Year Leon Young, the team's standout senior running back.
While the team and individual accomplishments pile up for Wakefield, head coach Wayne Hogwood is all about getting the Warriors to focus on the task at hand.
Wakefield earned the No. 8 seed in the 5A North region via tiebreaker and will host No. 9 Potomac Falls (7-3) in the opening round of the playoffs at 7 p.m. on Friday, Nov. 13. The two teams met in the first round of last season's 5A North playoffs, with the Warriors winning 25-18 in Arlington. It was the first home playoff game and first playoff victory in Wakefield football history.
"We came in, I announced which guys received all-conference votes," Hogwood said, "we clapped, gave them a pat on the back and then we forgot about it."
While Wakefield is familiar with Potomac Falls, the fact the Warriors beat the Panthers last season can work against Wakefield, Hogwood said.
"The [advantage] goes to the team that lost because they have a chip on their shoulder," Hogwood said. "We've stressed the last two days that this is not last year. ... [We can't just] show up and beat them because we did it in the past."
Wakefield and Potomac Falls each lost to Broad Run this season, and both teams defeated Falls Church, Marshall, Stuart and Edison.
While running back Young is the leader of the Wakefield offense, the performance of sophomore quarterback Colton Poythress will likely have a significant impact on whether the Warriors experience postseason success.
"[Poythress' performance is] going to be huge because at this point in the year, there are no secrets," Hogwood said. "Everyone knows we have Leon Young and we're decent up front. Teams take away [opponents'] 'A' game. That's what we do. ... [Poythress is] going to have to play a huge part as far as not turning the ball over ... keeping the team under control and completing some passes and getting some big first down when we need it."
Poythress completed 5 of 7 passes for 138 yards and four touchdowns against Lee. Young carried 18 times for 277 yards and two touchdowns.
Wakefield's first-team all-conference selections include: Young, center Miles Kerby, guard Ryan Jones, tackle Julius Johnson, defensive linemen Anthony Tham, Maurice Gaskins and George Brooks, and linebackers Kevin Greenwell and Chris Robertson.
The winner of Wakefield/Potomac Falls will face the winner of No. 1 Massaponax and No. 16 Halifax County.