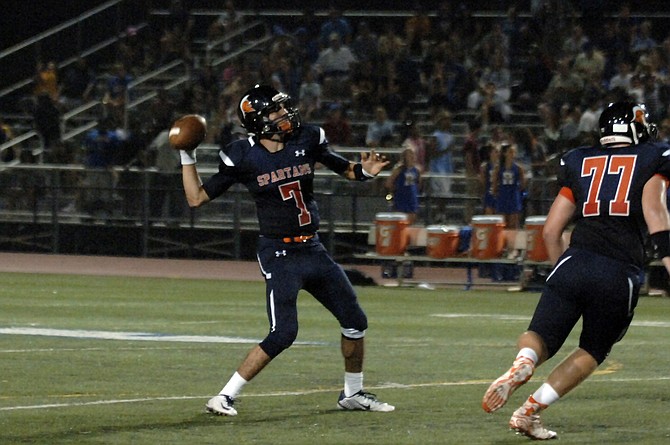 With the score tied and 1:17 remaining in the fourth quarter of Friday's contest against Robinson, West Springfield quarterback Peter Muskett took the shotgun snap and headed around left end.
Moments later, the Spartan signal caller was sprinting down the sideline, turning a decent gain into a game-winning touchdown, putting the finishing touch on a fantastic season-opening effort.
Moments after Robinson tied the score, Muskett turned a quarterback trap play into a 55-yard touchdown, propelling the Spartans to a 35-28 victory at West Springfield High School. The junior and second-year varsity starter played a role in each of the Spartans' five touchdowns, leading West Springfield to its first season-opening win since 2012.
"He's a stud and he's only going to get better," third-year head coach Jason Eldredge said. "As soon as he actually starts reading the field, he's really going to be a scary football player."
Muskett took over as West Springfield's starting quarterback early in his sophomore season and led the Spartans to a share of the 2014 Conference 7 championship. West Springfield defeated Washington-Lee in the opening round of the 6A North playoffs before suffering a 27-24 season-ending loss to Lake Braddock in the quarterfinals.
This season, West Springfield returns nine starters on offense and retained offensive coordinator Anthony Parker, bringing continuity to that side of the ball while helping Muskett grow as a quarterback.
"The continuity thing is priceless," Eldredge said. "Unfortunately, one of [Muskett's] weaknesses early on is his ability to read and make quick decisions. That he's overcoming now, as you can see. Obviously, the physical gifts he brings to the table [are] something special, but at that position it's your mind that has to be just as sharp. Being in the same offense one year to the next is a huge help to that."
Muskett completed 11 of 18 passes for 287 yards and four touchdowns, with one interception against Robinson. He also carried 19 times for 130 yards and a score.
"I feel a lot more confident and we're clicking easier," Muskett said about his second season as a varsity starter, "and it's just completely different from last year."
Muskett connected with sophomore Jordan Hughes for a 57-yard touchdown late in the fourth quarter, extending West Springfield's lead to 28-20 with 2:49 remaining. Robinson responded with a six-play, 60-yard drive, capped by quarterback Alex Miller's 1-yard sneak for a touchdown. Senior running back Sean Foncha reached the ball out and broke the plane of the goal line on the ensuing two-point conversion attempt, tying the score at 28 with 1:26 remaining.
Muskett would score the game-winning touchdown on the first play of West Springfield's ensuing drive.
"He's much faster," senior left tackle Brock Vaughn said about Muskett, who increased his speed by running track. "… When he gets in the open field … he's just gone."
After West Springfield and Robinson traded punts for much of the first quarter, Muskett gave the Spartans a 7-0 lead with a 94-yard touchdown pass to junior Daniel Adu with 1:38 remaining in the opening quarter.
Robinson led 14-7 late in the third quarter, when Muskett connected with senior Darean Robertson for a game-tying 48-yard touchdown.
On West Springfield's next possession, Muskett again found Adu, this time for a 26-yard score, giving the Spartans a 21-14 advantage.
"Honestly, [Muskett] put the team on his shoulders and when we needed it, he responded," Eldredge said. "That's the character of that kid. He works his tail off in the offseason. For him to do what he did today, he's a stud."
Foncha scored on a 17-yard run with 7:08 remaining in the fourth quarter, diving into the end zone to cut West Springfield's lead to one. The Spartans blocked the Rams' ensuing extra-point attempt and maintained the lead at 21-20.
Foncha carried 16 times for 89 yards and one touchdown. Senior running back Dajon Lee led Robinson with 119 yards on 16 carries. His 7-yard touchdown run with 2:41 left in the second quarter tied the score at 7.
Miller completed 4 of 10 passes for 47 yards and a touchdown.
For West Springfield, Adu finished with four receptions for 143 yards and two touchdowns. Hughes had four catches for 68 yards and a score.
"[Our] ultimate goal is [a] state championship, but we view anything less than our 9-3 record last year as a disappointment," Muskett said. "We want to match that and surpass it."
West Springfield (1-0) will open conference play on the road against Mount Vernon (1-0) at 7 p.m. on Friday, Sept. 11. Robinson (0-1) will host Woodson (0-1) at 7 p.m.
"We had injuries," Eldredge said. "We were down to our last guys --- we had a JV linebacker crew out there in the fourth quarter --- so to me, we gutted it out. The irony of that is the way we lost our season last year, on the 1-yard line in the quarterfinal against Braddock with 1 second to go, for us to come out and win in the last seconds, means that maybe we've grown up a little bit."