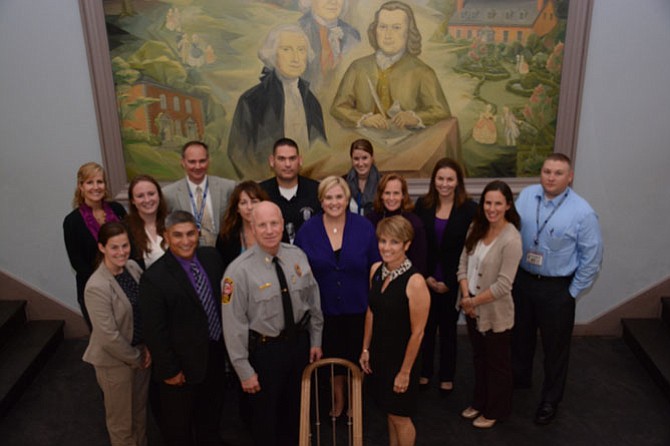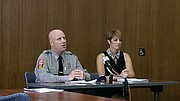 Fairfax County is taking a step forward to reduce the deaths among victims of domestic violence.
According to the police department, county domestic violence hotlines receive over 240 calls each month. Of those, victims request 64 family abuse protective orders and 13 families are able to escape to an emergency domestic shelter such as Bethany House of Northern Virginia. Within a month, police make around 160 arrests for domestic violence-related offenses.
On Oct. 1, Fairfax County Police Department Chief Edwin Roessler and Sexual Violence Services director Ina Fernández held a press conference at the Historic Fairfax Courthouse to announce the launch of a new Lethality Assessment Program. The announcement coincided with October being declared Domestic Violence Awareness month.
The model, which originated in Maryland, calls for more collaboration between the police department and domestic violence service providers, as well as a screening tool for officers to more quickly and effectively respond to and refer victims to services.
A Fairfax County Domestic Violence Fatality Team found in 2013 that domestic violence accounted for about half of all murders in the county.
"It opened our eyes to a larger set of lethality," said Fernández. "Now we're moving more proactively to help the victim."
A response and referral tool within the Lethality Assessment Program features an 11-question screening for patrol officers responding to domestic violence calls. The first three questions are:
Has he/she ever used a weapon against you or threatened you with a weapon?
Has he/she threatened to kill you or your children?
Do you think he/she might try to kill you?
If the victim answers "Yes" to any of the three, or to four of the next four in the sequence, they're determined to be "high risk" of being seriously injured or killed by their partner and the officer then initiates a referral process using a domestic violence services hotline-dedicated phone. The victim may choose to be connected with an advocate and additional services such as shelter, or not.
Police and service providers are hoping this will empower more people in abusive situations to ask for help.
"We're concerned about unreported cases, there's a lot of trust-building we need to develop," said Chief Roessler. "We want to help victims self-initiate to take a stand and get away from violence, we want people to know they're not alone."
"It's such a tragedy those victims had not reached out," said Amy Carlini, a spokesperson for the Department of Family Services in Fairfax County. "A lot of times the most dangerous thing for a victim is trying to leave a situation."
All Fairfax County Police patrol officers received training in the Lethality Assessment Program in spring of 2015 and the department began implementing it in July. Since then, the department reported their findings that:
Over half of the cases were determined to be high-risk
33 percent of the high-risk cases involved a firearm
64 percent of the cases involved a history of strangulation
55 percent of the cases involved a history of stalking
Fernández said an internal committee comprised of representatives from the police department and victims services, office of the Commonwealth's Attorney, Domestic Violence Action Center, office for Women & Domestic and Sexual Violence Services, Bethany House of Northern Virginia and other organizations will continually review the program and complete assessments at the three, six, nine and 12-month marks.
"It's in the beginning stages," she said, "but we're hopeful we can continue to reevaluate it."
For more information on Domestic Violence Awareness Month activities, visit www.fairfaxcounty.gov/domesticviolence/#Announcements.