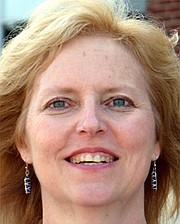 Town of residence: Alexandria (North Ridge)
Age: 53
Family: husband: Mark Anderson (TCW '80), sons: Lee (TCW '11) and Henry (TCW '13)
Education: B.A. Computer Science/Psychology, The College of William & Mary
Offices held, dates: Chairperson, Scholarship Fund of Alexandria, 2014-present, TC Williams PTSA President (2009-10), GW PTA President (2005-6), PTA Council President (2003-2004), George Mason PTA President (2001-2), Board President, Beverley Hills Church Preschool(1997-1999)
Occupation and relevant experience: co-owner, consulting firm; over 10 years experience in high technology sales and training including software training for adults and introductory computer programming skills for elementary school age children.
Community involvement: School Board Budget Advisory Committee (2003-2006), Scholarship Fund of Alexandria Board (2010-present), classroom volunteer and tutor, soccer coach, AFS foreign exchange program host parent and volunteer.
Website: www.CindyAnderson4SchoolBoard.com
Email address: CindyAnderson4SchoolBoard@gmail.com
Twitter handle: @Cindy4ACPSBoard
Name three favorite endorsements: Education Association of Alexandria (EAA/APACE), and former board members (Mark Eaton, Yvonne Folkerts, Sheryl Gorsuch, Arthur Peabody and Charles Wilson)


QUESTIONS:
What is one issue that defines your call to serve, why does it matter, and how will you tackle it?
As I know from the wonderful education my children received in the Alexandria City Public Schools, there are many great opportunities and experiences available to our students. As the Chairwoman of the Alexandria Scholarship Fund, I see first hand how ACPS sends students on to do amazing things. I also recognize our public school system faces a series of complex challenges so it is difficult to pinpoint a single issue. However, overcrowding has emerged as an urgent issue and I believe now we are at a critical juncture in terms of dealing with it since there will be a significant amount of redevelopment in the coming years.
What distinguishes you from your opponent(s) and why should voters choose you?
I have many years of experience with ACPS as a student, parent and volunteer. This experience provides me with a unique perspective and demonstrates my dedication to ACPS and its students.
How can Alexandria address overcrowding within the current budgetary confines? What ideas and skills do you bring to solving this?
Overcrowding is a critical issue that is going to require some creative interim solutions until additional classroom space can be built. We cannot simply keep adding to our existing buildings so we will also have to find additional land where new schools can be built. Some of our current buildings have previously been configured for different grade levels so this is something to consider. I would also like to enlist the help of community members in looking for solutions to this problem.
While the majority of Alexandria schools remain accredited, what can be done about continuing problems facing Jefferson-Houston? For incumbents, what lessons have been learned from the problem? For non-incumbent candidates, what would you have done differently?
Test scores for Jefferson-Houston showed marked improvement in the past year. There is still work to be done so it is important that we continue to provide the resources necessary for success. Jefferson-Houston has struggled since the last redistricting in 1999 when the student population changed significantly and it was designated as an Arts Focus school. A combination of a challenging student body and a lack of planning and support for the arts focus contributed to its early failure. There were several more false starts and frequent changes in leadership that made it difficult for the school to gain traction in the community. Additionally, until the new school was built, the physical plant of the old school also contributed to the challenges faced by staff and students. I believe implementing an established program instead of inventing a new one would have increased the chances of success there. For example, at the same time Lyles-Crouch was established as Core Knowledge Focus school. It was immediately popular and they have continued to be very successful. I cannot fail to mention Lyles-Crouch also had great leadership and during the past 15 years has had only two different principals.