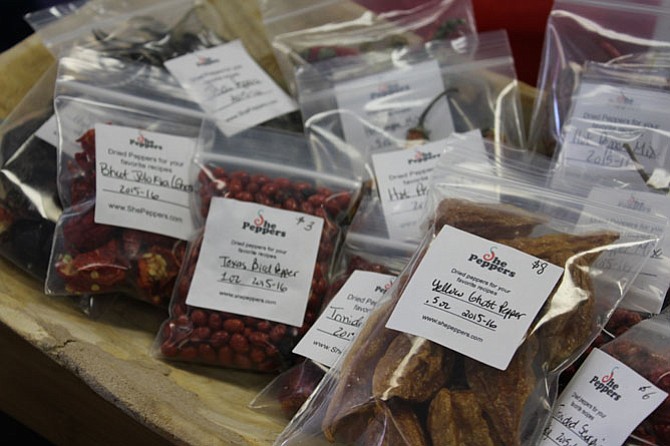 Many of Alexandria's gardeners are just beginning to put their spring vegetables in the ground, last-minute frost be darned. But for Stephanie Freeman and Vickie Lucas, the business of peppers is a year-round affair. Instead of waiting until April to till the soil, they've been awaiting the beginning of farmer's market season — and the expansion of their sauce-and-spice business, She Peppers.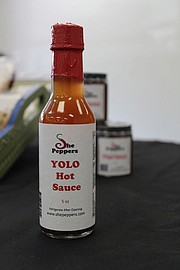 The dawn of She Peppers came in the form of friendship and a side hobby. Freeman and Lucas began their business in autumn of 2014 after taking stock of their home gardens and realizing they had a surplus of peppers ripe for the picking.
"The idea for (She Peppers) came from our roots in gardening. Both of us have been gardening for years. We both just kind of gravitated toward growing peppers, and we just realized we were growing so many varieties," Freeman said. "We've been best friends for over 10 years now, and we've been sharing sauces and produce and pictures of our bounty."
Now, they're sharing it with Alexandrians and the larger region.
She Peppers' first year was a crash course in business, Lucas and Freeman say.
"Just learning the sauce business, learning the business side, which events to do, which not to do," Freeman says, has been a full-time education. And Lucas agrees.
"As we've learned, we've learned that we need more and more space for our gardens to grow our peppers," she said. "The garden has taken over my entire back yard. … Luckily, I love growing the peppers."
The varieties of peppers are as plentiful as the products that they become. For a kick that brings plenty of spice along with some rich tang, the YOLO sauce can't be beat, Freeman and Lucas say.
"Pretty much every event that we do we sell out of the hottest sauce that we have, which is (YOLO)," Freeman said. Rather than being merely a condiment that brings the heat with no flavor, this top seller packs plenty of punch that goes well beyond the heat factor.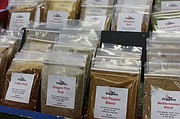 "You can still taste the flavor in our sauce," Freeman said. "And that's what important to us."
The Dragon Fire is another top seller — and a completely different direction from the YOLO. Much milder, the Dragon Fire brings a garlicky taste that fuses quite nicely with the green-jalapeno base.
"I like the smoked flavor that we have in that one," Lucas said.
She Peppers has found a base camp in the Four-Mile Run Market each Sunday. The market, which has been indoors for the winter but will soon venture back outside, offers a wealth of vendors selling a variety of wares, and She Peppers has made itself right at home.
"During the farmer's market season, we are regulars at the Four-Mile Run," Freeman said, and this season the team will also have a presence at the Crystal City, Ballston, and Silver Spring markets. Further, their sauces and spices are now a mainstay at Bazaar Spices in Washington.
"We're ramping up and getting our ducks in order so that we can approach more stores, so we expect that to grow in the very near future," Freeman said.
Details
She Peppers
Where to find them: Four-Mile Run Market on Sundays; Crystal City Farmer's Market on Tuesdays; Ballston on Thursdays; and Silver Spring on Saturdays.
Try this: The Slow Walk Sriracha. "It's one of the first hot sauces that I made and I love the way it's thicker than the sriracha style, thicker than the other hot sauces. I like the burn on it," says She Peppers' Stephanie Freeman. "It's not overly hot, but it kind of lingers and goes well on what I like to put hot sauces on."
Hidden gem: Harissa chili paste. "I didn't realize how versatile it was" until cooking with it, Freeman says. "I've used that to marinate my chicken in it for a couple of hours, then cook that, either bake it off or sauté it. … I've added it to my greens and it's been delicious."
Hope Nelson owns and operates the Kitchen Recessionista blog, located at www.kitchenrecessionista.com. Email her any time at hope@kitchenrecessionista.com.