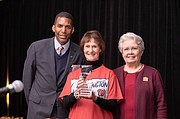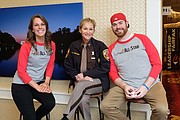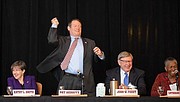 The Leadership Fairfax Breakfast with the Board of Supervisors is always a hot ticket, drawing a full house of elected officials, community and business leaders and members of local law enforcement — many of them alumni of Leadership Fairfax programs — eager to reunite with other grads" meet and greet and network with others in their space. They are also there to watch their government representatives opine on the state of our local affairs all while letting down their professional hair just a bit.
The 28th edition of the breakfast, held at the Fairview Park Marriott in Falls Church on Friday, April 5, met all those expectations. The planners went for a baseball theme for this year's event and from the very first inning they produced a winner, starting with the Press Box set up in the lobby, where Leadership Fairfax class of 2017 alumni Brian Kincaid and Devan Strebig interviewed a number of the local star players like Supervisor Jeff McKay (Lee District) and Fairfax County Sheriff Stacey Kincaid.
Opening remarks were handled by Leadership Fairfax President & CEO Karen Cleveland, Leadership Fairfax Board Chairman Huey Battle, and Monica Schmude, President of the Mid-Atlantic Region of Cigna, the event's MVP sponsor.
Before the Board of Supervisors team took the field, however, award namesake Katherine Hanley and Fairfax County Economic Development Authority national director of marketing Rodney Lusk, a long-time local civic activist and 1998 Leadership Fairfax graduate, presented the 16th annual Katherine K. Hanley Public Service Award.
Lusk read out the names of the previous winners before announcing — to thunderous applause — Board of Supervisors Chairman Sharon Bulova as the 2019 award recipient. Even among such illustrious company, Lusk noted that Bulova was "a real stand-out."
After a career of more than 30 years of service to the community, the last ten of which saw her preside over the governing of Fairfax County as the Board Chair, Bulova has decided to retire at the end of her term, and she will be much-missed, said Lusk.
Both Hanley and Lusk said they were hard-pressed to name only a few of Bulova's accomplishments and contributions. The fact that the county maintained its AAA Bond rating during her term, despite the Great Recession, the federal sequestration and several partial government shutdowns that severely impacted a government town like Northern Virginia, are testaments to Bulova's leadership, said Lusk.
Her involvement with championing the development of the county's Diversion First program (designed to decrease the use of arrest and incarceration for low-level offenders with mental health issues), her role with Virginia Railway Express and Metro's Silver Line, initiating the Faith Communities in Action and convening the Ad Hoc Police Practices Review Commission, as well as her dedication to the One Fairfax equity initiative, make Bulova "the obvious choice for such recognition" for an award given to someone "who exemplifies service above self and has had a positive effect on the County."
With the award ceremony complete, it was time to call "Play Ball!"
THE STARTING LINE-UP of the "Leadership Fairfax All Stars" was introduced by Leadership Fairfax COO Andy Sigle, using a spot-on impression of an announcer's voice as he called out each district supervisor in turn.
Kathy "Rainmaker" Smith - Sully, "drafted" in 2016
Pat "Ace on Base" Herrity – Springfield, 2008
John "Legal Eagle" Foust – Dranesville, 2007
Cathy "The Hammer" Hudgins - Hunter Mill, 2000
Penny "The Consultant" Gross - Mason, 1996
Linda "Big Slugger" Smyth - Providence, 2003
Dan "Rail Splitter" Storck, - Mt. Vernon, 2016
John "The Champion" Cook - Braddock, 2009
Jeff "Batter Up" McKay - Lee, 2008
Sharon "The Chairman" Bulova - At-Large, 2009
All the "players" ran in to take their positions on the dais as baseball-style card photos were flashed on screen with their photos and their stats, including a few of their most significant achievements and areas of involvement.
Moderator and head umpire Casey Veatch, principal with Veatch Commercial Real Estate and graduate of Leadership Fairfax class of 1999 got the game under way, giving them an easy pitch to start the proceedings by asking each supervisor to recount a sports memory.
Hilarious, poignant, and even a few dramatic moments were shared, but the highlight of each story was the signing of a really-soft softball by each before they tossed it into the crowd – to a varying degree of success. Each throw was judged by umpire Mark Ingrao, President and CEO of the Greater Reston Chamber of Commerce. Ingrao called a few base hits, a foul ball or two, and declared that Supervisor Cook should actually be called "outta here!" when his enthusiastic pitch hit the ballroom ceiling before bouncing back into the crowd.
In regards to the toss outs, Veatch assured the audience of two things: "It's ok – Leadership Fairfax has insurance for today's game, and secondly, our umpire is legit," he said, referencing Ingrao's induction as an umpire in the Softball Hall of Fame.
"If we get into any tussles among the players," Veatch joked, "we're still safe since the ump is also a Wrestling Hall of Fame referee!"
Another easy pitch to the players followed. "Name your favorite stadium snack," asked Veatch.
McKay was quick to respond, "beer." Storck followed up "then with 2 beers!" Herrity also voted for beer, while sausages, hot dogs, and peanuts also made the list.
After the sports stories were concluded and the softballs thrown without major injury to either players or spectators, it was time for the fastballs, curveballs, and sliders to finally be unleashed.
IT'S AN ELECTION YEAR in Fairfax County. All of the seats on the Board of Supervisors are up for grabs, but even if incumbents retain their positions, the line up of the Board is set to change dramatically.
In addition to Bulova's retirement, the Hunter Mill, Braddock and Providence districts will all see new faces of representation as Cathy Hudgins, John Cook, and Linda Smyth respectively declined to seek re-election. Jeff McKay of the Braddock District is running to take the Board Chair position, meaning his district will also elect a new supervisor.
"I think it's something like 40 years since we held a primary for the Chairman's seat," said Veatch, but that is exactly what is ahead for McKay and his Democratic challengers on June 11.
With all that change in the air, Veatch asked questions that not only focused on the current state of affairs, but on how that change may effect the governance of Fairfax County going forward. He also reminded Bulova, Cook, Hudgins, and Smyth that their impending retirements from the team meant they were "free to speak your minds," while pointing out that Penny Gross (Mason) would become the longest-serving member of the board and "the adult in the room."
Some of their responses included:
Gross (Mason) – "Yes, I will be the adult supervision," she laughed, but vowed to be the mentor to the newbies that helped her transition successfully when she joined the Board. Gross also referenced a quote that advised that "one could go far alone, but to go far required going together. The united team of the Board of Supervisors can move us forward, base to base."
Foust (Dranesville) also spoke to unity and the need for collaboration among the connected regions of Fairfax County and neighbors, in order to collaboratively achieve success for all citizens.
Cook (Braddock) expressed concern about the destructive impact of divisions within the country and even the county, and the potential for further harm as the wealth gap continues to widen. When the American Dream changes from "if I work hard I can get there, to even if I work hard I can't get there," Cook says the resentment and the division builds up. "Government doesn't create, so much as it follows. It's up to you and the community to work together with government" to make community improvements and get things done.
Smith (Sully) talked about changes to the county's zoning laws - big and small. In addition to hearing cases and making changes to protect the integrity of the county's standards, Smith explained how some restrictions on owning unusual pets like chinchillas and hedgehogs had been eased, thanks to the advocacy of some younger members of her constituency. "Yes, you can now own a hedgehog," said Smith, "but please consider your pet choices carefully and learn how to take care of your pets properly."
Referencing a recent report on illnesses that can be passed from hedgehog to human, Smith added "and words I never thought I would say in my professional life, please don't kiss your hedgehog."
Herrity (Springfield), who has long been a champion of the war against opioid addictions and deaths in the region, spoke of the steps being made to improve the devastating situation. "Opioid deaths were down by 40 percent between 2017 – 2018," he noted, but said there was still much work to be done and better reporting needed. "The biggest need is more resources for treatment," he added. "There just aren't enough treatment centers" to address the problems.
Smyth (Providence) talked about the big achievements that can be made working together. The Mosaic district project started as a task force in 1990 comprising local residents as well as government officials and potential stakeholders and developers. An area that was plagued by deterioration and crime, at the time of the task force's inception, the space was valued at $38 million. "Today, as of January 1, 2019, the Mosaic District is valued at $648 million. That's what cooperative revitalization can do," she declared.
Hudgins (Hunter Mill) praised the ever-improving relationship between the county government and the Fairfax County Public Schools, seeing their more open and receptive communications and partnership as a real benefit to all county citizens, not just its young people. She is also proud of the adoption of the One Fairfax "lens by which we will look at every policy, everything we do" to avoid actions that would create inequitable situations. Hudgins also took the opportunity to strongly urge that solving the affordable housing crisis be a top priority both now and going forward.
Storck (Mount Vernon) thanked his fellow board members for their willingness to invest in his district, which will see the county's largest employer in Fort Belvoir at one end of the Richmond Highway and Amazon, as it is built, on the other end of the corridor. "All told, there will be about $1 billion invested in this area with transit options, road widening and more. The positive effects are already being felt," said Storck. The "forward-thinking" of the board will mean continued growth, improvement and revitalization not only for the Mt. Vernon District, but the whole region. "That is real leadership."
Bulova (Chair) and McKay (Lee) both were asked to address growth and development in the county.
"There is a strategy to how we grow and how we manage our growth," Bulova answered. Development is first reviewed to support and protect "our stable, residential neighborhoods."
Growth is targeted at areas that if left alone "would continue to deteriorate." She cited areas along the Richmond Highway corridor that "are virtually the same as when I arrived here as a young bride during the Vietnam War. We need to bring improvements there."
Bulova also noted that development takes into consideration environmental needs, not only seeking to avoid negative environmental impacts, but looking to proactively improve currently less-than-ideal environmental situations.
McKay followed up with success stories of development in his own district. "The mall in the central Springfield District went from the least desirable asset, to the third most valuable such property in the county." The new TSA building is also slated for the district.
"In all cases, development must consider environmental impacts and make improvements there, and to infrastructure."
Even though the audience seemed willing to stay for extra innings, after the last round of questions, Veatch had to "call the game," declaring that all in attendance, players and spectators alike had emerged as winners from this year's Leadership Fairfax Breakfast with the Board, while reminding them all to vote in the elections on November 5.
To take a swing at improving your leadership skills and community impact, visit www.leadershipfairfax.org. Programs are tailored for experienced leaders as well as those just starting their careers. Leadership Fairfax also offers a Lifetime Leaders Program designed for retiring or newly retired individuals.